McLaren driver Fernando Alonso has mocked Haas's Kevin Magnussen for dropping out in Q2 during qualifying for Formula 1's Italian Grand Prix after an on-track run-in.
Alonso and Magnussen got in each other's way in the final moments of the second segment, as Alonso got a run on Magnussen on the start-finish straight and attempted to overtake the Dane around the outside into Variante del Rettifilo.
He was ahead entering the first part of the chicane but Magnussen did not yield his position, and both drivers' laps were compromised as Alonso ran wide exiting the section.
"Magnussen wanted to race into Turn 1," Alonso radioed to his team with a hint of laughter, while the Dane appeared to be less amused, asking the Haas pitwall: "What the hell was Fernando doing?"
The run-in left both drivers out of Q3, with Magnussen 11th - having missed out by just a hundredth of a second - and Alonso 13th.
In the aftermath, the TV feed captured an argument between McLaren CEO Zak Brown and Haas team boss Gunther Steiner in the pitlane.
Following the incident, Alonso argued that Magnussen cut in line during the warm-up lap and reckoned the incident made more of a difference to Haas, which is ahead of McLaren in the pecking order this weekend.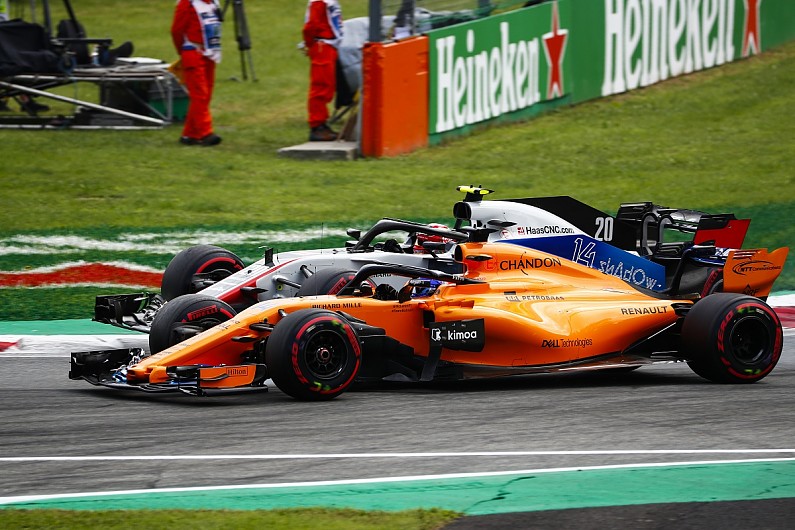 "We were all running together at the end of the out-lap and with all that traffic one of the Haas cars decided to overtake and start the lap in the middle of all the cars that were more or less in position," said Alonso.
"So we started the lap together and we reached the first corner together and we ruined both our laps.
"There are many classes of drivers and then there are the Haas ones, who have the third or fourth-best car of the grid and are out in Q2.
"I got into Q2, which is one of the things that I wanted.
"It doesn't change much for me, I guess more for them, but it's fun, a lot of fun."
Both Alonso and Magnussen have been summoned to the FIA stewards over the incident.