Red Bull's Daniel Ricciardo is running an older specification of Renault power unit at this weekend's Hungarian Grand Prix compared to his team-mate Max Verstappen.
Ricciardo started 19th in Hockenheim after taking a new MGU-K, energy store and control electronics unit.
Renault decided that he would not get a new V6 internal combustion engine, turbo and MGU-H, against the expectations of Red Bull, and despite it not making any difference to his penalty.
Renault's view was that Ricciardo had enough mileage on his two remaining engines - the Spec A with which he won Monaco, and the newer Spec B that was introduced in Canada - to get him through to the transition to the Spec C, which is currently still in development.
But the Spec B failed during the race in Germany, and Ricciardo lost the V6 and turbo. He has gone back to his last healthy engine, the Monaco-winning Spec A, for Hungary.
As a result he Ricciardo is now out-of-synch with Verstappen, who has the use of a newer Spec B.
Renault Sport boss Cyril Abiteboul does not regret the decision not to give Ricciardo a complete set of new elements in Germany.
"At the moment that we had to make a decision there was absolutely no reason to introduce a new engine," he told Autosport.
"Then we had that failure, and we have stripped that engine down, inspected the part, and it's the first time that we've had a failure related to that part.
"It may be a defect coming from the supplier, but it's still not totally confirmed at this point of time. But that was something out of nowhere.
"So I continue to say that with the information we had at the time, we made the right decision."
Abiteboul acknowledged that it wasn't ideal that Ricciardo was now back with Spec A, but insisted that Spec C will be worth waiting for.
"That's a plan that is still being worked out, but we are doing the best that we can for Red Bull's ability to fight for wins, and maybe for poles, later on in the season."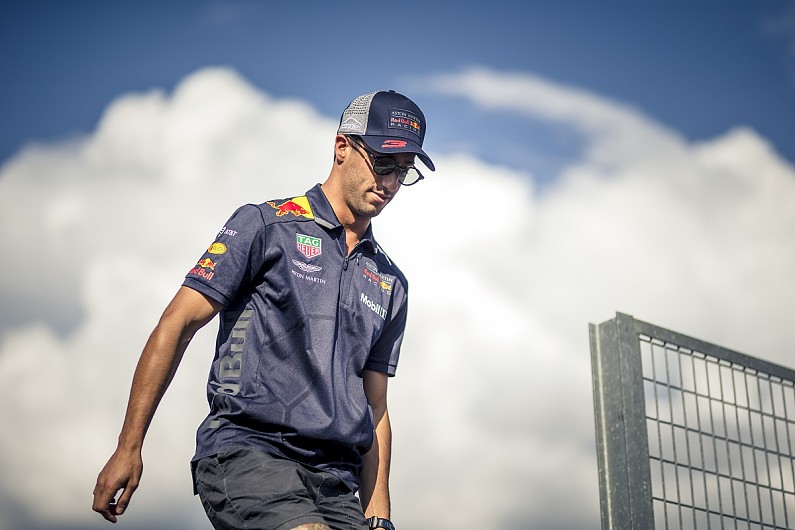 Ricciardo won't take any power unit grid penalties in Hungary unless he has an unexpected failure in practice or qualifying - but is resigned to taking further penalties soon.
"Let's say all going normal it won't hurt me this weekend," he said. "But it's going to mean a bit more pain at some point just after the break."
It is not certain if the Spec C engine will be signed off by the time Ricciardo takes a further new engine at Spa or Monza and will available for that change, which is Renault's plan.
If it is not, he will have to take another Spec B for the next part of the season.
Verstappen can still take one more V6, MGU-H and energy store without penalty.
It is understood that the Spec B he is currently using has done roughly the same mileage as the unit that failed on Ricciardo's car in Germany.