Haas Formula 1 boss Gunther Steiner believes his team can now target Renault in the constructors' championship after its big Austrian Grand Prix haul moved the team up to fifth.
Haas leapfrogged midfield rivals Force India and McLaren with its first double-points finish of the season at the Red Bull Ring, as Romain Grosjean finally ended his point-less streak by taking fourth ahead of team-mate Kevin Magnussen.
The outfit is now just 13 points behind fourth-placed Renault, which failed to score in Austria.
"Absolutely," said Steiner when asked by Autosport if fourth was the team's realistic target.
"You cannot just target fifth because we are fifth now - you need to always try to get more.
"Luck goes around. Sometimes somebody gets lucky and somebody else gets unlucky.
"Renault is a strong team, they know what they are doing, and for sure they will not make it easy for us.
"We got lucky to have three more positions than we normally would have [after both Mercedes drivers and Daniel Ricciardo retired]. Now we can try to fight but we have also to keep the other ones behind us.
"Force India and McLaren are still very strong as well. Today we got a little bit of a leg up to come back. We will try to get to fourth.
"If we achieve it or not, we don't know, but you always try to go forward."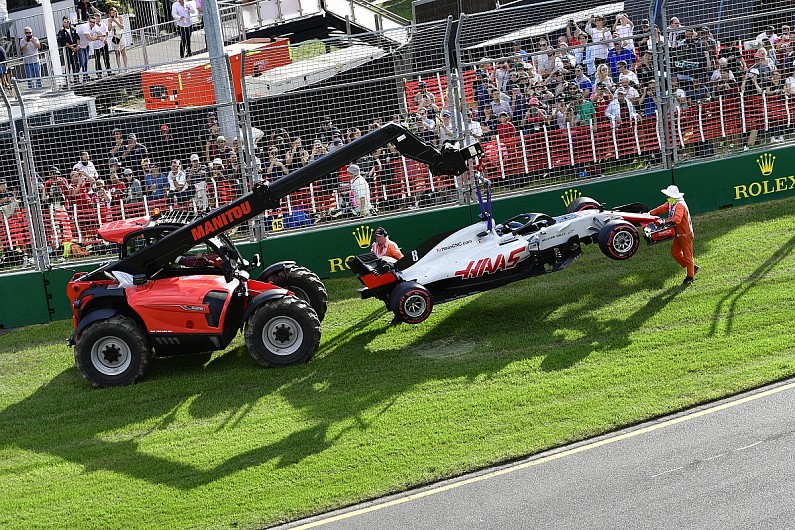 Steiner said the result made up for Haas's disastrous Australia Grand Prix, in which both drivers lost strong finishes after wheel issues in their pitstops.
"I think it's a redemption," he said. "Everybody said, 'Oh the team must be demoralised' and all that. They never were.
"Everybody knows the potential of the car, and if you know the potential it will come if you work hard. And it came.
"This is fantastic, the 50th race [for Haas], to finish fourth and fifth is for the guys.
"You can imagine how happy they are - both cars in the points, Romain scored for the first time this year. And heavy points, not just a few.
"It's just a very successful weekend."
Steiner added that beating better-resourced teams so convincingly had been particularly satisfying.
"It's nice, and it's credit to our team," he said.
"We are only in total a little bit more than 200 people working on this car, and we are fighting with teams which have 600+ people.
"It's a fantastic place to be. Everybody within the team can be proud of achieving that."