Red Bull and McLaren have both said their updated 2018 Formula 1 cars will look visibly different when they appear in Spanish Grand Prix free practice tomorrow.
Red Bull driver Daniel Ricciardo has suggested the RB14 will "look pretty crazy", while Stoffel Vandoorne highlighted changes to the front end and the bargeboards of the McLaren.
While Ricciardo accepted hopes for updates tend to moderate as they get closer to being deployed, he's confident the changes will at least look striking and highlighted the bargeboard area in particular.
"You always hear big numbers, you are going to gain this amount, but it seems when you get closer and closer the realisation is less optimistic," said Ricciardo.
"The car will be quicker, but again, is it enough of a thing to challenge the others?
"It will look cool, there's a lot you'll see on the sidepods and that, it's going to look pretty crazy.
"If it's not faster, at least we're going to look cool."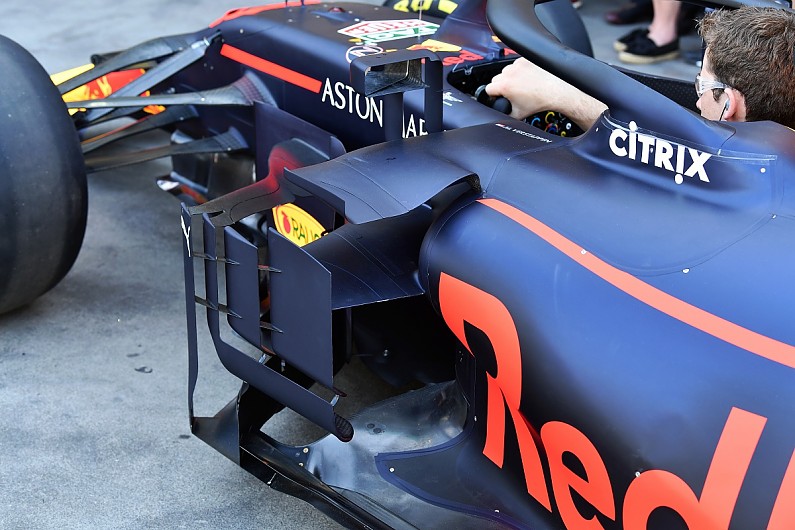 McLaren has previously suggested the Spanish GP weekend will be the debut of its real 2018 car after starting the season with an evolution of the previous season's model.
But the team has since downplayed expectations as it attempts to climb to the front of what is a very close midfield pack, with a package known to include a dramatically different nose design.
"Visually, the car will look quite different in terms of the front and the bargeboard areas - they will look quite different," said Vandoorne when asked about the upgrade by Autosport.
"But what counts for us is how the car will handle and how it will perform on track, so we will see tomorrow.
"We have two busy sessions where we'll try a lot of things across both cars to understand this package and then we'll know a bit more about the performance."
Vandoorne downplayed the perception of this as a critical weekend for McLaren, stressing it is the start of a positive development direction.
While McLaren holds fourth in the constructors' championship thanks to consistent scoring from Fernando Alonso and Vandoorne, it has had on average only the seventh-fastest car on outright pace over the first four races of the season.
"I don't see this as a critical weekend," said Vandoorne. "This is just one weekend where we bring a lot of parts.
"Over the next races we will bring a lot of new stuff as well, so it will be a continuous development over the course of the year.
"Hopefully it kicks of the good direction and then we can keep developing from here."