Pirelli has unveiled Formula 1 teams' tyres selections for the 2018 Spanish Grand Prix, with Williams on a vastly more aggressive strategy than any of the other outfits.
F1's tyre supplier has opted to go a step softer with its picks for the recently-resurfaced Barcelona venue than in either 2016 and '17, and will bring the supersoft, soft and medium compounds to the upcoming race.
Every team but Williams has opted for between five and eight sets of the softest available compound, whereas the Grove team has made nine sets of supersofts available for Lance Stroll and 10 for rookie Sergey Sirotkin.
Both of its drivers will have only a single set of the yellow-walled soft tyre.
Besides Williams, only Sauber and Haas have opted to split tyre choice strategies between their two drivers, with Kevin Magnussen and Marcus Ericsson on one fewer set of softs and one more set of mediums than Romain Grosjean and Charles Leclerc respectively.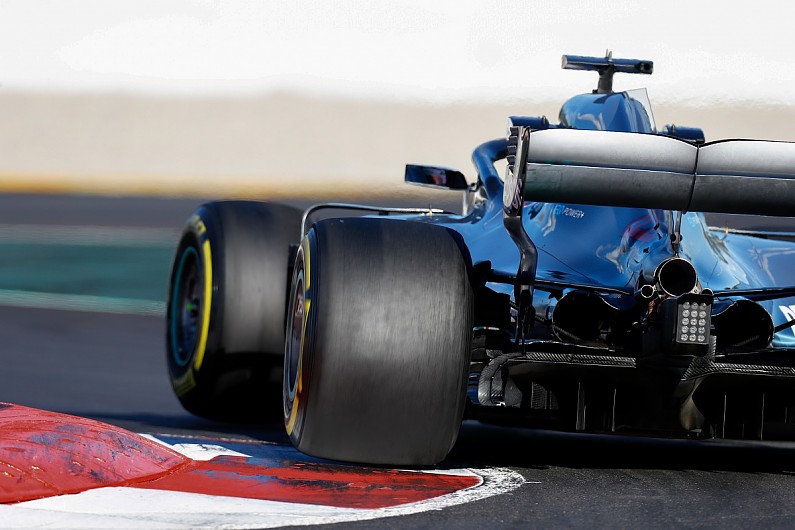 The top three teams in the field all differed in their selections, with Mercedes' opting for the most cautious approach and selecting the same amount of supersofts and softs for its drivers - at five of each.
Ferrari will bring seven supersoft sets to Red Bull's six, making up the difference by selecting one fewer set of the white-walled medium compound.
The Spanish GP will be the first of three races where Pirelli is running modified rubber, with the FIA having granted its request to bring tyres with lower tread thickness.
Spanish Grand Prix tyre choices
| | | | | |
| --- | --- | --- | --- | --- |
| Driver | Team | Medium | Soft | Supersoft |
| Lewis Hamilton | Mercedes | 3 | 5 | 5 |
| Valtteri Bottas | Mercedes | 3 | 5 | 5 |
| Sebastian Vettel | Ferrari | 2 | 4 | 7 |
| Kimi Raikkonen | Ferrari | 2 | 4 | 7 |
| Daniel Ricciardo | Red Bull Racing | 3 | 4 | 6 |
| Max Verstappen | Red Bull Racing | 3 | 4 | 6 |
| Sergio Perez | Force India | 4 | 3 | 6 |
| Esteban Ocon | Force India | 4 | 3 | 6 |
| Lance Stroll | Williams | 1 | 1 | 9 |
| Sergey Sirotkin | Williams | 2 | 1 | 10 |
| Nico Hulkenberg | Renault | 3 | 2 | 8 |
| Carlos Sainz Jr | Renault | 3 | 2 | 8 |
| Pierre Gasly | Toro Rosso | 3 | 3 | 7 |
| Brendon Hartley | Toro Rosso | 3 | 3 | 7 |
| Romain Grosjean | Haas | 3 | 3 | 7 |
| Kevin Magnussen | Haas | 2 | 4 | 7 |
| Fernando Alonso | McLaren | 3 | 4 | 6 |
| Stoffel Vandoorne | McLaren | 3 | 4 | 6 |
| Marcus Ericsson | Sauber | 2 | 4 | 7 |
| Charles Leclerc | Sauber | 3 | 3 | 7 |