Ex-Formula 1 racer Rubens Barrichello has revealed he feels lucky to be alive after his recent health scare and the discovery of a tumour on his neck.
The 11-time grand prix winner was rushed to hospital in February after suffering a severe headache at home.
He was released a few days later but subsequently had surgery to remove a benign tumour between races in the Brazilian stock car series in which he now competes.
Speaking in a television interview on Brazilian programme 'Conversa com Bial', Barrichello showed off a large scar on the left side of his neck where doctors had operated.
"After everything that happened, I had a bunch of check-ups to find out more about my health condition and they found a small tumour on my neck, which they removed after a race I did in Interlagos," he said.
"I had it removed because, even though it was a benign tumour, it would've grown and I don't want to have that kind of discomfort in the car."
The 45-year-old said doctors had told him he was incredibly lucky not to suffer any long-term ill effects - or worse - from his earlier visit to hospital.
"A friend of ours who's a doctor saw that I was in bad shape and I'm very lucky," explained Barrichello.
"The vein that opened due to a bad formation, regenerated itself with its own blood in two hours.
"When I arrived at the hospital, they put in a cannula and saw the vein had closed itself. When I left the hospital, they told me only 14% of people get out of this situation like I did. Many endure serious after-affects or die."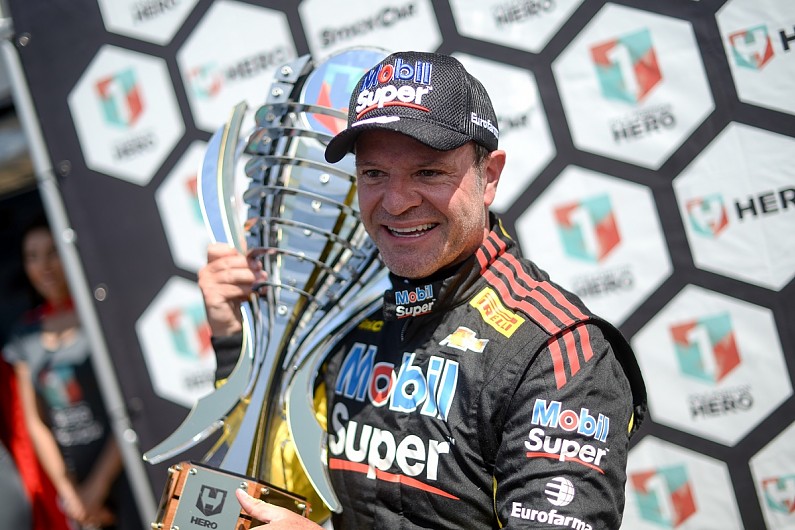 Talking about the incident that took him to hospital in the first place, Barrichello said: "I was at home having a shower and suddenly I felt a pain in my head.
"From zero to 10 - I'd say it was an eight or nine headache, so strong! I lay on the floor, I didn't want to wake anybody up. But it was hurting so badly.
"I walked back into my bedroom and woke up [wife] Silvana. I started feeling sick and realised this was a hospital situation."