Toro Rosso Formula 1 driver Pierre Gasly's drive to fourth place in the Bahrain Grand Prix "made a man out of him", according to Red Bull motorsport boss Helmut Marko.
Gasly, in only his seventh F1 race, gave the Toro Rosso-Honda partnership its first points of the season, having started the race in fifth place after Lewis Hamilton's penalty promoted him from his qualifying result of sixth.
The Frenchman's fourth place was Honda's best result since it returned to F1 with McLaren in 2015, as well as Toro Rosso's seventh top-four finish in its history - its first since Carlos Sainz Jr's fourth at the Singapore Grand Prix last year.
Marko says that Toro Rosso's target was to challenge the midfield, but not as early as Bahrain.
"That made a man out of him," said Marko. "His reward is the fourth place. All our drivers have a very good bonus system. This will more than please him.
"I didn't expect a fourth place that early - but it's a positive development. It was the target to challenge the midfield with this engine. Not here, but in the first half of the season."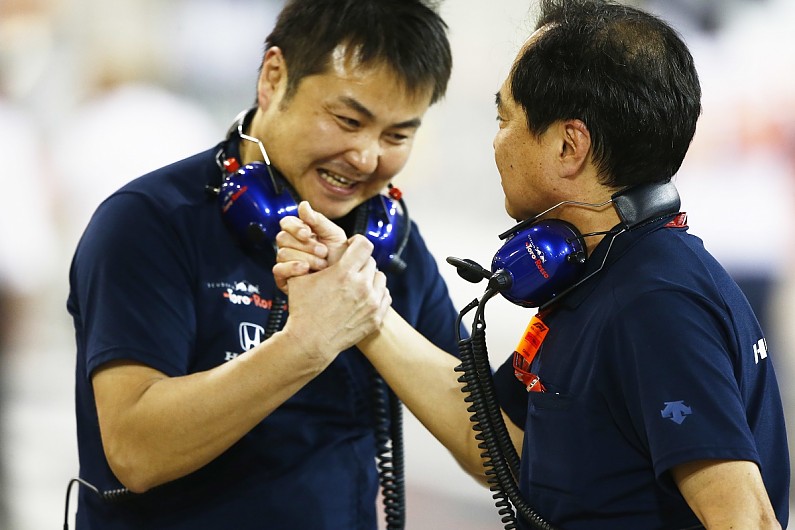 Team boss Franz Tost hailed Gasly's drive as flawless.
"Pierre has done an incredibly good job, I must say," said Tost. "Also yesterday in qualifying he got everything together.
"And today [was] a good start. [It's] fantastic how he fought at the beginning against Magnussen, defending very, very hard and he brought it home without any mistakes, nothing. Very good job."
Asked if he expected such a performance from a rookie, Tost said: "I expected it. Otherwise, he would not be a Red Bull Junior driver and he would not be at Toro Rosso."
Gasly, who made his grand prix debut last year in Malaysia, said it was an emotional race.
"It was just an amazing feeling just trying to realise because you put [in] so much focus, so much energy," he said. "It's mentally tiring, you have to take care of all the things: the tyres, the fuel, the battery, the gap behind.
"Just trying to take care of anything and put some really good laps. And you just completely release everything and the emotions come.
"I'm quite emotional in these sort of situations, so I was just super happy."