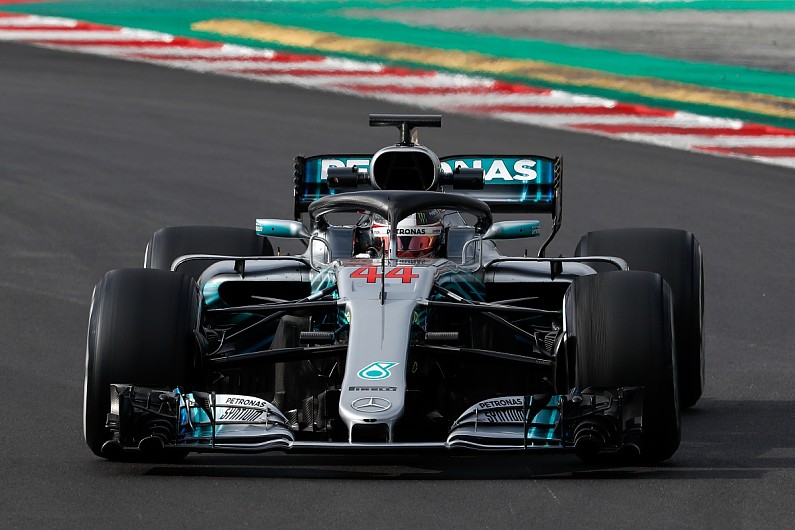 Lewis Hamilton says the 2018 Mercedes Formula 1 car "definitely" feels faster than its predecessor after topping the final day of the first pre-season test.
The reigning F1 champion recorded a best time of 1m19.333s - the quickest of the week - on Thursday afternoon at Barcelona, as he made up for the running lost to poor weather in the preceding days.
Hamilton said that while the new track surface at Barcelona made direct comparisons compared to last year's Mercedes tricky, he was in no doubt that the 2018 machine felt quicker.
"It's an evolution of last year's car, we've got better tyres and particularly here we've got a new surface, so that might make things seem even better than they really are," he said.
"So far it's been really good. Normally I'm not someone who likes testing, but today actually I was really keen to get out because we haven't had many laps.
"It's difficult to say whether the car is that much better, how much of it is the track and the grip and the tyres. Next week we'll get a better understanding.
"But it definitely feels like a faster car compared to last year's car, so that's positive."
Hamilton completed 69 laps on Thursday, bringing his total to the week to 94 - only the 16th-highest tally and 135 off Pierre Gasly's benchmark - but said he was not unduly concerned about having had such little track time.
"People ask me how many laps would you have normally had up to today, and obviously the last couple of years it's been something like 300 at least," he said.
"Obviously today I only started with 25 laps [so far]. It is what it is, and I don't think anyone has had massively more time on the track than me.
"I got back in the car and I got straight on it in the first 10 laps, so I'm quite happy, quite comfortable already."