Renault Formula 1 boss Cyril Abiteboul says he will give Red Bull a May deadline for a decision over its 2019 engine supply, respecting the FIA regulation on the subject.
Red Bull's current contract with Renault only covers the 2018 season, and the team is keeping a close watch on how Honda performs with sister F1 team Toro Rosso.
If Red Bull decides to switch to Honda, Renault will only have McLaren as a customer next season.
Red Bull boss Christian Horner confirmed in Barcelona that the team is keeping its options open.
"All things are open for 2019 onwards," he said. "We will play close attention to how things develop at Toro Rosso, but there are no preconceptions as we head into the season."
But Renault is not willing to wait for Red Bull to make its mind up, and wants the team to comply with Appendix 9 of the FIA's F1 Sporting Regulations.
That covers engine supply in some detail, including the obligation of manufacturers to supply a minimum number of teams if required, and details a May 15 deadline for the following season's engine supply deals to be confirmed.
Although that requirement is flexible - McLaren's switch to Renault and STR's move to Honda came much later last year - Renault sees it as a logical deadline for a Red Bull decision.
"We are not going to hang around forever," Abiteboul said. "I know what Christian is referring to when he says that he has options.
"He's absolutely right. Like him I read contracts, and I know the obligation we have towards the sport.
"There is one thing that is clear, and that is planning, and there will be a deadline for Red Bull Racing to define what they want for the future. It's available, it's in the sporting regulations.
"I believe that by the end of May there needs to be some clarity as to who is supplying which team - which supplier is supplying which customer team.
"As far as we are concerned, that will be the deadline."
Abiteboul confirmed Red Bull only had to commit to Renault by that date, not necessarily finalise details of a new contract.
"I guess that will be the baseline for any discussion," he added.
"Then there are still a number of specific services that they want to have - do they want to have their own petroleum company, do they want to have specific dyno test programme? And so on and so forth.
"The fact that we have that framework in the regs will not prevent any more bespoke services, or commercial discussion, between our two companies."
Asked about the financial impact on Renault of dropping back to a single customer for 2019, Abiteboul replied: "We have always said that being an engine supplier is a very bad business."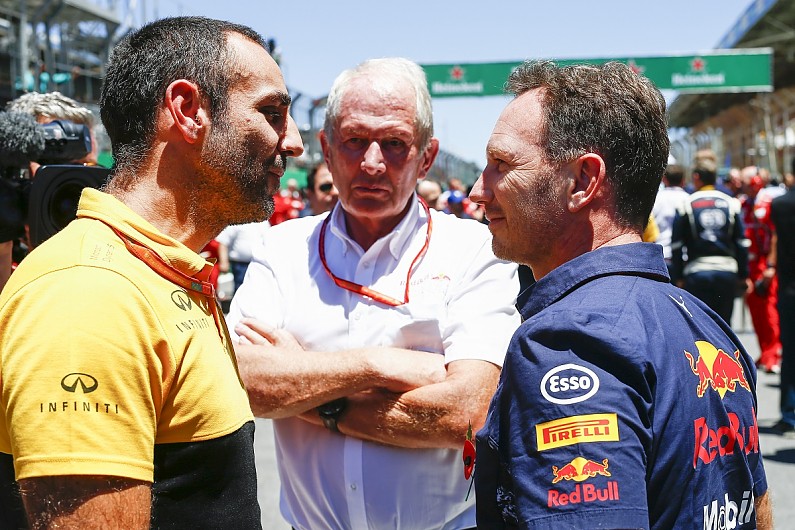 Autosport has produced a standalone special magazine to celebrate our 70th birthday. All current print subscribers will receive a copy for free. To order your copy of the 196-page Autosport 70th Anniversary issue, please go to: autosport.com/autosport70th