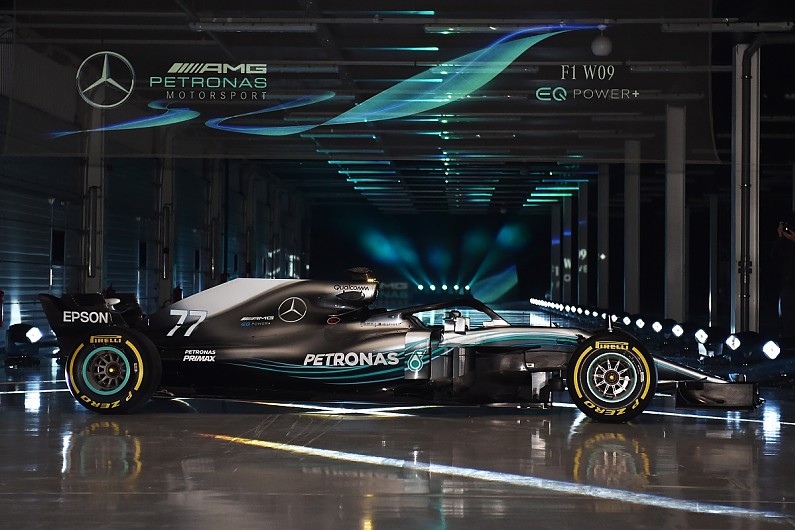 As Formula 1 teams prepare for the start of pre-season testing at Barcelona, we take a look at the key features on the leading cars from Mercedes, Ferrari and Red Bull.
In these clips from the latest episode of Motorsport.tv's weekly programme The Flying Lap, Peter Windsor and Craig Scarborough inspect the launch-spec cars that were unveiled last week.
Mercedes
While reigning champion Mercedes didn't turn many heads with its 2018 design, which is a clear evolution of last year's W08, there are some key suspension changes that have been made, and like all teams Mercedes is expected to bring several more visible aerodynamic upgrades during testing.
"The first impression is that it looks very much like the W08, converted to the new regulations," says Scarborough.

Follow every moment from F1 testing with Autosport Live

"The whole point is they haven't had to change a lot, they've just had to work on the whole nature of the car, which was the biggest problem through 2017.
"It's all the little detail that they've had to work on to get the 'divaness' out of the car, as they were describing it last year.
"With the updated aero that will appear, there's no reason this car won't be the quickest thing out there."
Ferrari
Ferrari's launch spec car is described as "beautifully detailed front to rear", with "all sorts of things going on" as the team looks to build on the steps it made in 2017 that got it back into world title contention.
"We've seen lots of other cars make big changes this year, because they're actually following a lot of Ferrari's design ideas," says Scarborough.
"Ferrari have taken the ideas they already had and now taken it all a step further.
"They've further developed the sidepods - they are quite confusing to look at, at first.
"The inlet is absolutely tiny, right in next to the cockpit. The rest of the bodywork is there to shape airflow around the rest of the car."
Red Bull
The most eye-catching feature on the Red Bull from its launch images last week was the sidepod design, and there is more to it than simply copying the concept used by Ferrari last year.
"We talk about it being the 'Ferrari' sidepod with these high-topped sidepods, [Red Bull] have gone their own way of doing it," says Scarborough.
"How they've packaged the radiators inside is going to be really interesting to see.
"When you see the shape change from the sidepod front up to the sharkfin, it has the hallmarks of [Adrian] Newey's drawings."