Force India believes it was on for its first podium of the 2017 Formula 1 season in the Mexican Grand Prix but for the virtual safety car.

Esteban Ocon assumed third position on the opening lap of the race, with team-mate Sergio Perez also gaining places to move up to fifth.
But Perez was forced to make an early pitstop on lap 18 of 71 as he came under pressure from Kimi Raikkonen's Ferrari, setting off a chain reaction that led to Ocon pitting two laps later.
The strategy backfired when the VSC was deployed following Brendon Hartley's retirement, effectively granting Raikkonen a free pitstop.
Ocon ultimately fell to fifth behind Raikkonen's team-mate Sebastian Vettel.
Force India deputy team principal Bob Fernley defended the early-stop strategy, saying it would have worked without the VSC.
"We were going for a podium," he told Autosport.
"Normally when we're racing, we're not worrying about Ferrari, Red Bull and Mercedes because we can't beat them.
"Here was an opportunity so we rolled the dice, and in rolling the dice, it also comprises, when it goes wrong, the pace.
"It was worth doing. It was a good effort but in the end, we didn't quite have the pace to hold back the Ferraris.
"In going for a podium, we pitted earlier to stop the undercuts.
"In the end, Raikkonen was that bit quicker. The [virtual] safety car threw everything out the window and allowed Vettel to come through."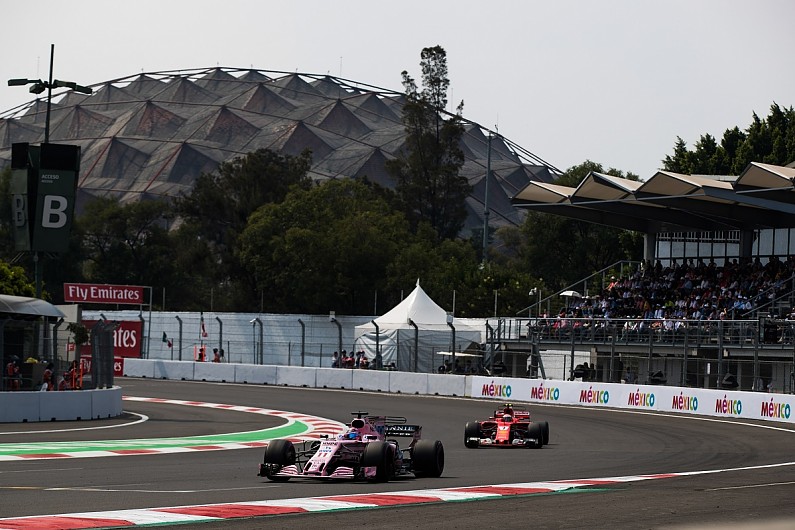 Force India chief operating officer Otmar Szafnauer said a 'dummy' move from Ferrari had lured his team into its early stops.
"Raikkonen was coming up behind us. His team came out into the pitlane with tyres ready to undercut us. And I think his instruction was 'do the opposite of Ocon'," Szafnauer told Autosport.
"So if you've got a naturally faster car, you can both undercut or overcut. And so had we not pitted, Raikkonen would have pitted, come out in free air and then we'd pit one lap later because he's close enough to us and he gets us.
"We pit, he doesn't pit and now it's us on fresh tyres and him on used tyres, which one's faster? Does he get us or doesn't he get us?
"As it turned out, what happened is that he stayed out so long that the virtual safety car happened and he gained about 12 seconds because of it and he pits under the VSC and he comes out 10s ahead.
"So you're doomed if you did and doomed if you didn't. Virtual safety car completely screwed us.
"Even Checo [was affected] - [Lance] Stroll gained 10-12s on the virtual safety car, which put him between our two.
"If you go longer on your first set of tyres and you get degradation, you're slower while we're quicker on the new set. All that gets erased when the virtual safety car comes in and you gain 10-12s."