Toro Rosso Formula 1 driver Pierre Gasly says he has never experienced anything like his "crazy" and "painful" Mexican Grand Prix weekend.
Gasly has suffered a string of power unit related failures in Mexico and did not complete a single flying lap on Saturday due to recurring problems.
After Sean Gelael drove his car in FP1 on Friday, Gasly only completed only a handful of flying laps in FP2 before suffering a turbo issue.
He then stopped on track on his first lap in FP3, and the team was not able to replace his power unit in time for him to run in qualifying.
"It's been really crazy since the start of the weekend," said Gasly.
"It was a tough day. In the team they all try to do their best, and it's just really unfortunate for all of us.
"For me it's really painful, because it's a new track, and the only thing I would like is to get some proper laps to get used to the car, to the track.
"At the moment it just doesn't go our way."
Despite missing qualifying Gasly, who has not previously driven the Mexico City track, has been given permission to start at the back of the grid.
"I haven't done any practice starts, I haven't pushed the pit entry once, no pitstops," he said.
"I could have came from Japan only today and go for the race tomorrow, it's basically the same thing.
"I've never had such a race weekend."
Gasly's team-mate Brendon Hartley is expected to take a grid penalty for his second consecutive F1 race after suffering a Renault engine failure in qualifying.
Hartley made it through to the second part of qualifying in 14th, but stopped on track on his second run in Q2.
That left him 13th, although was confident that he could have beaten Williams pairing Felipe Massa and Lance Stroll to earn 11th.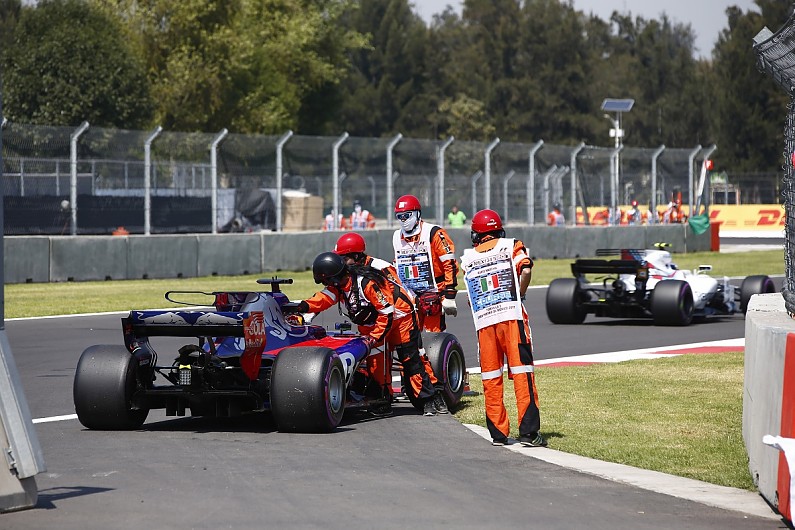 "I was pretty excited for Q2 to really put everything on the line and have a crack at getting ahead of both of the Williams," said Hartley.
"At the beginning of Q2 I got the tyres perfect, Turns 1 and 2 absolutely nailed it, I think I was already two-tenths up.
"And then the engine went. It made a big bang actually, and lost the power."
Hartley says he feels much stronger in his second race weekend with the Italian team.
"It was a bit frustrating, but I'm happy with my progression since Austin," he said.
"I came here being able to have the mental capacity to focus on a lot of other things.
"In Austin we kept it pretty simple, I had a lot to learn, a lot to get used to, a lot to get a feeling for.
"I think we came here firing from the word go."