Fernando Alonso could run Honda's updated Formula 1 engine at this weekend's Mexican Grand Prix as a result of the failure he incurred during the race at Austin.
The double world champion was running inside the top 10 when he reported a loss of power - later diagnosed as an MGU-H problem - and was recalled to the pits to retire.
Honda had an updated engine ready for the US GP, but only Stoffel Vandoorne ran it as he required an engine change because of high mileage on his previous unit and therefore would have had to take a penalty anyway.
In contrast, Honda had hoped Alonso could run his current power unit until the end of the season and therefore avoid any further grid penalties, so it decided against giving him the update.
But Honda F1 project leader Yusuke Hasegawa told Autosport Alonso could "possibly" get the update in Mexico now as a change of MGU-H would trigger a penalty anyway.
"Yes, I think [we will get a penalty] so it would be better to introduce a new engine in Mexico," he said.
Honda suspects Alonso's MGU-H issue is similar to the one that hit Vandoorne and forced an engine change before Sunday's race.
It comes after a succession of races where Honda has endured good reliability.
However, the Japanese manufacturer has suffered a series of failures with the same component this season.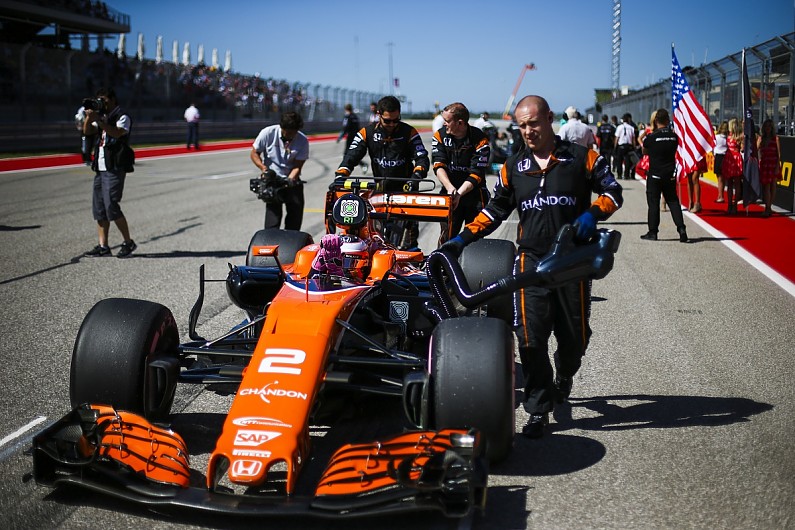 "It's very disappointing that we faced more issues with our engine - particularly because the reliability has been relatively stable in recent races," said Hasegawa.
"We will immediately investigate the issue with the Sakura team and work towards a countermeasure for Mexico."
"It looks like we had a similar issue [to Vandoorne with Alonso] but we don't know exactly. It looks like a rotation issue.
"Stoffel's [MGU-H] has higher mileage, so we knew it would reach the end of its life at the end of this event. But we didn't expect a failure.
"Fernando's is very low mileage as we only introduced it in Suzuka."
Hasegawa felt Alonso and Vandoorne could have scored points at Austin had it not been for Alonso's failure and Vandoorne's substantial grid penalties.
"We had reasonably good performance," he said. "We had decent performance to aim for points.
"If we didn't have an issue, Alonso would have scored points. We could have finished sixth or seventh.
"If Stoffel had started 14th, he could have aimed to score points, too."