European Formula 3 title contender Lando Norris is in contention for the McLaren Formula 1 reserve role in 2018, says Eric Boullier.
Jenson Button fulfilled the role this term, but has said his focus is on securing a full-time return to competition in another category next year.
McLaren plans to have talks with Button over whether he wants to continue some form of association with the team next year, and is assessing alternatives for the reserve role.
Norris has impressed in European F3 this season and heads to this weekend's finale at Hockenheim with a 72-point lead.
Boullier previously said Norris demonstrated he is a "potential star of the future" with his display in the post-Hungarian Grand Prix test, which was part of his prize for winning the 2016 McLaren Autosport BRDC Award.
When asked if Norris could become McLaren's reserve next year, Boullier said: "It could be.
"If he wins Formula 3, which is very likely, he will have enough points to get a superlicence.
"I've been impressed, yes. The way also he stepped up after his F1 test was nice to see.
"He took a lot of confidence out of this F1 experience and now he just needs to manage it as well.
"He's in another level where he needs to manage the pressure of the championship, but also not doing more mistakes, being more exposed to the media, he needs to learn this."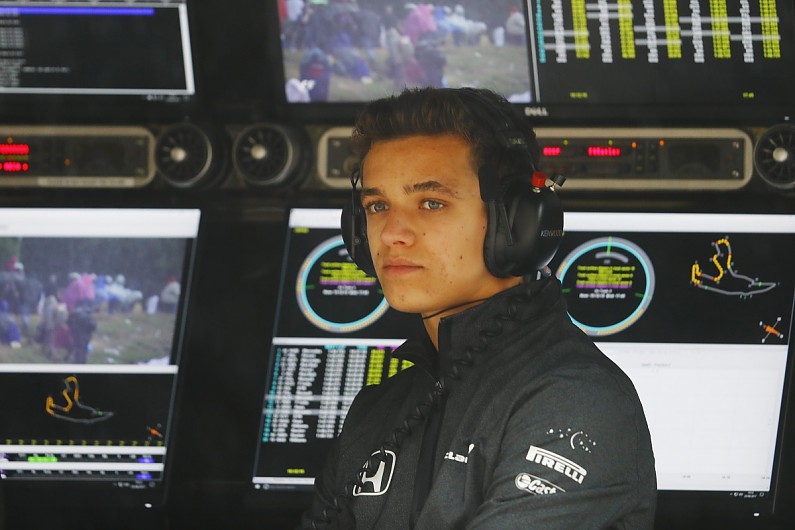 Boullier said while Norris "is coping well" with the hype surrounding his form in the junior formulae, he will continue to work to protect him as best he can.
"I'm always the one who is going to minimise everything because I know how dangerous this paddock can be and the more exposed you are to F1 the more a young kid - I mean he is only 17 - can get distracted," he said.
"This is a danger and I have seen this so many times and you don't want this to happen.
"The social media actually makes you even more exposed to this."