Red Bull boss Christian Horner says his Formula 1 team is "absolutely open" to running an Aston Martin engine if the British carmaker decides to enter as a supplier.
Aston will become Red Bull Racing's title sponsor in 2018 as part of an enhanced relationship that has already yielded the Valkyrie hypercar.
Aston is taking a close interest in F1's 2021 engine rules, having attended discussions on the topic, but its president and CEO Andy Palmer has stressed costs need to be kept under control for a project to be viable.
Red Bull has had a difficult relationship with current supplier Renault and failed to secure power from Mercedes or Ferrari, which leaves Honda as its only current alternative.
Palmer told Autosport "a lot of the discussion on engines" with Horner was "born out of his own frustration about being able to find a reliable and powerful engine for the future".
When asked whether Red Bull would be interested in taking an Aston Martin engine, Horner told Autosport: "It's something we're absolutely open to.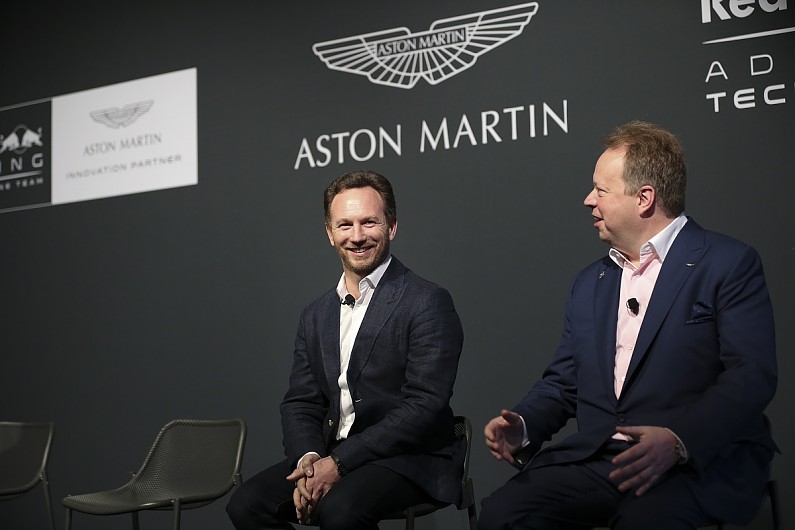 "First things first, we need to see what the regulations are and whether it is viable for a manufacturer like Aston to be able to buddy up with another third party in a bid to produce a competitive engine."
Aston has experience working with other brands interested in building an independent engine, having worked with Cosworth and Ricardo on the Valkyrie.
"Both options are open," said Palmer regarding whether Aston would produce an F1 engine alone or with a partner company.
"It genuinely depends on the bill at the end of it.
"Aston, in general, works with specialist engine companies like Cosworth, Ricardo, Ilmor and AVL.
"Even for our roadcar engines, we use those specialists.
"It would be reasonable and possible that Aston would join up with the likes of Cosworth to put together a proposal.
"Nothing is decided yet. I have had discussions with all the aforementioned groups.
"Our closest relationship right now is with Cosworth because of the Valkyrie engine."
Palmer said Aston had submitted a document to the FIA outlining its vision of how the new engine formula could shape up.
"We have made a formal submission with our opinion and we're hopeful the regulators, the FIA in this case, will rule on a much simplified engine which most importantly has to limit the number dynamometer hours and has to limit the development cost," said Palmer.
"Our submission talks a lot about keeping the current levels of lap times in place, but at the same time improving the sound of the engine.
"If you bring the cost down, you can increase the number of engines that you can supply to the team so you don't have this ridiculous situation of grid penalties and obtuse rules that nobody really understands."
You can read more about how Aston Martin's new deal with Red Bull could lead to an F1 engine supply in Thursday's edition of Autosport magazine