Felipe Massa says he will be supporting McLaren in the Singapore Grand Prix, in the hope it can take points off Williams's Formula 1 rivals in the constructors' championship.
Williams had a tough qualifying session at the Marina Bay F1 circuit, with Felipe Massa and Lance Stroll 17th and 18th, faster than only the Saubers.
The team is locked in a tight battle for fifth in the constructors' championship, leading Toro Rosso by just 15 points, Haas by 20 and Renault by 21.
McLaren's Fernando Alonso and Stoffel Vandoorne will start eighth and ninth respectively, behind Renault's Nico Hulkenberg, and Massa is hoping the McLaren duo can have a strong afternoon to aid the Williams cause.
"I'm supporting McLaren a lot tomorrow because they can get some points from teams that we are fighting," said Massa.
"Also Force India (Sergio Perez and Esteban Ocon start 12th and 14th), if they can get positions tomorrow to finish in front of teams that we are fighting like Toro Rosso and Renault, it's good for us.
"We have 21 points to Renault. Renault is a team I'm more afraid [of]. Renault has a better car than us and they have a better car than Toro Rosso as well.
"After this race, we need to fight hard with these teams that have a quicker car than us for the moment, in many different tracks."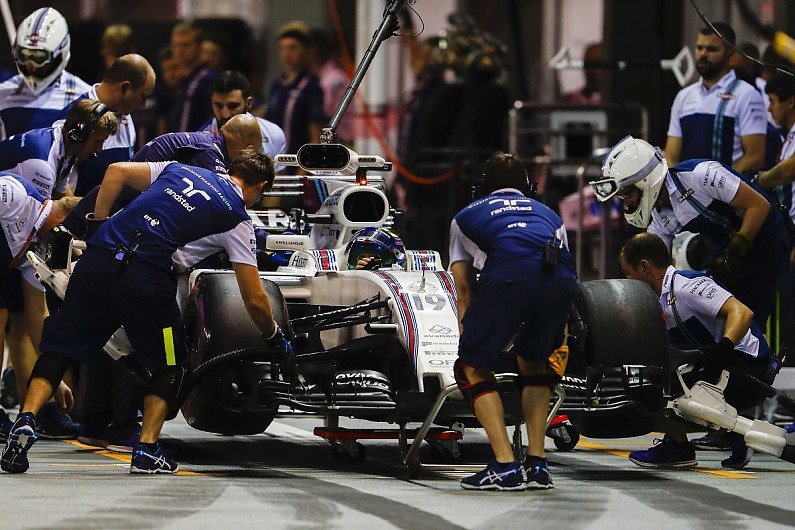 Massa hit the wall hard in Q1 and then suffered oversteer in the penultimate corner on his second run, without which he felt he would have progressed easily to Q2.
Williams technical chief Paddy Lowe believes Massa may have been caught out on his second run by oil on the track from an earlier Porsche Carrera Cup Asia race.
"The car is quicker than the times you saw on the board," said Lowe.
"Felipe had a bad afternoon. In Q1, hit the wall. I don't know if he thinks the same, but I guess the oil into Turn 20 might have had some impact.
"He hit the wall very hard. There was some bodywork damage, which had some aerodynamic impact.
"The lap he was on [later in Q1], we think it would have been a 1m43.3s, which is seven tenths quicker and would have put him 13th."