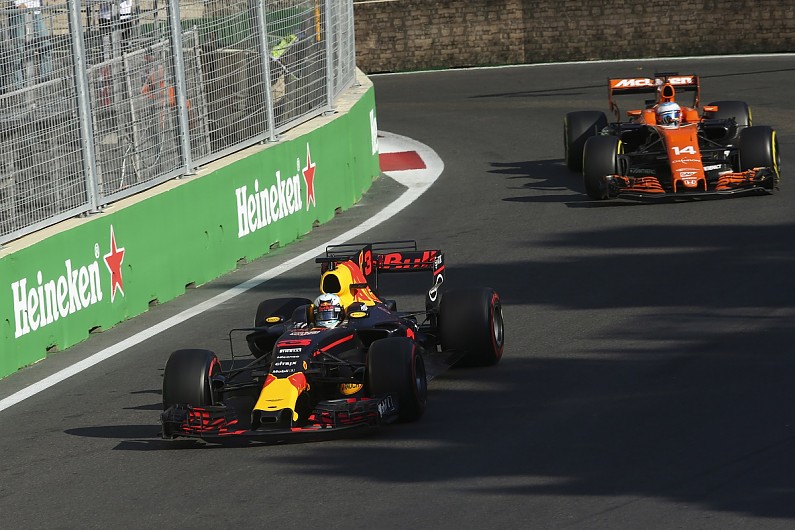 Red Bull may be forced into a switch to Honda engines for 2019, with current partner Renault working to end its supply deal at the end of next year.
A complicated engine merry-go-round is set to be concluded this week with McLaren and Toro Rosso swapping between Honda and Renault supplies respectively for next season.
Red Bull joining Toro Rosso with Honda power in 2019 was an obvious option as part of that deal, should the Japanese manufacturer show sufficient improvement next season, but it now appears that Red Bull may not have a choice.
Autosport understands Red Bull and Renault had agreed to extended its current deal to the end of 2020, although this was never formally announced.
However, the Red Bull-Renault alliance is now in the process of being cancelled by the French manufacturer as part of the fall-out of Toro Rosso's divorce from Renault.
Ferrari and Mercedes have no intention to extend supply deals beyond their current commitments, and were not interested in Red Bull supply for 2016 when previously offered the chance.
That would leave Red Bull with no option but to agree a Honda deal sooner rather than later.
A complete divorce between Red Bull and Renault after just one more season is no surprise given the public breakdown in the relationship in 2015 and subsequent rebadging of the engine as TAG Heuer.
Red Bull and Honda are already linked in MotoGP and, as with Toro Rosso, the deal is likely to considerable financial advantages as Red Bull will no longer be paying for its engines.
It is also likely to receive funding from Honda, which means that Red Bull boss Dietrich Mateschitz's financial commitment will be substantially reduced.
Red Bull may also be able to keep its TAG Heuer sponsorship, although the watchmaker would not badge the engine.
However, there are obvious question marks over Honda's potential form in 2019, even allowing for some improvement over the course of next season.
If the Renault split is confirmed the news will be of considerable interest to Red Bull's drivers, with Daniel Ricciardo's contract expiring next season and Max Verstappen believed to have a performance-related clause to end his deal, which currently includes the 2019 season, early.

Why Verstappen's impatience could explode the driver market
The likelihood is they will now accelerate the process of looking for alternative seats, with opportunities currently available at both Mercedes and Ferrari beyond 2018.
Longer-term, Red Bull remains linked to the potential arrival of Porsche in 2021, which could mean that its deal with Honda lasts for just two seasons.
Confirmation of the McLaren-Honda/Toro Rosso-Renault severances, and subsequent swaps including Carlos Sainz Jr switching from Toro Rosso to Renault, are expected on Friday in Singapore.