Honda fears it cannot do enough to convince McLaren to continue their Formula 1 partnership into 2018, but will not stop trying.
McLaren is expected to make a final decision on its future with Honda this week, with their relationship at breaking point after a season of unreliability and poor performance.
If McLaren decides it cannot continue with its current engine partner, and Toro Rosso elects to stay put with Renault, Honda would be forced out of F1.
Despite the uncertainty, Honda has been pushing ahead with an aggressive development plan that yielded upgrades at Spa and Monza.
"I'm still trying to make good performance to convince them but I'm not sure it will be enough," said Honda F1 chief Yusuke Hasegawa.
"Honda never give up on keeping this collaboration."
While the situation could have become a distraction for Honda's staff back at Sakura and Milton Keynes, Hasegawa believes it is having the opposite effect.
"It accelerating our development," he said.
"It becomes motivational inside the factory."
Honda has taken confidence from the performance of the upgrades it has introduced in recent races.
"Since Austria, the spec 3 engine introduction, our development has accelerated and the rate of development is very good," said Hasegawa.
"We saw some performance gain with each upgrade so it's very encouraging."
McLaren-Honda tactically took engine penalties in Belgium and Italy in a bid to be penalty-free at the next race in Singapore, where the track is more likely to suit its car.
"We have some confidence about competitiveness [at Singapore]," added Hasegawa.
"We have already decided the current engine will go to Singapore.
"We may update some settings or engine settings but we cannot do a big update in Singapore."
When asked about the performance of the latest upgrade - spec 3.7 - McLaren racing director Eric Boullier said: "Any extra horsepower, we take them.
"As Hasegawa said, on data we can see some improvement so I am happy with that."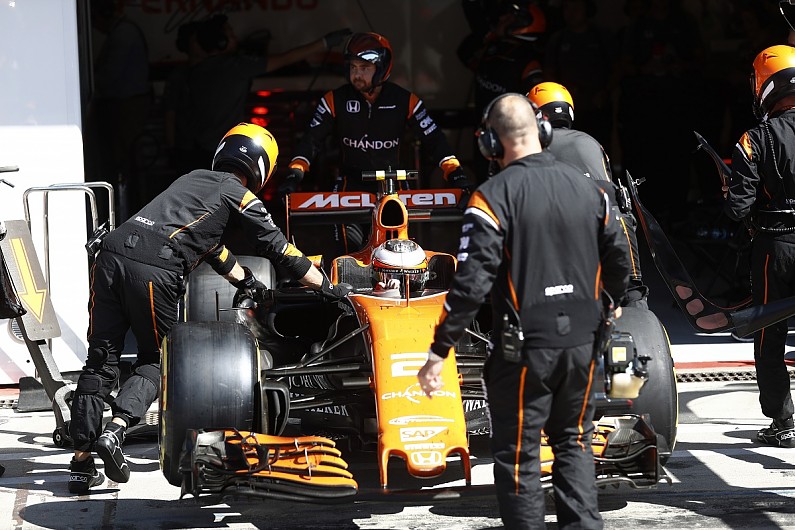 Both McLarens retired from Sunday's Italian GP, and while Fernando Alonso was stopped by a gearbox problem, Hasegawa believes the problems that stopped Stoffel Vandoorne in Q3 and when running 10th in the race "could be the same".
Honda does not know why the the MGU-K shaft broke on Saturday, particularly as it was a low mileage part.
"This is very low mileage, so we applied a new shaft on Saturday morning. It had 200km," said Hasegawa.
"On Sunday, it was almost the same mileage.
"It might be a manufacturing issue or batch issue. Normally it lasts more than 800km."
Hasegawa expects the MGU-K shaft can be replaced without incurring a penalty for Singapore.
The broken parts will be sent back to Sakura for investigation, with Honda hopeful of finding the root cause of the problem.