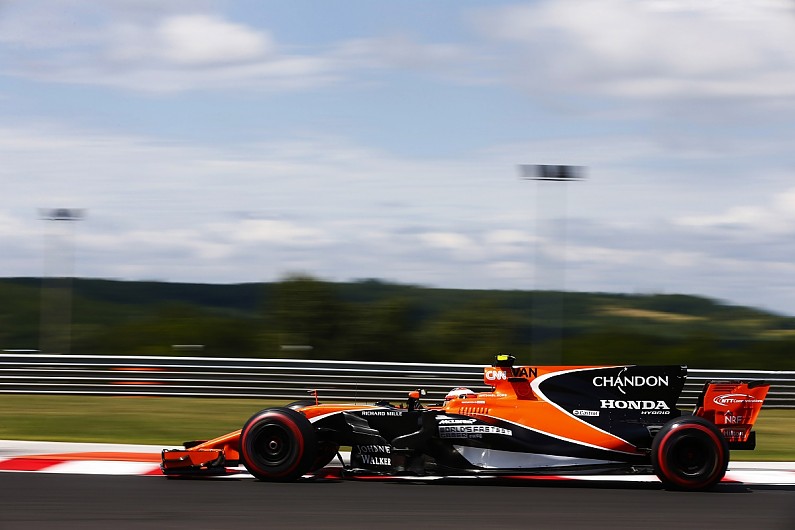 McLaren is facing a dilemma on its Formula 1 engine plans for 2018, with sources suggesting Honda has made gains with help from engine specialist Ilmor.
After months of speculation about its future with Honda, McLaren must soon decide whether to continue with the Japanese manufacturer or convince Renault to supply it.
While it had appeared even a few weeks ago that there was little chance of McLaren continuing with Honda, the situation has become more complicated recently with sources suggesting that Ilmor has made good progress in its efforts to help Honda.
As part of an overhaul of its F1 operations this year, Honda has been taking advantage of input from outside consultants to help it fast track improvements.
Although Honda has not revealed who it has been working with, sources have confirmed that the highly-respected Ilmor operation is one of those that has been helping it overcome its difficulties.
With McLaren demanding a step forward from Honda if the partnership is to continue, it has emerged that Ilmor's intensive work on all aspects of the unit has produced encouraging gains on the dyno.
The news of such progress comes at the perfect time for Honda, with McLaren needing to make a decision on its 2018 engine plans in the next few weeks prior to it beginning negotiations with Fernando Alonso over a new contract.
Renault remains an option for McLaren, but the French manufacturer is understood to be reluctant to expand to a fourth supply deal beyond its current partnerships with Red Bull, Toro Rosso and its own works team. However, such a possibility has not been ruled out.
There still remains a chance, however, that Toro Rosso could yet free up a supply by making a switch to Honda for 2018, with the Italian team's discussions with the Japanese manufacturer understood to not be totally over despite reports last week that talks had collapsed.
Although Honda has not made dramatic gains with its engine so far this season, behind the scenes there has been a lot of change.
It parted with ex-Ferrari man Gilles Simon on the eve of the season, and subsequently enlisted a wide range of input from outside parties - including Ilmor and Mercedes.
When asked to comment on the situation regarding Ilmor, Honda declined to reveal any specific details - other than it was working hard for 2018.
"Although we do not deny the possibility of working with outsources [consultants], we do not disclose the details," said a Honda spokesman.
"We are now working on the development of the 2018 power unit but nothing specific can be mentioned at this time, other than the fact that we are working very hard to get further improvement to become more competitive."
As well as outsourcing work, there have also been changes to the way that Honda operates, with problems related to correlation between track and dyno having hurt it earlier this year - especially when it came to translating performance from a single cylinder to a full engine block.
Speaking before the summer break, Honda chief Yusuke Hasegawa said the team had changed its development approach to place less reliance on its dyno results.
Engine guru Mario Illien has a successful past in grand prix racing, most notably with Mercedes and McLaren in the mid-1990s - scoring back-to-back world titles with Mika Hakkinen in 1998-99. Ilmor engines have 44 F1 wins and 43 pole positions to their name.
Ilmor had previously been working on Renault's F1 power unit in 2015, a programme that included a single-cylinder prototype provided by Illien at the behest of Red Bull.
Despite initially encouraging results, Renault halted the work as it felt its own design solutions offered a bigger chance of progress.
Illien has also attended recent FIA meetings, where the future F1 engine format has been discussed.