Honda can leapfrog engine rival Renault before the end of the 2017 Formula 1 season, believes its motorsport chief Yusuke Hasegawa.
Since rejoining F1 with McLaren in 2015, Honda has been fourth in the engine pecking order behind Mercedes, Ferrari and Renault.
After changing its design concept over the winter, Honda has struggled for performance and reliability this year - which in turn has put a strain on its relationship with McLaren.
But Honda has shown progress in recent races, with the team scoring its first points in June's Azerbaijan Grand Prix - where it introduced a 'spec 3' engine - followed by a double-points finish in Hungary last time out.
"I think we can keep the same ratio of the increasing of the power but it is difficult to catch up Mercedes or Ferrari," Hasegawa told Autosport.
"I really want to move ahead of Renault in terms of performance before the end of the season."
When asked if he believed that would be a genuine possibility, given Honda's current horsepower deficit to its rivals, Hasegawa replied: "Yes, I can see that on the data.
"I will not tell you the number, but we are closing the gap."
Hasegawa added he felt this was the closest Honda has been to its rivals since returning to F1.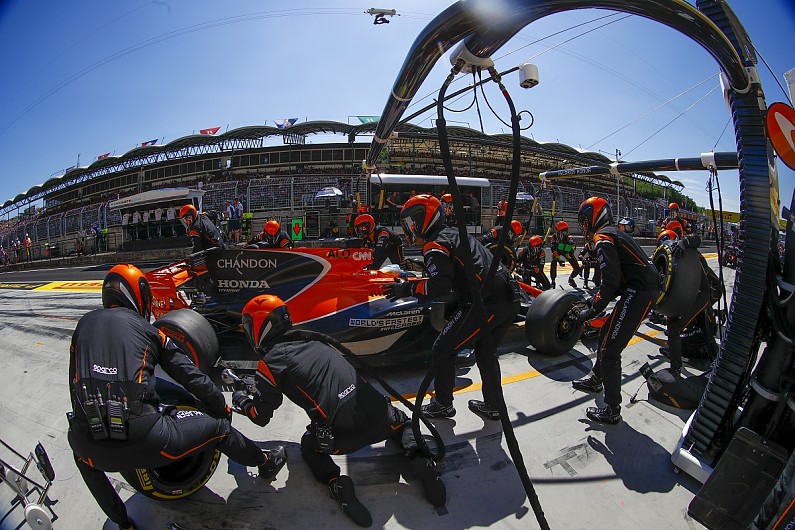 He recently declared the Hungarian GP weekend was the first in 2017 where Honda had no reliability concerns.
Fernando Alonso and Stoffel Vandoorne finished sixth and 10th at the Hungaroring, which moved McLaren above Sauber into ninth in the constructors' championship.
Speaking about the engine performance in Hungary, Hasegawa said: "The drivability was OK but still the drivers highlighted a lack of power.
"They are very confident with the car, which is good but it is still difficult to challenge the top three teams."
Honda is pushing on with development of its 2017 engine at its bases at Sakura and Milton Keynes and intends to introduce 'spec 4' as soon as it can prove the upgrade on the dyno.