Force India will bring its biggest update of the 2017 Formula 1 season to this weekend's British Grand Prix, according to its technical director Andrew Green.
The team's first major upgrade of the season was introduced at the Spanish GP in May, where Sergio Perez and Esteban Ocon finished fourth and fifth - Force India's best result of 2017 so far.
It has scored with both cars in seven of the year's nine GPs so far, and holds fourth in the constructors' standings with a 49-point margin over nearest challenger Williams.
For its home event at Silverstone, where team principal Vijay Mallya will make his first appearance at a race in 2017, Force India is planning significant improvements for the VJM10.
Its technical director Andrew Green said: "We've got a suite of things coming for Silverstone, including a new front wing.
"There are other bits as well, mainly the front end.
"It's one of our biggest [updates], if not the biggest, we have done so far this season."
Green confirmed that the Silverstone package was larger than the upgrade brought for Barcelona, and added: "It'll be incremental from there and then there will be another big update around Singapore time.
"That is just coming through the windtunnel now, it's going into full-size now."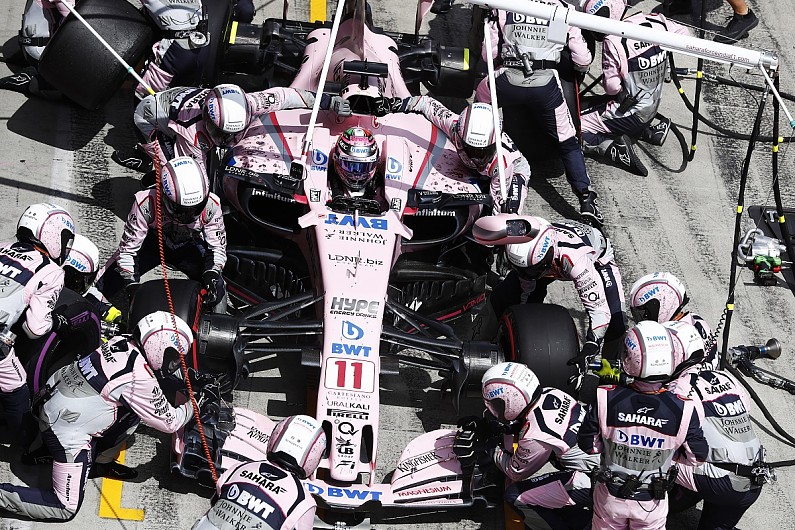 He said Force India is finding performance steps on the new generation of F1 cars "every week" but admitted it will soon have to start thinking about allocating development resources to its 2018 machine.
"It's going to start to become a challenge when we have to allocate resource to next year's car," Green said.
"The two cars, this year's and next, are aligned. From a concept perspective, everything we learn on this car transfers straight to next year's car.
"In that respect, we'll keep on bringing parts to the track. They will become less frequent and less complex parts but we will be bringing parts.
"A lot [of the decision] will be looking over our shoulder and seeing how far away fifth place is and whether we can focus more on next year."