The Formula 1 stewards at the Azerbaijan Grand Prix found no evidence in telemetry data of Lewis Hamilton either brake-testing or lifting off unexpectedly in his clash with Sebastian Vettel.
Although Vettel is adamant that he was brake-tested on the exit of Turn 15 as leader Hamilton prepared for the Baku race's second safety-car restart, the FIA's analysis of data from Hamilton's car showed no proof of that.
Vettel then drew alongside Hamilton and made further contact with the Mercedes, for which he was given a 10-second stop/go penalty for "potentially dangerous" driving.
The FIA investigation, conducted during the race, showed that Hamilton had behaved exactly the same in that area of the track at both the controversial restart and the incident-free one before.
With a long run up between the following Turn 16 and the safety car line, Hamilton had to back off to ensure that he did not break the rules by overtaking the safety car before he was allowed.
Vettel remains adamant that Hamilton did not behave in the right way and that he was brake-tested.
"We know the leader dictates the pace but we were exiting the corner," said Vettel.
"He was accelerating then he braked so much that I was braking as soon as I saw, but I couldn't stop in time and ran into the back of him.
"I just think that wasn't necessary."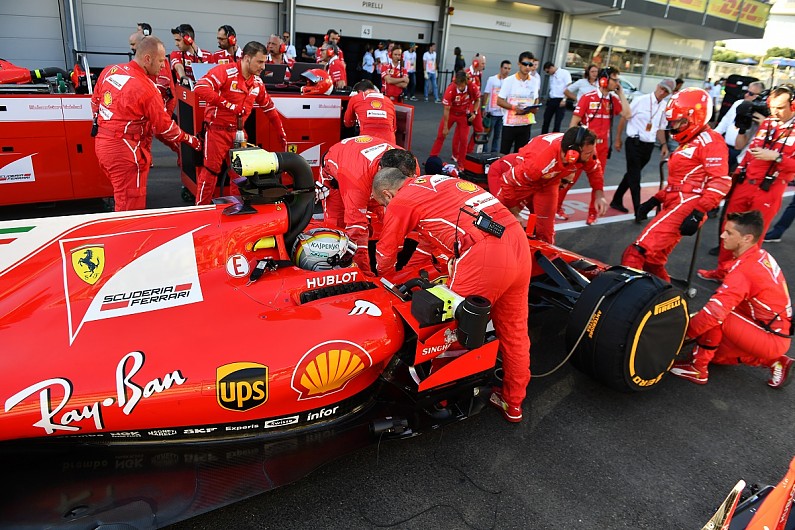 The FIA's analysis of the second contact concluded that Vettel had turned into Hamilton's Mercedes.
The stewards' statement explained: "The stewards examined video evidence which showed that car #5 drove alongside and then steered into car #44.
"The stewards decide this manoeuvre was deemed potentially dangerous."
Speaking about that moment, Vettel said: "I drove alongside, then we had a little contact but I drove alongside mostly to raise my hand.
"I didn't give him a finger or anything, I just wanted to tell him - because I can't literally talk to him - that that was not right."
Race ban danger
Vettel was also given three penalty points for the incident with Hamilton - which means he now has a total of nine for the past 12 months.
He is now just three points away from a race ban under F1 rules, thanks to three other offences he committed in 2016.
But the two penalty points he got at last year's British GP, for running Felipe Massa off the track, will be wiped away if he does nothing wrong in the next races.
They are due to expire on the Monday following this season's Austrian GP in a fortnight.

Vettel's penalty points tally
2016 British Grand Prix - running Felipe Massa off track (2 points)
2016 Malaysian Grand Prix - causing first corner incident with Nico Rosberg (2 points)
2016 Mexican Grand Prix - moving under braking (2 points)
2017 Azerbaijan Grand Prix - potentially dangerous move on Lewis Hamilton (3 points)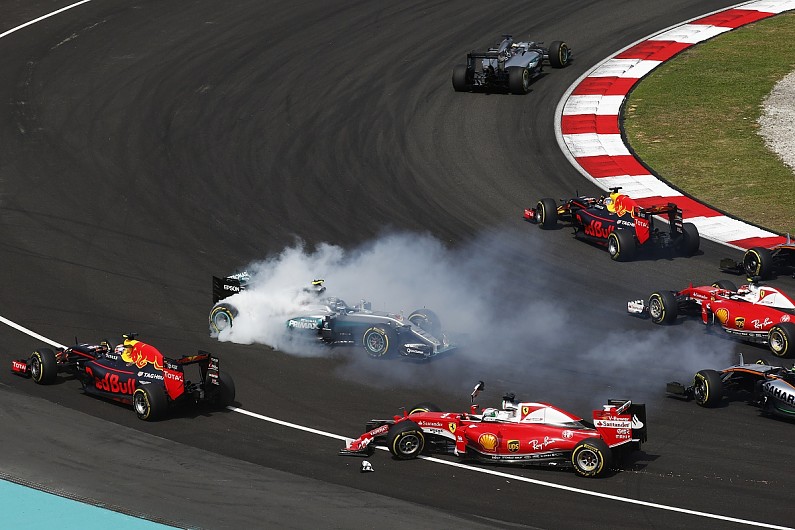 Autosport has produced a standalone special magazine to celebrate our 70th birthday. All current print subscribers will receive a copy for free. To order your copy of the 196-page Autosport 70th Anniversary issue, please go to: autosport.com/autosport70th