Romain Grosjean has declared himself "fed up" with what he regards as a disproportionate focus on his negative radio messages to Haas in Formula 1 broadcasts.
Grosjean has endured a particularly difficult Azerbaijan Grand Prix weekend so far, with his long-standing brake issues troublesome throughout practice and qualifying.
He was eliminated in Q1 and will start four places behind team-mate Kevin Magnussen in 16th.
Many of his radio transmissions have featured on F1's world feed from Baku as he voiced his annoyance over brake problems and the resulting lock-ups.
Asked by Autosport whether he felt his communications with the team were being singled out, Grosjean replied: "Yes, and I'm very fed up with it.
"Everyone is saying things [on team radio], and when I'm saying things, it's just for the team, it's not for the outside world.
"It's our internal business if I have rear locking and front locking, or whatever.
"I've been broadcast much more than others and I'm pretty sure others have been swearing and not being happy sometimes.
"I just feel that they have been a bit unfair and I'm tired [of it]."
Last year Grosjean said he would attempt to be "a little bit more quiet" in radio communications "because it was playing on TV and people who don't know think it's wrong".
A year on, he insists he has tried to tone down his messages but believes they continue to be picked up because his continuing brake issues have been a "sketch".
"I can fight my nature, which I've been trying to, but it's not really what I want," he said. "I've tried, and I need to try more... but I don't know.
"It's a sketch because it's been a year and a half. But things should be better soon."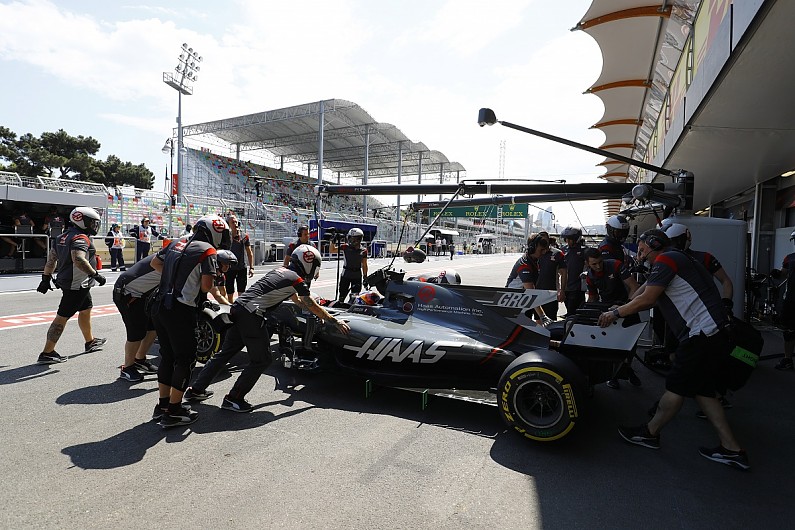 Team principal Gunther Steiner again backed Grosjean, saying the outbursts on the radio were no issue for Haas.
"If you take the positive side, it's like they broadcast him all the time," said Steiner. "Is it bad, is it good, I don't know - it's a very strange thing.
"The thing is, nobody knows him like we know him.
"He has this moment and afterwards he comes in and says 'hey guys, sorry I didn't qualify better but I just can't deal with this'.
"As long as he's not disrespectful to any one person. When you get personal, then it's not good anymore, in my opinion.
"He never has a go at a guy. When you start effing and cussing at a person, then I would say 'it's enough now'.
"But he's frustrated about something that is happening to him, not about a person.
"Could he avoid it, would it be better for him? Maybe, yes, but he is to judge. He is human so I'm not judging him on that one.
"I am fine as long as he doesn't insult anyone personally.
"If in that you get rid of your frustrations, if that is the way out, why not?"