Renault will bring an updated rear wing and new barge boards to this weekend's Spanish Grand Prix, as it continues its push to climb up the Formula 1 grid.
All teams are expected to bring upgrades to the Barcelona race, with Mercedes non-executive chairman Niki Lauda suggesting the F1 title battle faces a total reset as a result.
Renault's latest package comes after it ran a new front wing last time out in Russia, in a bid to cure its early-season race pace problems.
Nico Hulkenberg finished eighth in that race, saying the team had made "a good step" forward, and Renault will now look to make further steps with this latest update.
Renault technical chief Nick Chester said: "We've still got a few more upgrades on the aerodynamic package for Spain, so we're reasonably positive - we have new barge boards and an updated rear wing.
"The upgrades we used in Sochi worked as expected so we made a useful step in our race pace while maintaining qualifying pace.
"There's still more to do in this area, but we're heading in the right direction.
"We're in the midfield fight where we expected to be, but it's a very close battle here so we need to ensure we seize every advantage possible from the car and how we use it."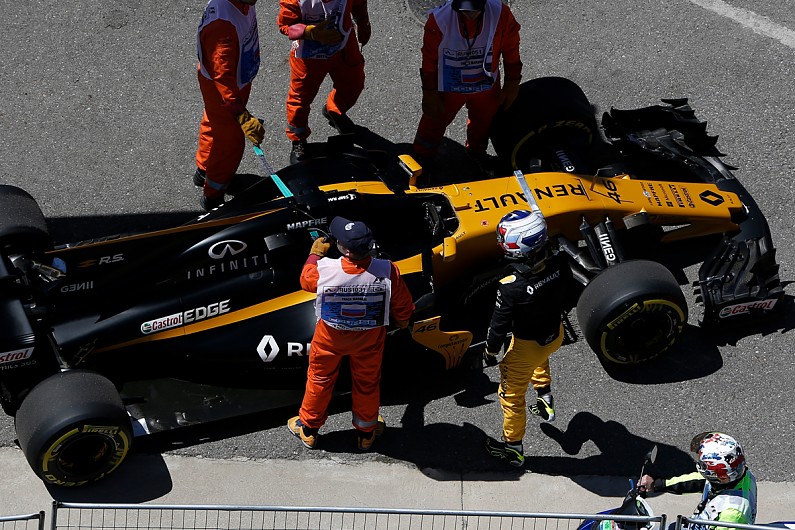 SECOND OUTING FOR SIROTKIN
Reserve driver Sergey Sirotkin will take part in first practice for the second successive race weekend, this time taking over Jolyon Palmer's car.
The Russian failed to set a lap time in FP1 at Sochi because of a gearbox problem.
"Sergey's issue in Sochi was related to a gearbox shift valve and it was a big shame for him to get so little running," explained Chester.
"He's in Jo's car for FP1 and we expect he'll do a good job."