Haas does not know if it can run its T-wing over the rest of Formula 1's Australian Grand Prix weekend after being forced to remove it for second practice.
Television images repeatedly showed the device on the VF-17s of Romain Grosjean and Kevin Magnussen flexing significantly throughout the opening practice session in Melbourne.
The FIA ordered for it to be removed before practice two and Haas team principal Gunther Steiner said he was not sure if it would reappear.
"We ran this wing in the whole Barcelona test and never had a problem with it breaking or anything," said Steiner.
"In FP2 we had to take it off because of the moving, so we need to see what we do in FP3.
"On the data we can see the downforce is there.
"It is working, so we want to get it back on. But we need to see if we're allowed to.
"On this racing car everything is so to the edge, everything helps - and you want to keep it on."
FIA race director Charlie Whiting had already warned that the governing body's technical delegate Jo Bauer would be checking the devices passed flexibility tests in Melbourne.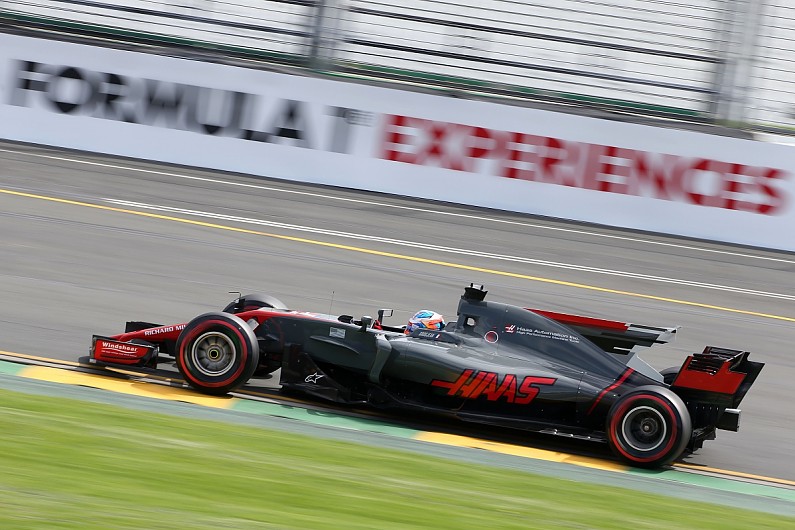 Grosjean repeated his eighth place from the morning session without the T-wing, although he ended that second session four tenths slower than the Toro Rosso of Carlos Sainz Jr.
Steiner said Grosjean could have gone quicker but the result meant the team was still in "good spirits".
"This morning his lap was the best one he did," Steiner added. "This afternoon we were a few tenths off on his fastest laps.
"It's good, but it's so close as I continue to say. I think I'm annoying people.
"You can end up eighth, you can end up 15th or 16th."
While Grosjean's form was encouraging, a water leak limited Kevin Magnussen's afternoon running ahead of his Haas race debut.
Magnussen's problem compounded a "frustrating" pair of sessions for the Dane, who suffered from a balance problem in the first session.
"I didn't really get much out of it," Magnussen said of his Friday. "We'll investigate and, hopefully, find the issue.
"It's good to see, though, that the car is competitive. That's the positive to take from today."