McLaren has revealed the Honda-powered MCL32 Formula 1 car that it will race during the 2017 season.
An-all new black, orange and white livery was revealed during a presentation at the McLaren Technology Centre.

GALLERY: McLaren launches its new-look MCL32
The change in livery follows the departure of long-time chief Ron Dennis at the end of last year and as part of a freshening up of its brand image by new executive director Zak Brown.
"I think it's a beautiful piece of art," Brown said. "We went through a variety of designs and ultimately this was in response to fans - we had so much outreach from fans saying 'we want to have some orange'."
After languishing in ninth in the constructors' championship in the first year of its Honda reunion in 2015, McLaren moved up to sixth last year.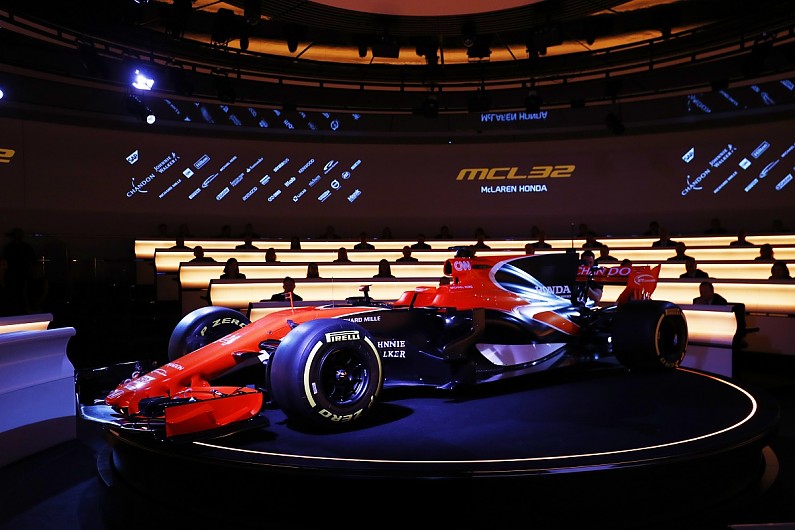 Improvements in reliability and performance from Honda, coupled with a chassis McLaren believed was one of the best on the grid, enabled the alliance to fight towards the front of the midfield.
Both parties are expecting a further step forward for 2017, when Stoffel Vandoorne replaces Jenson Button alongside Fernando Alonso in the race line-up.

"This team is highly frustrated that we're not winning races," Brown added.
"We've got a new package and these things take time.
"2016 wasn't a great year by McLaren's standards but it was forward progress and that's what we need to see in 2017.
"Once we get there, we'll be pretty hard to knock back down."
Team principal Eric Boullier described the car as "elegant" with "a couple of clever solutions".
Honda's F1 programme leader Yusuke Hasegawa said the end of the token system for engine development had allowed his company to work aggressively over the winter.
"We improved every area of the engine that was [previously] restricted," he said.
"There were areas that we wanted to modify from the original engine to extract more power, and the car was changing dramatically so we wanted to redesign the engine.
"We have a modified engine, a lower centre of gravity and less weight."