Formula 1 should introduce eRaces on the Sunday morning of grand prix weekends, Toro Rosso team principal Franz Tost believes.
There have long been calls for F1 to improve the show, and changes have been made with varying levels of success including 2016's controversial revamped qualifying format and subsequent U-turn.

The million-dollar experiment you probably missed
F1 ditched Sunday morning warm-ups ahead of the 2003 season, while a two-day aggregate qualifying format was used briefly two years later.
Formula E has eRaces as part of every round and recently held a major sim-racing event in Las Vegas, with regular race drivers and sim specialists vying for a $1million prize pot.
Tost believes similar initiatives could be added to Sunday schedules to boost interest in F1 and appeal to a new audience.
"We must improve the show itself," Tost told Autosport.
"We must bring in the young peoples' interest, for example with E-games.
"Why not have Sunday morning an eGame with a big broadcast where people worldwide are involved to increase the interest?
"The eGame would work simply in that there's a game and companies would be involved in eGames and say look.
"For example, we race in Abu Dhabi with exhibitions from different countries and let's see where they end up.
"Young people are not so much interested in cars and we must see a way to bring them into Formula 1."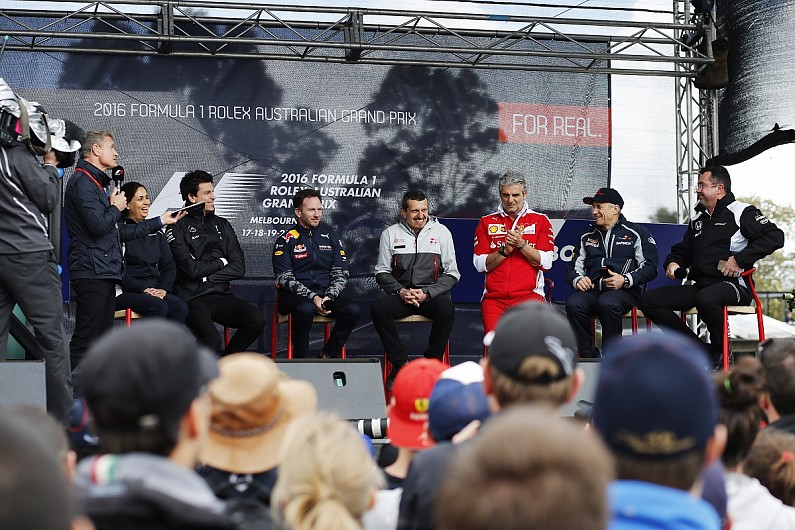 Tost said promoters must also do a better job at getting the message out that the country is hosting an F1 race.
"Promotion must start earlier, maybe three or four months before a race, with some drivers coming for autograph sessions and show runs," he said.
"It cannot be that you come to the airport and do not see anything about there being a Formula 1 race this weekend.
"Formula 1 is special, there is only one once a year in a country.
"It must be promoted as something exceptional, something special and then people will go there."
Once fans have bought tickets, promoters must then work on improving the entertainment off-track, according to Tost, who used Austin's Taylor Swift concert as an example.
"You must provide a fantastic programme," he said.
"I must say the organiser in Austin did fantastic because 70,000 or 80,000 came only because of the concert and then they said 'there's a Formula 1 race as well, let's take a look'.
"I always liked the grand prix in Melbourne because you can come to the Albert Park with families.
"You see historic cars, you see new cars, you see fantastic races and this is what people want to see."
Autosport has produced a standalone special magazine to celebrate our 70th birthday. All current print subscribers will receive a copy for free. To order your copy of the 196-page Autosport 70th Anniversary issue, please go to: autosport.com/autosport70th