Kevin Magnussen says he had an offer to remain with the Renault Formula 1 team in 2017, but that it was "not good enough that I could take it".
Magnussen is poised to switch to newcomer Haas next season, while Renault has opted to retain Jolyon Palmer alongside new signing Nico Hulkenberg.
The Dane previously said he wanted to stay with the French manufacturer, and even extended the deadline for renewing his contract after the team's option expired last month.
"It was my decision - I had an offer but not a good enough offer that I could take it," he said.
"If they'd committed to a longer contract I would probably have looked at that much more seriously.
"It was more the feeling of them not committing, taking so long and offering to so many drivers - I think at one point the Pope had an offer.
"It was a bit messy, so it was better for me to leave."
Renault sounded out several other drivers for 2017, including Sergio Perez and Carlos Sainz Jr, before signing Hulkenberg, while leaving incumbents Magnussen and Palmer in limbo.
Magnussen said the managerial attitude towards him was a key part of his decision to leave Renault.
He said they "never even told me" they were looking at other drivers.
"It really is a lot about the feeling I had with the management here," he added.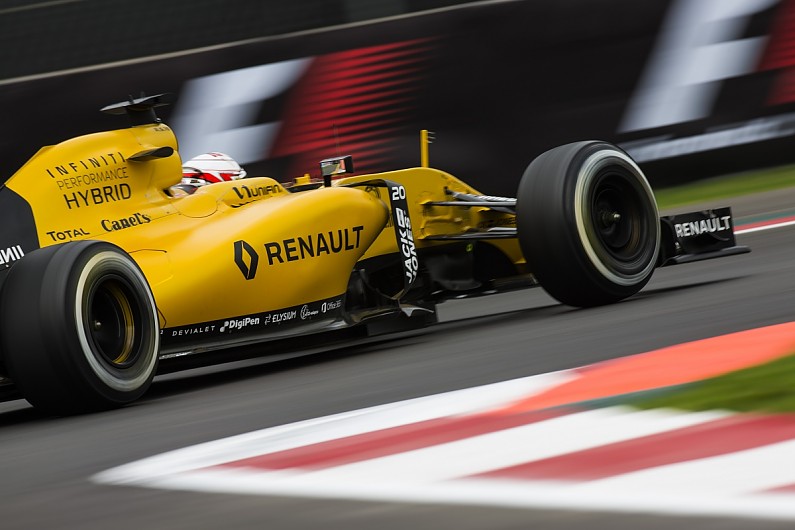 "More openness would have been good.
"Sometimes it was a little bit difficult to know who was actually in charge here, who was making the decisions, but that's over now, it doesn't matter. It's in the past.
"If I had felt more commitment and decisiveness then it would maybe have been different, but I'm happy with the way it turned out."
Haas team boss Gunther Steiner is hopeful an announcement can be made over the Brazilian GP weekend.
"There are still a few things we have to talk to people about, then we will announce who our driver will be," he said.
"It's just a little work when you get close to doing a deal.
"It's the same when you buy a car, you want a free carpet or [whatever] - we're at that stage."
GUTIERREZ SHORT ON OPTIONS
Pairing Magnussen with Romain Grosjean would leave incumbent Esteban Gutierrez seeking a drive elsewhere.
When asked about his situation, Gutierrez replied: "Concerned? Yes and no.
"Nobody's dying, so that's the most important thing.
"My future is on the team side. At the moment there's a lot of talks up and down, but it's the way it is.
"Let's see what the outcome is going to be. Hopefully it's going to be positive."