Nico Rosberg strengthened his grip on the lead of the Formula 1 drivers' title race with victory in the Japanese Grand Prix as another slow start undermined team-mate Lewis Hamilton.
From the 30th pole position of his F1 career Rosberg produced a faultless drive at Suzuka to claim his 23rd win, and ninth this season to open up a 33-point cushion over Hamilton with only 100 now to play for from the final four races.
Hamilton could only manage third, with Red Bull's Max Verstappen taking second as 5.7s covered the top three at the chequered flag.
The result sealed a third successive constructors' championship for Mercedes after it failed to clinch it in Malaysia last Sunday when Hamilton's engine blew.
Hamilton's hopes of a third successive win at this track were over after the first few seconds.
Following overnight rain, come the start of the race there were still damp patches on the circuit, with one of those being Hamilton's grid box, and the three-time champion showed some concern beforehand.
Once the five red lights disappeared Hamilton then bogged down and was swamped, slotting into eighth and apologising to his team shortly afterwards.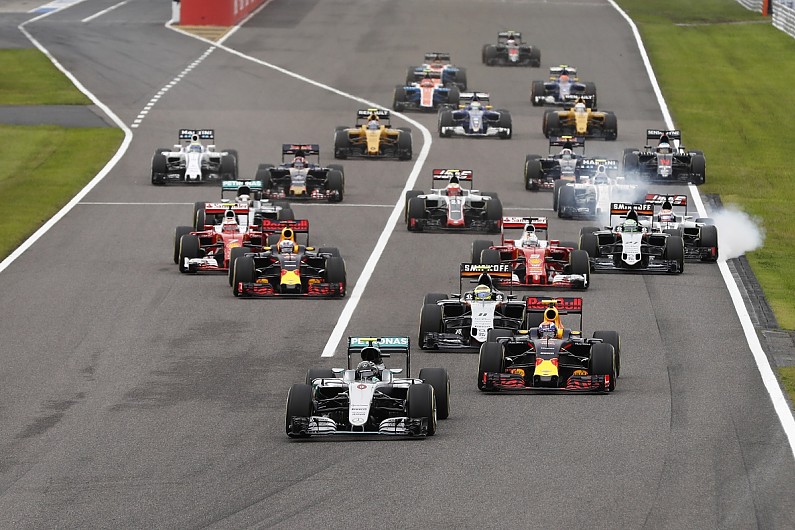 While Rosberg enjoyed the lead, what followed was damage limitation from Hamilton, who passed Nico Hulkenberg on lap seven before making up another two places at his first pitstop to get ahead of Sergio Perez and Kimi Raikkonen.
Hamilton then soon cleared Ricciardo to leave him with Verstappen and Vettel in between him and Rosberg after all the opening pitstops in which the leaders took on the hard tyres.
Come the second round of stops Hamilton again made up ground, getting ahead of Vettel by pitting before the Ferrari.
Mercedes again gave Hamilton the hard tyre, while Ferrari switched Vettel to softs in an aggressive move, but despite a couple of laps of pressure from the latter he was unable to get close to make a move on the former.
Vettel's irritation over backmarkers this season reached new heights in this race as the four-time champion was continually on the radio bemoaning being held up, and by the end he could only claim fourth, 14.4s behind Rosberg.
Hamilton did close to within a second of Verstappen on lap 44, and on lap 52 he made a move into the chicane, but was forced to take the escape road as the 19-year-old moved to the inside to defend as they hit the brakes.
Behind the leading quartet, Raikkonen, who started the day with a five-place penalty for a gearbox change after qualifying third, and Ricciardo finished fifth and sixth.
Force India pair Perez and Hulkenberg were seventh and eighth, with the team ekeing out a 10-point gap over Williams whose drivers Felipe Massa and Valtteri Bottas finished ninth and 10th on a one-stop strategy.
JAPANESE GP RESULT
| Pos | Driver | Car | Laps | Gap |
| --- | --- | --- | --- | --- |
| 1 | Nico Rosberg | Mercedes | 53 | 1h26m43.333s |
| 2 | Max Verstappen | Red Bull/Renault | 53 | 4.978s |
| 3 | Lewis Hamilton | Mercedes | 53 | 5.776s |
| 4 | Sebastian Vettel | Ferrari | 53 | 20.269s |
| 5 | Kimi Raikkonen | Ferrari | 53 | 28.370s |
| 6 | Daniel Ricciardo | Red Bull/Renault | 53 | 33.941s |
| 7 | Sergio Perez | Force India/Mercedes | 53 | 57.495s |
| 8 | Nico Hulkenberg | Force India/Mercedes | 53 | 59.177s |
| 9 | Felipe Massa | Williams/Mercedes | 53 | 1m37.763s |
| 10 | Valtteri Bottas | Williams/Mercedes | 53 | 1m38.323s |
| 11 | Romain Grosjean | Haas/Ferrari | 53 | 1m39.254s |
| 12 | Jolyon Palmer | Renault | 52 | 1 Lap |
| 13 | Daniil Kvyat | Toro Rosso/Ferrari | 52 | 1 Lap |
| 14 | Kevin Magnussen | Renault | 52 | 1 Lap |
| 15 | Marcus Ericsson | Sauber/Ferrari | 52 | 1 Lap |
| 16 | Fernando Alonso | McLaren/Honda | 52 | 1 Lap |
| 17 | Carlos Sainz Jr. | Toro Rosso/Ferrari | 52 | 1 Lap |
| 18 | Jenson Button | McLaren/Honda | 52 | 1 Lap |
| 19 | Felipe Nasr | Sauber/Ferrari | 52 | 1 Lap |
| 20 | Esteban Gutierrez | Haas/Ferrari | 52 | 1 Lap |
| 21 | Esteban Ocon | Manor/Mercedes | 52 | 1 Lap |
| 22 | Pascal Wehrlein | Manor/Mercedes | 52 | 1 Lap |
DRIVERS' STANDINGS
| Pos | Driver | Points |
| --- | --- | --- |
| 1 | Nico Rosberg | 313 |
| 2 | Lewis Hamilton | 280 |
| 3 | Daniel Ricciardo | 212 |
| 4 | Kimi Raikkonen | 170 |
| 5 | Max Verstappen | 165 |
| 6 | Sebastian Vettel | 165 |
| 7 | Valtteri Bottas | 81 |
| 8 | Sergio Perez | 80 |
| 9 | Nico Hulkenberg | 54 |
| 10 | Felipe Massa | 43 |
| 11 | Fernando Alonso | 42 |
| 12 | Carlos Sainz Jr. | 30 |
| 13 | Romain Grosjean | 28 |
| 14 | Daniil Kvyat | 25 |
| 15 | Jenson Button | 19 |
| 16 | Kevin Magnussen | 7 |
| 17 | Jolyon Palmer | 1 |
| 18 | Pascal Wehrlein | 1 |
| 19 | Stoffel Vandoorne | 1 |
| 20 | Esteban Gutierrez | 0 |
| 21 | Marcus Ericsson | 0 |
| 22 | Felipe Nasr | 0 |
| 23 | Rio Haryanto | 0 |
| 24 | Esteban Ocon | 0 |
CONSTRUCTORS' STANDINGS
| Pos | Constructor | Points |
| --- | --- | --- |
| 1 | Mercedes | 593 |
| 2 | Red Bull/Renault | 385 |
| 3 | Ferrari | 335 |
| 4 | Force India/Mercedes | 134 |
| 5 | Williams/Mercedes | 124 |
| 6 | McLaren/Honda | 62 |
| 7 | Toro Rosso/Ferrari | 47 |
| 8 | Haas/Ferrari | 28 |
| 9 | Renault | 8 |
| 10 | Manor/Mercedes | 1 |
| 11 | Sauber/Ferrari | 0 |