Daniel Ricciardo fended off Red Bull Formula 1 team-mate Max Verstappen to take a shock victory in a thrilling Malaysian Grand Prix after Lewis Hamilton retired from the lead.
Hamilton was on course to win and reclaim the championship lead as he built up a 22.7s lead over Ricciardo but his engine expired on the approach to Turn 1 with 15 laps to go.
The Briton cried "Ah, no, no, no" as he pulled to a stop at the side of the track, climbing out of the car, squatting down and placing his head in his hands.
The virtual safety car was called with Ricciardo, who was running nose-to-tail with Verstappen at the time, pitting along with his Red Bull team-mate for soft tyres as they had a 40-second gap back to Nico Rosberg.
They rejoined comfortably ahead of the German and though Verstappen ran close behind, Ricciardo absorbed the pressure to take his first victory of the season.
It was the Australian's first win for over two years and Red Bull's first one-two finish since the 2013 Brazilian Grand Prix.
Prior to Hamilton's failure, Verstappen had caught Ricciardo with fresher tyres, asking to be let through to fight for the win.
But Ricciardo defended hard, and the pair went side-by-side through the high-speed Turns 5 and 6, with Ricciardo winning the battle on the brakes into Turn 7 to hold what would turn out to be crucial track position.
Rosberg completed an impressive recovery drive after being pitched into a spin by Sebastian Vettel at Turn 1 to finish third and extend his championship lead to 23 points with five races to go.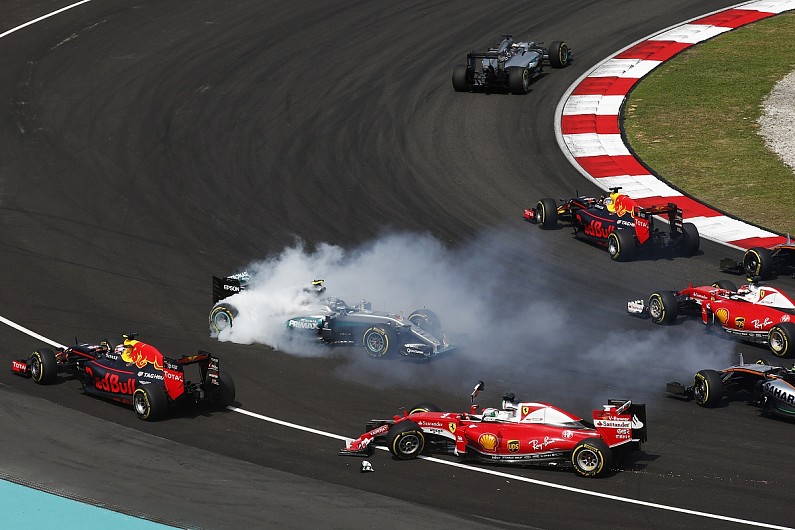 There was drama from the start as Vettel tried an ambitious pass down the inside of Verstappen, only to lock up and skate into Rosberg, breaking the Ferrari's front-left wheel and pitching him into retirement.
Rosberg got going again and began a fight back through the field, rising up to fourth and then barging past Raikkonen into Turn 2 for third place.
The stewards took a dim view of that and awarded Rosberg a 10-second penalty for causing a collision but the German had sufficient pace to build a gap to the Finn and hold onto third.
Hamilton had driven the perfect race up until his retirement, going long on the softs and then taking the hards before building a gap to the rest to allow the opportunity for a second stop.
But "an unexpected mechanical failure of the internal combustion engine with no prior warning" according to Mercedes ended his hopes of a first victory since before the summer break.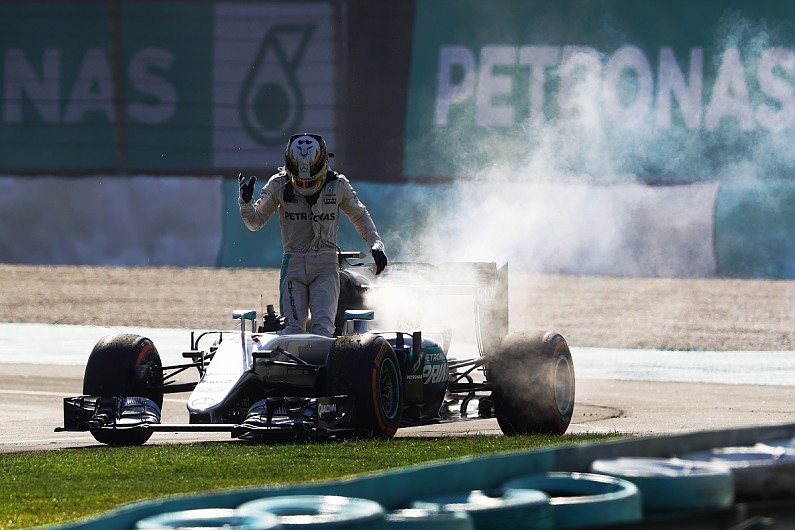 Verstappen had looked in contention for at least second and possibly the win when he pitted early for a second set of stops while Ricciardo stayed out in second, but that advantage was neutralised when both pitted following Hamilton's retirement.
Raikkonen finished fourth with Valtteri Bottas, who completed an impressive opening stint on the mediums to make a one-stop strategy work, fifth and Sergio Perez sixth.
Fernando Alonso battled his way up the field from last on the grid, having had a 45-place grid penalty for changing engine components, to take seventh ahead of Nico Hulkenberg and Jenson Button.
Jolyon Palmer recovered from what he described as a "pretty depressing" qualifying to finish 10th and score his first point of the season.
However, Renault decided to retire Kevin Magnussen's car midway through the race because of damage sustained when he was hit from behind by Daniil Kvyat as the field bunched up at the first corner.
It was a miserable day for Haas with Romain Grosjean pitched into the gravel after suffering brake failure while Esteban Gutierrez retired when his front left wheel flew off the car when he was out on track.
MALAYSIAN GP RESULT
| Pos | Driver | Car | Laps | Gap |
| --- | --- | --- | --- | --- |
| 1 | Daniel Ricciardo | Red Bull/Renault | 56 | 1h37m12.776s |
| 2 | Max Verstappen | Red Bull/Renault | 56 | 2.443s |
| 3 | Nico Rosberg | Mercedes | 56 | 25.516s |
| 4 | Kimi Raikkonen | Ferrari | 56 | 28.785s |
| 5 | Valtteri Bottas | Williams/Mercedes | 56 | 1m01.582s |
| 6 | Sergio Perez | Force India/Mercedes | 56 | 1m03.794s |
| 7 | Fernando Alonso | McLaren/Honda | 56 | 1m05.205s |
| 8 | Nico Hulkenberg | Force India/Mercedes | 56 | 1m14.062s |
| 9 | Jenson Button | McLaren/Honda | 56 | 1m21.816s |
| 10 | Jolyon Palmer | Renault | 56 | 1m35.466s |
| 11 | Carlos Sainz Jr. | Toro Rosso/Ferrari | 56 | 1m38.878s |
| 12 | Marcus Ericsson | Sauber/Ferrari | 55 | 1 Lap |
| 13 | Felipe Massa | Williams/Mercedes | 55 | 1 Lap |
| 14 | Daniil Kvyat | Toro Rosso/Ferrari | 55 | 1 Lap |
| 15 | Pascal Wehrlein | Manor/Mercedes | 55 | 1 Lap |
| 16 | Esteban Ocon | Manor/Mercedes | 55 | 1 Lap |
| - | Felipe Nasr | Sauber/Ferrari | 46 | Brakes |
| - | Lewis Hamilton | Mercedes | 40 | Engine |
| - | Esteban Gutierrez | Haas/Ferrari | 39 | Wheel |
| - | Kevin Magnussen | Renault | 17 | Brakes |
| - | Romain Grosjean | Haas/Ferrari | 7 | Brakes |
| - | Sebastian Vettel | Ferrari | 0 | Collision |
DRIVERS' STANDINGS
| Pos | Driver | Points |
| --- | --- | --- |
| 1 | Nico Rosberg | 288 |
| 2 | Lewis Hamilton | 265 |
| 3 | Daniel Ricciardo | 204 |
| 4 | Kimi Raikkonen | 160 |
| 5 | Sebastian Vettel | 153 |
| 6 | Max Verstappen | 147 |
| 7 | Valtteri Bottas | 80 |
| 8 | Sergio Perez | 74 |
| 9 | Nico Hulkenberg | 50 |
| 10 | Fernando Alonso | 42 |
| 11 | Felipe Massa | 41 |
| 12 | Carlos Sainz Jr. | 30 |
| 13 | Romain Grosjean | 28 |
| 14 | Daniil Kvyat | 25 |
| 15 | Jenson Button | 19 |
| 16 | Kevin Magnussen | 7 |
| 17 | Jolyon Palmer | 1 |
| 18 | Pascal Wehrlein | 1 |
| 19 | Stoffel Vandoorne | 1 |
| 20 | Esteban Gutierrez | 0 |
| 21 | Marcus Ericsson | 0 |
| 22 | Felipe Nasr | 0 |
| 23 | Rio Haryanto | 0 |
| 24 | Esteban Ocon | 0 |
CONSTRUCTORS' STANDINGS
| Pos | Constructor | Points |
| --- | --- | --- |
| 1 | Mercedes | 553 |
| 2 | Red Bull/Renault | 359 |
| 3 | Ferrari | 313 |
| 4 | Force India/Mercedes | 124 |
| 5 | Williams/Mercedes | 121 |
| 6 | McLaren/Honda | 62 |
| 7 | Toro Rosso/Ferrari | 47 |
| 8 | Haas/Ferrari | 28 |
| 9 | Renault | 8 |
| 10 | Manor/Mercedes | 1 |
| 11 | Sauber/Ferrari | 0 |