Honda will wait until it gets to Sepang before deciding whether to introduce its last Formula 1 upgrade of the season for the Malaysian Grand Prix.
Fernando Alonso and Jenson Button will take penalties when the update is introduced so Honda chief Yusuke Hasegawa would like to avoid introducing it at the firm's home race in Japan.
Honda has three tokens remaining and wants to focus the update on the internal combustion engine.
But it could spend the tokens on other areas if the ICE results from the dyno are not strong enough.
Honda is also considering the possibility of only one car getting the update because of the associated penalties.
Ahead of this weekend's race in Malaysia, Hasegawa said: "We are not 100% certain if we will install any power unit updates for this race.
"But we'll look to make our final decision at the track based on the balance of performance and reliability."
Though McLaren has been increasingly competitive in recent races, it has not managed to get both cars into the points in a grand prix since Monaco in May.
Recent incidents and failures include Button retiring with brake damage following a first-lap crash in Singapore and being eliminated on lap one in Belgium after a collision with Pascal Wehrlein, plus Alonso failing to set a time in qualifying in Belgium because of a power unit issue.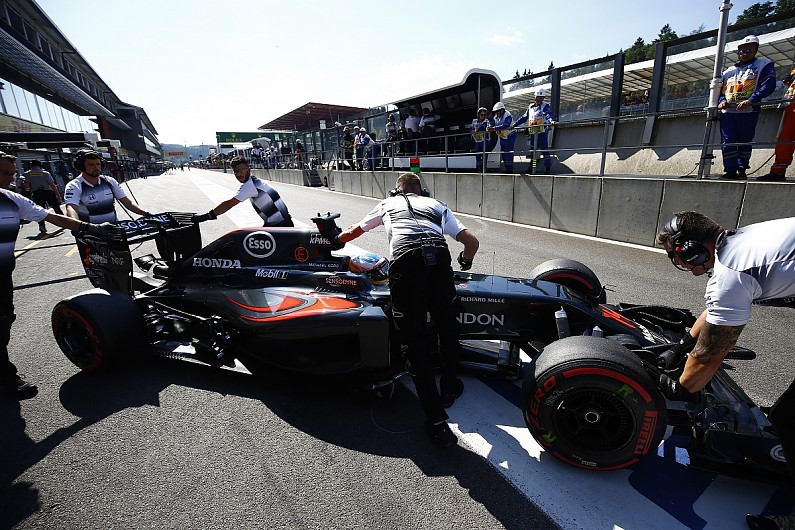 McLaren racing director Eric Boullier said the team's focus for Malaysia is on getting both cars to the chequered flag as it looks to consolidate sixth place in the constructors' championship as a minimum.
"After a recent run of mixed fortunes on one side of the garage, our aim for the remaining races has to be to iron out reliability niggles and finish with both cars," he said.
"If we can achieve reliability on both sides of the garage, I'm hopeful for a positive weekend.
"We've proved recently that our package is a firm contender in the midfield pack and we have the potential to finish ahead of some strong teams.
"So we'll keep fighting to maintain our position and move closer to the front of the grid."
Though Sepang, with its long straights, could prove a challenge for McLaren, Button remains hopeful of an encouraging weekend.
"Although it's traditionally seen as a high-speed circuit, which isn't usually something that our package favours, we do have a good car under braking which is necessary to handle the tight corners after the long, fast straights," he said.
McLAREN'S CONSTRUCTORS' CHAMPIONSHIP BATTLE:
| Pos | Constructor | Points |
| --- | --- | --- |
| 4 | Force India/Mercedes | 112 |
| 5 | Williams/Mercedes | 111 |
| 6 | McLaren/Honda | 54 |
| 7 | Toro Rosso/Ferrari | 47 |
| 8 | Haas/Ferrari | 28 |