Jenson Button believes Formula 1 has been let down by the fact no team has been able to fight Mercedes over the last two-and-a-half years.
Mercedes is en route to securing its third consecutive F1 constructors' and drivers' titles, leaving Button unconcerned about whether Lewis Hamilton or Nico Rosberg claims this year's championship.
While dismissive of the pair's latest head-to-head battle, Button feels F1 is worse off because they have been allowed to fight it out uncontested.
"It's a not a fight we're involved with. It's not a fight that really makes any difference to me whatsoever - who wins or who doesn't win," said Button.
"For me, the important thing is we get other teams involved fighting at the front, because having just two guys in the same car fighting at the front is not what the sport needs.
"It needs other manufacturers involved, other teams involved, and that's where we're letting the sport down by not doing a good enough job.
"Races like Barcelona [this year's Spanish GP] when Mercedes weren't in the race, everyone loved it because there were four cars fighting for the win.
"That's something we hadn't had for three years, so hopefully we'll have more of that in the future of Formula 1."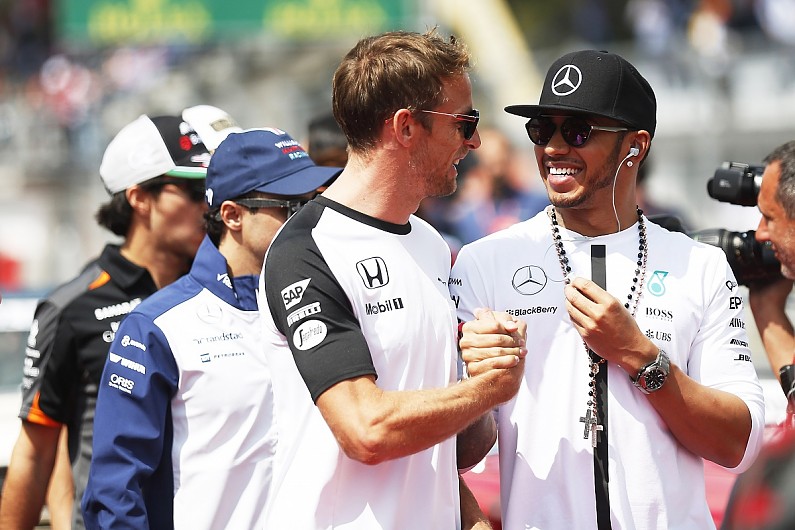 Button hopes the changes to next year's regulations play a part, allowing Mercedes' rivals an opportunity to catch up.
"In terms of why they're so good? I don't know. I think if we all knew, we'd be as good as them," added Button.
"They have a lot of very talented people, and maybe the regulations are in their favour.
"For next year, could they be caught out? Maybe. Possibly. But then I don't really think their power unit is that superior compared to the Ferrari, for example.
"They just have a very good car. Their overall package is fantastic.
"I don't think you can just point at the engine and say, 'that's why they're performing well', because there are lots of other cars with the same engine that aren't performing anywhere near as well."
On whether McLaren will be in the mix and challenging Mercedes, Button said: "It's so difficult to know who's going to be where.
"We can safely say the top three teams at the moment are also going to be strong next year. Hopefully McLaren Honda will be up there fighting with them.
"In terms of the people we have in this team, and the developments we've seen through this season, then yes.
"I don't know where the car is in terms of developments for next year, but in terms of the people we have here, they're very talented and doing a very good job, but I don't know where the car stands for next year."