Re-signing Kimi Raikkonen for a further season was an entirely predictable move by Ferrari.
After all this is a team that is ultra-conservative when it comes to choosing drivers, and which values experience and stability in its line-up.
Only Fernando Alonso and Jenson Button can claim more grand prix starts to their names than Raikkonen, so if you're minded to go for experience over youthful exuberance the options are limited.

What should Ferrari have done in 2017?
The contractual situations of other potential candidates, say Red Bull's Daniel Ricciardo or Williams's Valtteri Bottas (linked heavily with Ferrari last season), also mean Ferrari cannot go out into the market and easily replace Raikkonen.
But Raikkonen's form has been so patchy since he returned from Lotus for 2014 that a clear case could be made for not renewing their partnership.
He was well-beaten by Fernando Alonso in a difficult car that season, but could rightly claim he was returning to a team that had gradually geared itself around the Spaniard's needs in the years he'd been away.
And Raikkonen is not the sort to go around Maranello making demands and turning up tables.
His record against current team-mate Sebastian Vettel is better, but still inferior, though this year circumstances have dictated they are tied on points after nine races.
In pure performance terms the merit of this decision is debatable; in pure results terms - based on this season - the debate swings slightly more in Raikkonen's favour.
Whether or not you agree with Alain Prost that Raikkonen is a perfect 'number two' driver to Vettel, there are some clear positives for Ferrari in retaining the 2007 word champion.
He is a no-nonsense guy and honest to a fault. As Vettel said earlier this year, there are "no games" with Raikkonen, which allows the two to work together well and does wonders for harmony within the wider Maranello environment.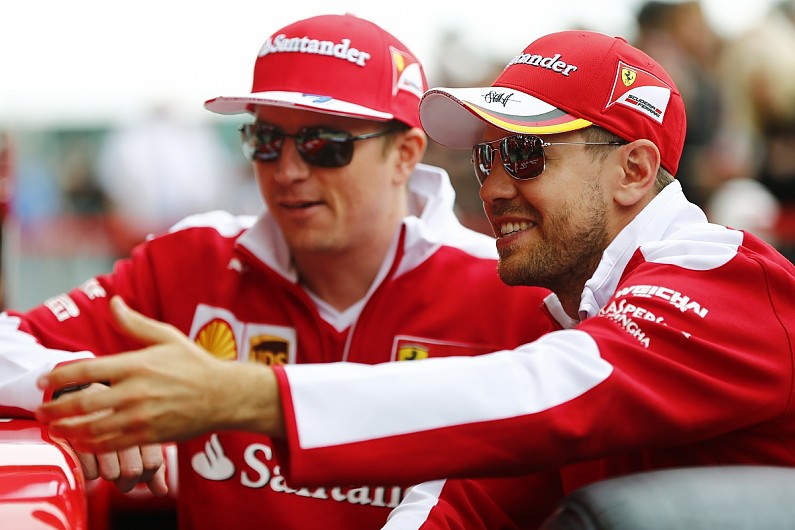 Promoting an unknown younger gun with a point to prove risks destablising that atmosphere.
Perhaps Ferrari feels this is more important than hiring a driver who may (or may not) push Vettel harder on a more consistent basis than Raikkonen seems currently able to himself.
With the technical regulations due to change substantially for next season, Raikkonen also provides stability during a period of uncertainty for the technical teams.
He also possesses extraordinary sensitivity for the tyres, and ultra-precise feedback on car behaviour - an ability to spot problems that other drivers cannot.
Engineers who have worked with him closely say he is among the best there has ever been in this regard.
With all-new Pirelli tyres bolted to the cars and drastically revised aerodynamics on the way for next season, Raikkonen is a useful guy to have in your corner during these times of severely limited testing.
This should aid Ferrari's pace of development, while avoiding the need to 'bed in' a new driver.
The changes in regulations could also bring F1 back towards Raikkonen's skill set next year.
He will surely be enthused by an aerodynamic platform that may bias the emphasis back towards those with less flamboyant, more minimalist driving styles.
Raikkonen likes to make the car do the work, and if the cars are more capable in the corners that should suit him.
He has also struggled with the current generation of harder Pirelli tyres - particularly the fronts, which he often struggles to work properly with his super-smooth style.
With the construction of the rubber changing completely there is also the potential for a re-set on that score.
This announcement will again frustrate the ambitions of hungry young drivers who are waiting for Raikkonen to retire, and those who feel he is no longer the same driver that wowed F1 with McLaren in the middle of the last decade.
But whether or not you feel, as Raikkonen does, that he is "driving as well as for ever", Ferrari has clearly decided he is driving well enough.
And that's all that matters in the end.
Autosport has produced a standalone special magazine to celebrate our 70th birthday. All current print subscribers will receive a copy for free. To order your copy of the 196-page Autosport 70th Anniversary issue, please go to: autosport.com/autosport70th