Esteban Gutierrez has no doubt Ferrari has improved its package after two days of in-season Formula 1 testing in Barcelona this week.
Heading into the Spanish Grand Prix weekend, the car driven by Sebastian Vettel boasted a raft of upgrades in a bid by the Scuderia to close the gap to Mercedes.
Come the conclusion to the race at the Circuit de Catalunya, however, the four-time champion had finished 45 seconds adrift of race winner Nico Rosberg, suggesting Ferrari has fallen further behind its main rivals.
On his maiden outing as Ferrari reserve, and his first in an F1 car since being axed by Sauber at the end of last season, 23-year-old Mexican Gutierrez was able to deliver a positive report.
"The new package is better," said Gutierrez, who finished seventh of the nine drivers on the Wednesday timesheet.

"You could see it from the race where Sebastian was in a better shape overall, and here we have improved that.

"There was a bit of a difficulty on the way to set up the car for the package, and this was one of things that was interesting to improve for this test.

"But we've worked on a very wide range of things, many related to driveability, and it was positive because we can say we were very productive in this test and we can be happy about it."
Gutierrez finished 1.850 seconds behind the day's pacesetter and Lotus reserve Jolyon Palmer, who led the way courtesy of a late run on supersoft tyres that deposed long-time leader Pascal Wehrlein in the Mercedes from top spot.
TEST MILEAGE FOR GP2 JUNIORS
After a day in the Toro Rosso on Tuesday, Pierre Gasly finished third in the Red Bull on Wednesday, while GP2 rival Alex Lynn turned his first laps for Williams since becoming its development driver.
Lynn, fifth quickest and within a second of Palmer, was left bowled over by the pace of his car.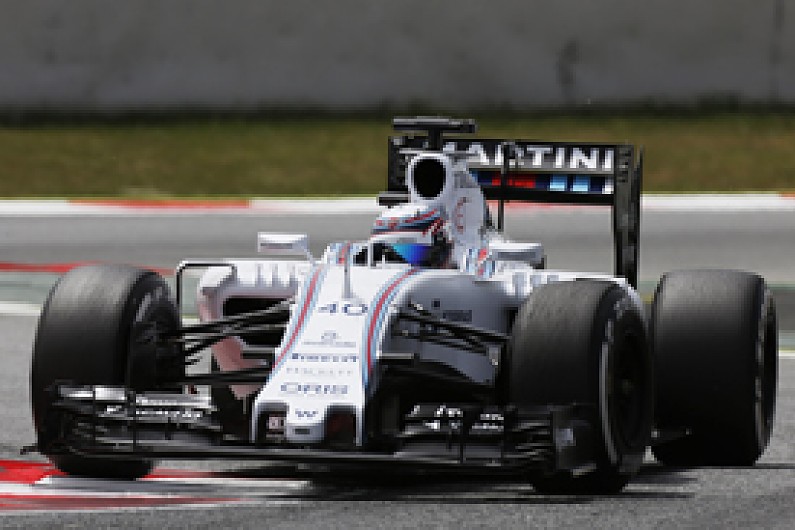 "It was a really special day, and I'm really pleased with how it went," he said.

"I always underestimate the power of the car. The power unit produces an extreme amount of power compared to anything I've ever driven.
"Also it has a lot of grip, and everything is made so perfectly as you'd expect from a grand prix team like Williams.
"It was a really lovely experience, such a well-made car, it's hard to put it into words really. It's very rare you get to drive something like that."
Another GP2 frontrunner and Ferrari Academy driver, Raffaele Marciello was last for Sauber following an ignominious start to the day.
Marciello, who tested faultlessly for Ferrari on Tuesday, slid off track and into a tyre barrier early on Wednesday, damaging the front-left of the car.
"I lost the car and crashed. Luckily it was not big, just the front wing," said Marciello.

"We were doing some constant speed tests so the tyre temperatures were going down really fast, so it was even easier to crash, and I got surprised by the lack of grip.

"We then did 70 laps, so it was an intense afternoon for me and the team. We recovered well from the morning."