Sebastian Vettel's shock defeat of Lewis Hamilton in Malaysia helped re-invigorate Formula 1, but the focus now switches to if that momentum can continue.
Every F1 fan will tune into this Sunday's Chinese Grand Prix hoping for a race as exciting as the last.
But the likelihood of this weekend's Shanghai race playing out in similar fashion is probably slim.
The Malaysian GP took place on 62°C asphalt, whereas China is set for temperatures much closer to those seen at the season opener in Melbourne.
In actual fact temperatures are likely to be even cooler - putting conditions somewhere between those witnessed in Australia and the final pre-season test at Barcelona in February, where Mercedes was outstanding.
Cooler conditions should help alleviate the sort of extreme tyre degradation the W06 and its drivers struggled to manage last time out.
The Shanghai layout also switches the emphasis of tyre management, placing more strain on the fronts than the rears.
So perhaps any inherent set-up advantage Ferrari held over Mercedes in Malaysia won't necessarily translate here.
The tyres Pirelli has chosen for this race are a step softer than those used in Malaysia, but ambient temperatures aren't expected to top 20°C in Shanghai on Sunday, so it's doubtful we'll see the sort of strategic variation we saw in Sepang either.
If China ends up being a two-stop certainty - like last year's race, in similar conditions, on the same tyre compounds - it will bolster Mercedes twofold, because its drivers won't be so concerned with managing rubber, while the team is unlikely to face the sort of strategic pressure under which it creaked in Malaysia.
A straightforward race is ultimately good for Mercedes because it still fundamentally possesses the fastest car in Formula 1.
As team boss Toto Wolff acknowledged in the aftermath of his squad's Sepang defeat, Ferrari has done a "good job", but it hasn't yet got enough pace from the SF15-T to challenge race in, race out.
Ferrari technical chief James Allison certainly thinks his team will be in for a tougher time this weekend.
"There is a lot of work to do until we can come to a race weekend confident we can hunt for victory from the first session," he told reporters after Ferrari's Malaysian success.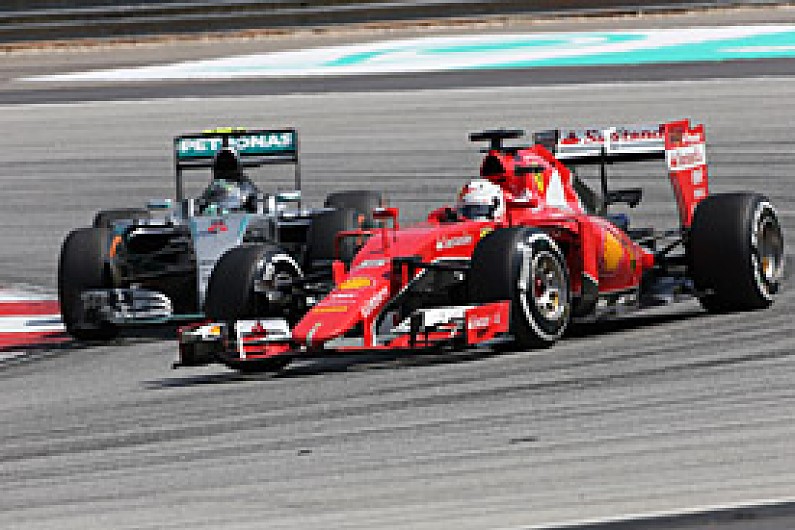 "But we do have a fairly exciting development program, so it should be an interesting season at least to see if we can catch up.
"Quite what problems are being carried over in Mercland I don't know, but I'm fairly sure we will have our work cut out in China to do anything like as impressive a job as we have here."
In short, without the sort of extreme conditions witnessed in Malaysia don't expect another red miracle in China this weekend.
But do expect Ferrari to put Mercedes under greater pressure as the campaign wears on, which should ultimately make this season more unpredictable than the last.
That's surely something every F1 fan wants to see.