Kimi Raikkonen topped the morning running on the third day of Formula 1 testing at Jerez, as McLaren-Honda finally logged some useful mileage with Fernando Alonso.
Following Jenson Button's declaration on Monday night that McLaren had made a breakthrough at the end of the day, Alonso (pictured below) was one of the drivers to take to the track as soon as the pits opened at 9am.

Follow F1 testing as it happens with AUTOSPORT Live

The Spaniard clocked up 32 laps, including several multi-lap runs, while the circuit was damp, as the Honda engine appeared to be running smoothly for the first time this week.
Raikkonen came out on top as a handful of cars switched to slick tyres when track conditions improved, and he traded places several times with Mercedes' Nico Rosberg.
Mercedes once again comfortably led the lap count, as Rosberg amassed a total of 92 laps following several long runs in both wet and dry conditions.
However, his running was cut short just before 1pm local time when the Mercedes came to a halt on track coming out of the Turn 9/10 double right-hander.

GALLERY: Jerez F1 test in pictures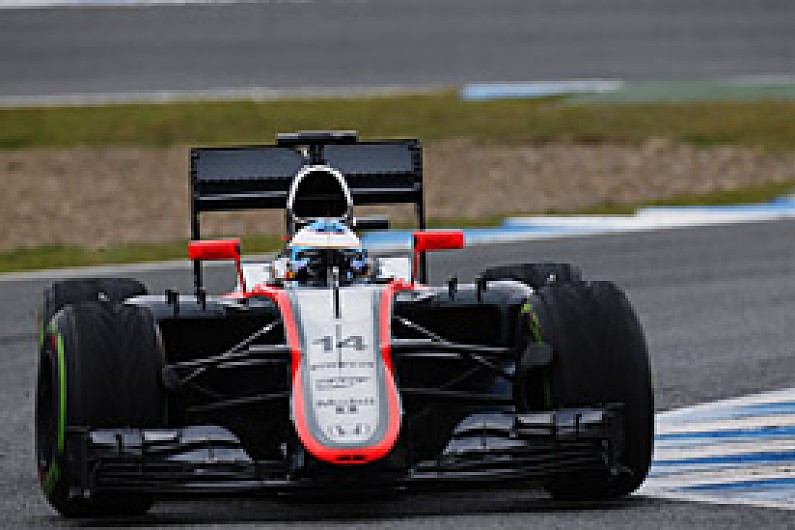 Carlos Sainz Jr and Pastor Maldonado were best of the rest and the only other drivers to set representative times on slicks, although Maldonado missed out on track time earlier in the day as Lotus was delayed by a telemetry problem.
Red Bull and Williams also had quiet mornings, with Daniel Ricciardo only completing five laps early in the day and Felipe Massa spending a long time in the pits before appearing late on to take his tally up to 14 in the FW37.
Sauber's Felipe Nasr caused the only red flag of the morning, spinning into the gravel at Turn 9 in the Sauber just before 10.30 local time.
TUESDAY MORNING TIMES:
| Pos | Driver | Car | Time | Gap | Laps |
| --- | --- | --- | --- | --- | --- |
| 1 | Kimi Raikkonen | Ferrari | 1m 24.357s | - | 39 |
| 2 | Nico Rosberg | Mercedes | 1m 24.770s | 0.413s | 93 |
| 3 | Carlos Sainz Jr. | Toro Rosso/Renault | 1m 25.352s | 0.995s | 56 |
| 4 | Pastor Maldonado | Lotus/Mercedes | 1m 26.824s | 2.467s | 18 |
| 5 | Daniel Ricciardo | Red Bull/Renault | 1m 34.776s | 10.419s | 5 |
| 6 | Felipe Nasr | Sauber/Ferrari | 1m 35.127s | 10.770s | 30 |
| 7 | Fernando Alonso | McLaren/Honda | 1m 35.553s | 11.196s | 32 |
| 8 | Felipe Massa | Williams/Mercedes | 1m 45.928s | 21.571s | 15 |