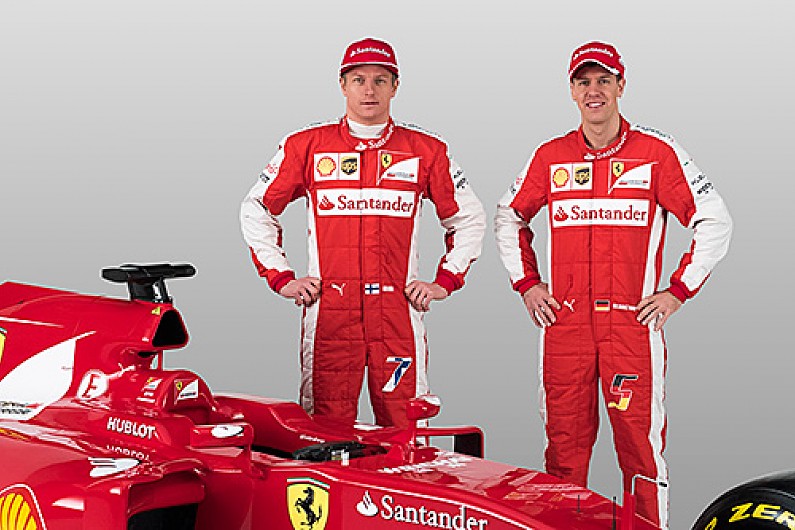 Sebastian Vettel thinks his relationship with Kimi Raikkonen at Ferrari will be more "straightforward" than most Formula 1 team-mate partnerships.
Raikkonen said when Vettel was announced as his 2015 team-mate that he knew the German better than any of his other F1 rivals and expected it to be a "fun" partnership.
As Ferrari launched its new SF15-T on Friday, Vettel suggested the Finn would be particularly easy to work with by F1 standards.
"I don't expect any problems," said Vettel.
"He will be a difficult team-mate to beat on the track because he's very quick and very talented, but off the track we get on well.
"Usually there are not being words being exchanged, but it's very straightforward - which is something I appreciate in Kimi and it doesn't happen that often in Formula 1."
Team boss Mauricio Arrivabene underlined that he did not want driver dynamics to be hog the limelight this season.
Last year's match-up between Fernando Alonso and Raikkonen was the subject of much pre-season speculation, while in previous years Felipe Massa's number two status to Alonso had proved consistently topical.
"They have to work together as team-mates, they have to work with the team," Arrivabene said of his 2015 drivers.
"I want to be talking about the overall team and not only about the driver.
"Everybody is pushing and working together in the same direction and I am expecting the drivers to do the same."
Raikkonen agreed with Vettel that they should make a harmonious pairing.
"It's the first time working with him but I'm sure we'll have a good understanding of each other and to push the team forward," said the 2007 champion.
"Obviously we'll fight against each other, but in a good way, and we'll push each other to do better things."