Jenson Button says it was worth the wait to re-sign for McLaren for the 2015 Formula 1 season.
McLaren announced on Thursday that it would retain Button on a fresh two-year deal as it enters a new works F1 engine partnership with Honda.
The decision ended weeks of internal debate over whether Button or 2014 rookie team-mate Kevin Magnussen should partner ex-Ferrari racer Fernando Alonso at the Woking squad next year.
Button, 34, will now have the chance to contest his 16th straight season in Formula 1 and said the opportunity had been worth the protracted negotiations.
"It's been a long few weeks, but sometimes the best things in life are worth waiting for," Button said.
"I'm not one to shy away from new challenges in life and I think this is a really, really exciting challenge.
"To be involved with the new era of McLaren-Honda really does mean a lot to me.
"To race alongside this guy [Alonso] is a big challenge, but an exciting challenge that I'm very much looking forward to."
Button had tentatively explored options to continue racing outside of F1 in 2015 but told reporters gathered at McLaren's Technology Centre that his heart had always been in racing on with the team next year.
"I did reflect on life outside of Formula 1, and it's nowhere near as exciting as life in F1 from what I've seen," Button added.
"My heart has always been here - to race for McLaren, and to race with Honda.
"I've had some very special times racing with Honda.
"We've had some difficult times as well, but there is a lot we can do and achieve together.
"I'm very happy to be here right now."
Button said the combined experience he shared with Alonso would invaluable in helping Honda make progress with the challenge of F1's new V6 hybrid turbo engined formula.
"For me, in Formula 1 it's so important to have experience," Button said.
"We know each other pretty well, and with 500 GPs between us we're pretty experienced.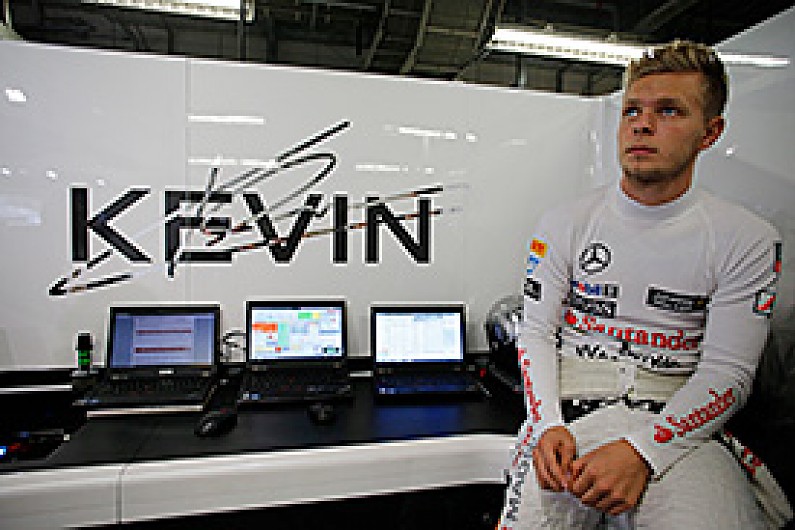 "We will play a major role in helping McLaren-Honda achieve great things in the future."
MAGNUSSEN STAYS POSITIVE
Magnussen admitted he was disappointed to lose his race seat, but the Dane remains confident of getting another chance in the future.
"Obviously I'm disappointed not to be a Honda racing driver - I want to race so of course I'm disappointed - but I'm still with a great team and I still have big opportunities in my Formula 1 career and beyond and I still have a lot of time ahead so I'm still very positive," he said.
"It is exciting going into this new partnership [and] even though it's as a third driver it's still a big challenge and a big opportunity.
"I see a lot of opportunity even though I've taken a step back."