Marussia remained coy on Friday about exactly why Max Chilton had returned to its Formula 1 cockpit at the Belgian Grand Prix.
Chilton had originally been stood down in favour of Alexander Rossi at Spa-Francorchamps because of contractual issues, although the Briton later claimed he had voluntarily stepped aside to help the outfit sell his seat.

Chilton: More to story than many think
However, just before opening free practice on Friday, the team had a change of heart and requested with the stewards that Chilton be reinstated as one of its nominated race drivers.
Although Chilton's return prompted suggestions that the contractual matters - believed to relate to the late payment of sponsorship - had been sorted, the team suggested that the situation was more complicated than that.
Sporting director Graeme Lowdon told AUTOSPORT: "I don't think it would be appropriate for me to comment on the details of the contractual issues because that is confidential between parties involved, so there is nothing we can really say on that.
"This [having Chilton back] is a result of a change in circumstances."
When asked how the team could explain Chilton's stance that he had voluntarily stepped aside to try to help its financial situation, only to be back in the car the next day, Lowdon said: "To be honest, you will have to ask his PR people. I don't know anything about it. You will have to ask them to clarify it."
Despite the ongoing mystery surrounding the Chilton situation, Lowdon said he hoped the issues were now a thing of the past and he could see out the season.
"The assumption and the intention of the team is that this is our driver line-up and that is what it will be for the whole season," he said. "That is certainly what we are working towards.
"We have seen that there are things that can cause hiccups and changes in that - and that is just how things are."
ROSSI IMPRESSED TEAM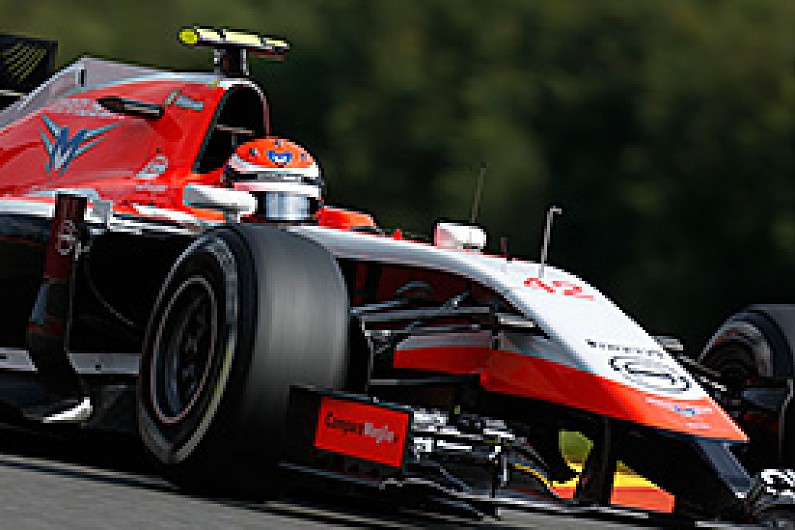 Although Rossi suffered the disappointment of losing out on the chance of making his F1 debut, the team made clear it was impressed with the job the American did in FP1.
"I have to say that Alex Rossi acquitted himself incredibly well," said Lowdon. "He has conducted himself really well, and it's great to have him on the team.
"I've huge respect for Alex, he's done a tremendous job, and this is part and parcel of the professional life he leads.
"For Alex, it's not the first time he has been in a Formula 1 car, and it won't be the last I'm sure."