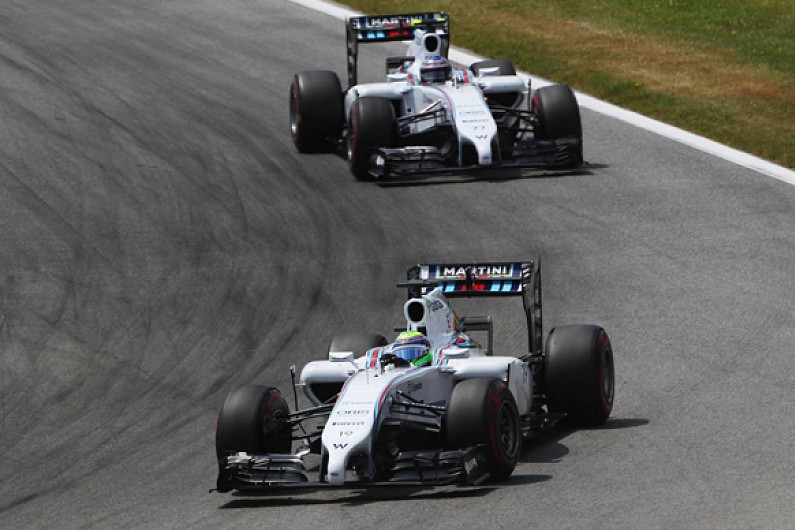 Williams can aim to re-emerge as a world championship-winning force without a works engine deal, according to performance chief Rob Smedley.
The team agreed what is understood to be a seven-year supply deal with Mercedes, which started this year.
Williams has been the strongest non-Mercedes team more often than not during the races leading into the August break, but Smedley has no doubt that in the long-term it can aspire to greater things.
"This team has to have ambitions to win the world championship," Smedley told AUTOSPORT.
"Yes, we are not a works team, but are Red Bull really a works team? Mercedes are a works team and Ferrari are definitely a works team because they work under the same roof.
"But if you look at the differing fortunes of those teams, does being a works team give you automatic access to winning races and championships? I don't think so.
"The ambition of this team has to be to win world championships and to get back to how it was.
"We should not be setting ourselves to be best of the rest because if we want to do that, we have already achieved that ambition, so now we have to go on and win world championships."
Deputy team principal Claire Williams believes that the Mercedes engine deal has been a significant factor contributing to the squad's success.
But with the team having made significant changes over the past 12 months, she stressed that this was with the objective of becoming a title-winning force.
"That's the objective at the moment and that was the objective when we started to make all of the changes to the team last year.
"We wanted to win races again, win them consistently and to win world championships.
"To have the Mercedes power unit in the car this year has been a real boost and has certainly driven our performance forward.
"We have a great relationship with Andy Cowell and his team at Mercedes HPP [High Performance Powertrains] so we are really happy with where we are."
WILLIAMS SINCE ITS LAST CHAMPIONSHIP
Williams last won a world title in 1997, when Jacques Villeneuve won the drivers' crown and spearheaded its push for the constructors' title.
Here is how the Grove-based team has fared from '97 onwards.
Autosport has produced a standalone special magazine to celebrate our 70th birthday. All current print subscribers will receive a copy for free. To order your copy of the 196-page Autosport 70th Anniversary issue, please go to: autosport.com/autosport70th