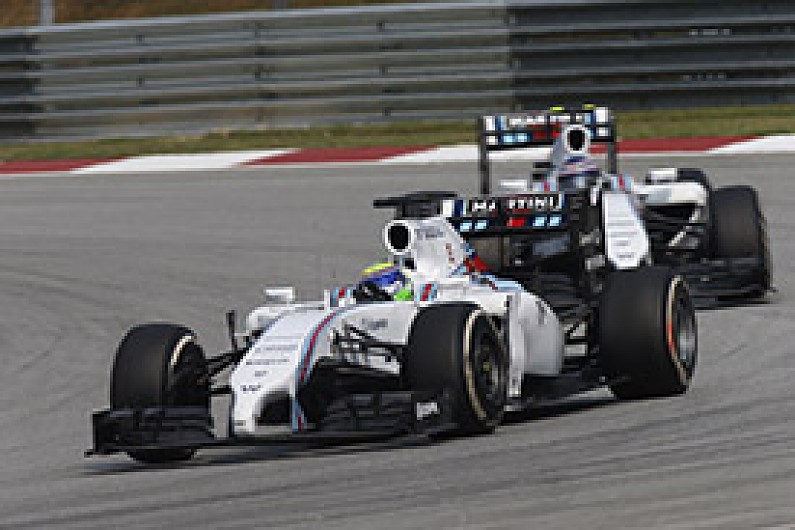 Felipe Massa insists that he was right to ignore a Williams team order to let Valtteri Bottas past into seventh place in the closing stages of the Malaysian Grand Prix.
The Brazilian was chasing McLaren driver Jenson Button, but Bottas was behind on tyres that were two laps fresher.
Massa, who was told "Valtteri is faster than you", opted to stay ahead on the basis that he did not believe there was any clear advantage to Williams in him pulling aside.
"I heard everything but it was not clear," said Massa when asked by AUTOSPORT why he did not let Bottas past as instructed.
"What I did was correct. I am trying to do my best for the team and that's the most important thing.
"I'm sure the result would not have changed even if I had let him by, so it's the same.
"The team respects me 100 per cent and they showed they respect me after the race, so I have no problem at all.
"What's happened today was maybe not what I expected, but what I did was correct."

Williams had 'switch back' plan
Massa said he had made his position clear to the team after the race and that he did not expect similar issues in the future except in the right situation, which he does not believe was the case in Malaysia.
"I expect these things to happen [only] at the right time" he said.
"I have clarified my situation. I have no problem and I feel really, really relaxed inside the team."
Bottas was unwilling to talk in depth about the situation on the basis that the team still had to do a full analysis of what happened.
"We have still not had a proper chat, we are going to later and analyse this situation," he said.
"We are going to talk through it with the team and analyse what happened and what we need to do next time in similar situations just so everything is clear with what the rules are and what we do better next time.
"Maybe it will allow us to get more points in the future."
Bottas confirmed that he did ask if he could pass Massa during the first stint of the race, and was instructed not to do so but that in the closing laps he was told he would be let through.
"Yes, that's correct," he said when asked if he was told Massa was instructed to let him through late on.
"Then, in the last two laps I wasn't allowed to overtake anymore."