Lewis Hamilton is adamant that Mercedes' chances of winning the Formula 1 world championship next year will not be compromised even if Ross Brawn elects to leave the team.
Speculation about Brawn's future has reappeared this week after the BBC reported that a decision had been made for the team principal to step down at the end of this season.
Mercedes' non-executive chairman Niki Lauda later insisted that nothing was finalised, and he was not expecting final discussions with Brawn to take place until after the Brazilian Grand Prix.
Hamilton is well aware that there is a chance Brawn will leave and hand over responsibilities to Toto Wolff and Paddy Lowe, but he thinks that that will only happen if the team is convinced it will not affect its competitive situation.
"We have had a great working relationship and I don't believe any decisions have really been made yet," said Hamilton, when asked by AUTOSPORT on Thursday about the Brawn situation.
"But I think either way we have a strong set of people in the team. I know Niki, Toto, Ross and everyone in the team will do the utmost to make sure that whatever decision he makes, we go into next year with a fighting chance to win the championship."
BRAWN NOT MERCEDES' ONLY ATTRACTION
When Hamilton signed for Mercedes, Brawn was team principal and the restructuring that brought in Wolff, Lauda and Lowe had not taken place.
But he denied he would be disheartened if the man he originally signed to race for departed.
"When I made the decision it was based on a lot more things than just Ross," said Hamilton.
"It was a bonus to have Ross here, because of how much experience he had and the success he had had in previous teams.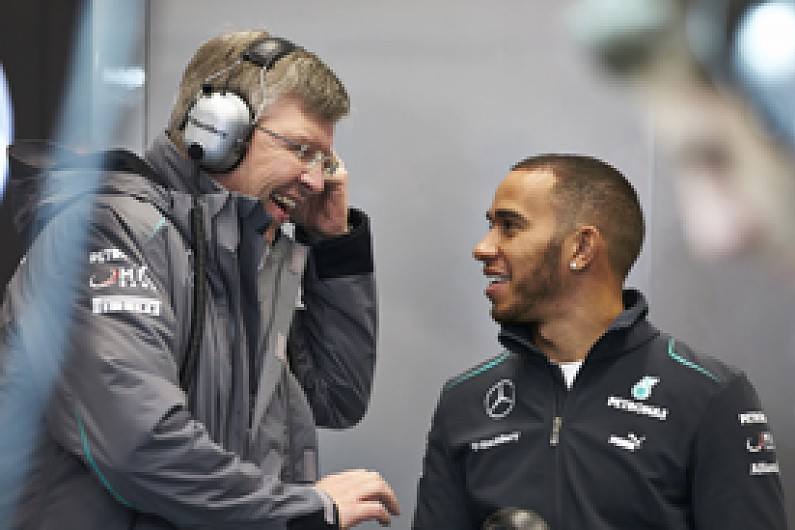 "At the time he was the one who came and showed me the progress that the team was making and the direction they were going. But again that would be the position of any boss who would have done that."
Hamilton's team-mate Nico Rosberg did not wish to get drawn into talk over Brawn's future, but did praise the influence his boss has had.
"I don't really want to speculate about what might or might not happen," he said. "I just know they are in discussions and I am following that - and that is it.
"It has been great to work with Ross since the beginning - and also very interesting experience for me because he is a very experienced team principal, very wise and has a very good manner of managing people which I appreciate because he interacts with me in that way and it has been good."