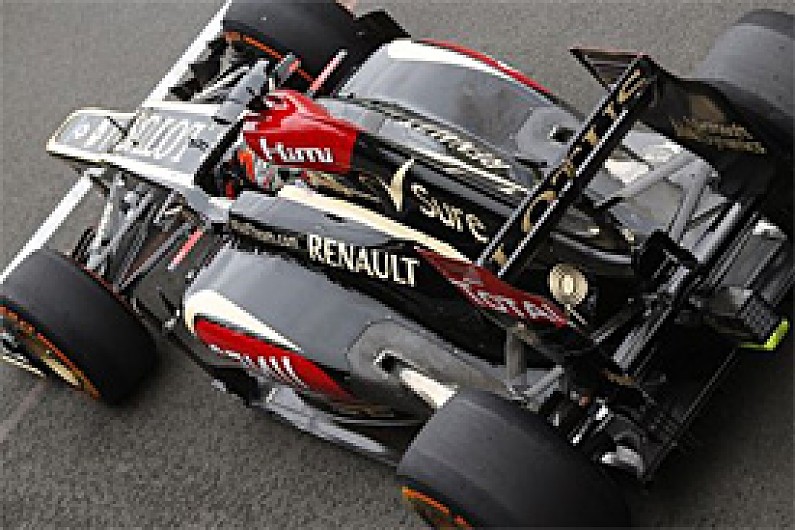 Lotus's passive drag reduction system will make its race debut in tomorrow's British Grand Prix on Kimi Raikkonen's car.
The team has been trying to make the system work since first trialling it in practice for last year's German GP.
But despite being confident in its potential at the launch of this year's car, this is the first time it has run on a race weekend in 2013.
Raikkonen used the system - reckoned to have the potential to increase top speed to allow more wing to be run for the corners without compromising pace on the straights - during qualifying, meaning it must run tomorrow.

British Grand Prix technical blog
The Finn, who was ninth fastest in qualifying, admitted that he had hoped for more from the design, but that there was nothing to be lost by running it.
"We hoped for a bit more from it but let's see how it behaves tomorrow and hopefully it helps us with the race pace.
"You always want more from new parts, but I guess we are where we are right now and hopefully we can go forward.
"If we never try things, we will never learn anything and we will never start using it.
"I don't really see that we have much to lose because without trying something new and finding a chunk of time we will not catch the guys in front of us."
Silverstone is an obvious choice for trialling the passive DRS because of the number of high-speed straights.
The design uses a fluid switch to redirect airflow to stall the rear wing once the car hits a specific speed.
But the team has struggled to consistently get the switch to de-activate when the car decelerates, leading to the potential problem that a car could lack rear downforce when a driver first hits the brakes for a corner.
Talking to AUTOSPORT at the launch of the Lotus E21, then-technical director James Allison, explained that it was easier to make the design work at certain track configurations.
"It all depends on how good we are engineering it," said Allison of how often the device could be used.
"It's possible to imagine it being useful at every circuit. If we do a less good job than that, then it will only be at certain circuits, like Spa, where even a relatively crudely placed switch can bludgeon its way to a decent gain."