Jenson Button is under no illusions about the task McLaren faces to make its car competitive after admitting ninth place was the best the team could have hoped for in the Australian Grand Prix.
The Woking-based squad struggled all weekend in Melbourne, with Button qualifying in 10th position and finishing nearly a lap down on race winner Kimi Raikkonen.
Button, who won in Australia a year ago, reckons it will take a good while for the team to return to the front.
"There is a lot of work for us to do. It's not something we are going to change overnight," said Button.
"I think we extracted everything we could today. But we are not going to suddenly be competitive."
The former world champion admitted even ninth position was a surprising result for him given his car's form.
"I didn't expect to get that many [points] today," he said. "I think we should be happy with how we went about the race. In a way I'm slightly surprised to have beaten a Lotus and to have held Mark [Webber] for so long."
He added that McLaren would have to be delighted if it managed to score a similar result next week in Malaysia.
"I think if we came away with the same sort of points we would be ecstatic, so that really shows where we are. We are McLaren, we should be further up."
Button conceded, however, that two points scored did not ease the pain of seeing McLaren struggle.
"You can look at it one way: at Silverstone last year I finished 10th and I'm one place higher here. We had bad spells last year, but I think there is a lot more for us to do to get back to the front than last year. It's good to get a couple of points, but it doesn't really ease the pain."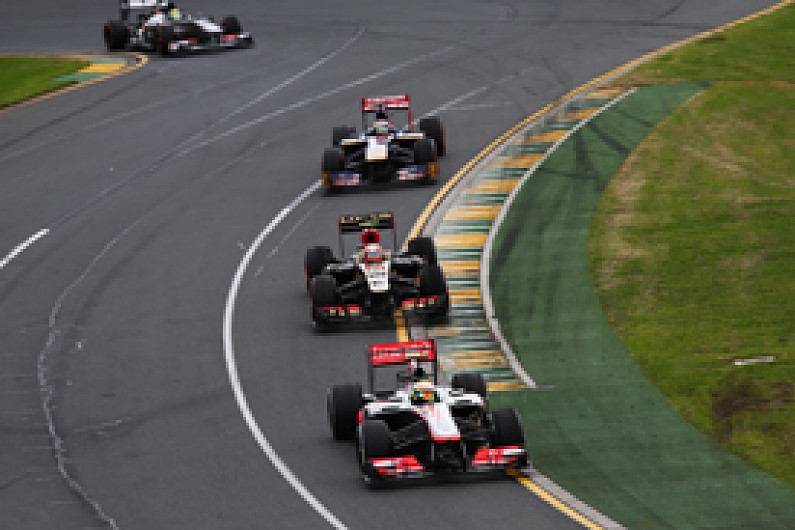 Team-mate Sergio Perez finished down in 11th position in his debut with McLaren, the Mexican also struggling with his car's handling.
"We're lacking downforce, we're lacking stability. It's not only one thing," Perez said. "I think we've got a lot of problems. The car is not quick enough and this is our reality."
He denied reverting to last year's car was a possibility.
"No, there is no option for that. So we have to keep our heads up. The car has the potential so we have to understand and put it together so we can be fighting for good positions."
AUTOSPORT Australian GP coverage:

FP1 FP2 FP3 Qualifying Race Gallery Live commentary Official quotes
Autosport has produced a standalone special magazine to celebrate our 70th birthday. All current print subscribers will receive a copy for free. To order your copy of the 196-page Autosport 70th Anniversary issue, please go to: autosport.com/autosport70th