Working in Formula 1, AVL is one the leading purveyors of test bed simulations analysing all aspects of car performance. The company's director of motorsports, Michael Resl, explains the complex and sometimes secretive work which AVL conducts in F1.
James Roberts: Tell us a bit about the history of AVL.
Michael Resl: AVL was founded in the '40s by Hans List and he grew it from nothing to 200 people, working on various engineering projects in the automotive industry based in Graz, Austria. Today the company has grown to become multi-national with 48 affiliates worldwide employing 10,000 people. There are five key areas of the business: simulation, engineering, manufacturing, testing and racing.
JR: What simulation and engineering work does the company engage in?
MR: While we can analyse airflow around front wings or the thermal behaviour around brake ducts, we specialise in developing simulation code for aspects of the car which are difficult to access. For example, we develop tools for the flame propagation in a combustion chamber or analyse the behaviour of a droplet in the fuel injection system.
From an engineering perspective we focus on propulsion systems and in F1's case that can be anything from the internal combustion engine (ICE), the MGU-H or the battery. We build everything from the chamber to the crankshaft, conrod, piston or crown. We could produce everything to build our own F1 engine - but have no plans to.

JR: What else do you manufacture?
MR: At our base in Germany we have over 50 CNC (Computer Numerically Controlled) machines that can manufacture anything that goes into an engine, gearbox or suspension - everything apart from carbon parts. So we use titanium, high-strength steel, aluminium, magnesium, even gold.
Our machines are capable of turning, milling and grinding, and we work on complex geometries supplying OEMs (Original Equipment Manufacturers) with camshafts, crankshafts, heads and blocks. We do supply some F1 teams with parts, usually when they have multiple development programmes and are at capacity with their own manufacturing.
JR: Can you explain how you work with the F1 teams in research and development?
MR: We create a laboratory that accurately recreates the environmental conditions of the track where an F1 team wants to test.
For example we can put an MGU-H or an ICE in combination with the gearbox or entire car and the temperature and humidity of Bahrain, or immediately switch to conditions more typical of Silverstone.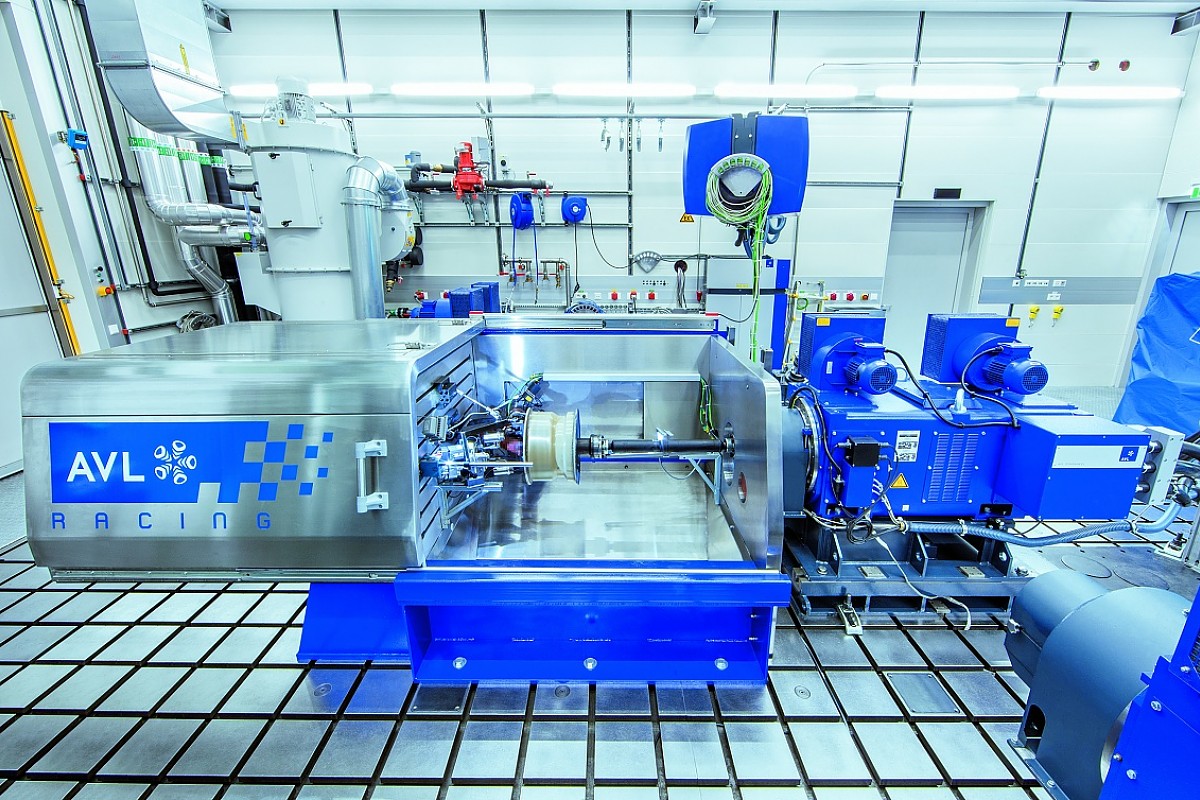 We can also introduce side winds - which might be important to test an airbox. Our advanced dynamic model understands aspects such as tyre degradation, fuel consumption and the interaction between suspension and kerbs.
F1R: How exactly does it work?
MR: We take a full chassis, remove the front and rear wings and attach the wheels to electric motors.
Our dynamic vehicle model then steers the control system to accurately simulate a lap of a given circuit. If, for example, that track is Spa, then the wheels spin when they drive over the kerbs on the exit of La Source.
The G-forces and elevation changes of Eau Rouge are also simulated. This is important because spinning wheels might influence the rev limit. The process is to test reliability and improve performance.
JR: While you can simulate multiple laps around a circuit, one aspect surely missing is the role of the driver?
MR: This was the missing link, so a few years ago we connected the two systems. Now we have a driver-in-the-loop simulator on one floor and on the level below is the car which he is controlling.
Now he gives the commands to the car, with all his mistakes and imperfections. We even use techniques to replicate the stress levels a driver would experience. Nothing is left to chance, from the levels of shadow on the track to the level of tyre degradation. Teams come to us in full confidentiality.
We have a secret location in Austria and F1 cars arrive in an unbranded truck. We spend a lot of money on full confidentiality only for a driver to say on social media that he's on a flight to Graz...