In 2005 Autosport's sister title Motorsport News uncovered a never-before-seen document where Michael Schumacher offered to drive for Eddie Jordan for at least three years if the Irishman gave him his break into Formula 1.
Jordan had offered Schumacher the deal in 1991 to help thrust the team into world championship contention, and he told MN ahead of its 50th anniversary celebrations in 2005 that he believed his team could have been one of the most successful in F1 if the German had stuck to the agreement.
The contract with Schumacher was overturned in the courts after just one grand prix and the eventual seven-time world champion was free to join Benetton, with which he won two titles in the mid-1990s.
Jordan told MN: "It taught me a lot about contracts. You deal with so many people and so many contracts in Formula 1 you simply can't be on top of every little detail.
"I don't think there is a company in the world that hasn't made a mistake with a contract at one time or another."
Jordan had offered Schumacher a contract, but the document (pictured below) only refers to 'a driver agreement'. Because it was non-specific, Schumacher was able to leave the team after one race at Spa in 1991.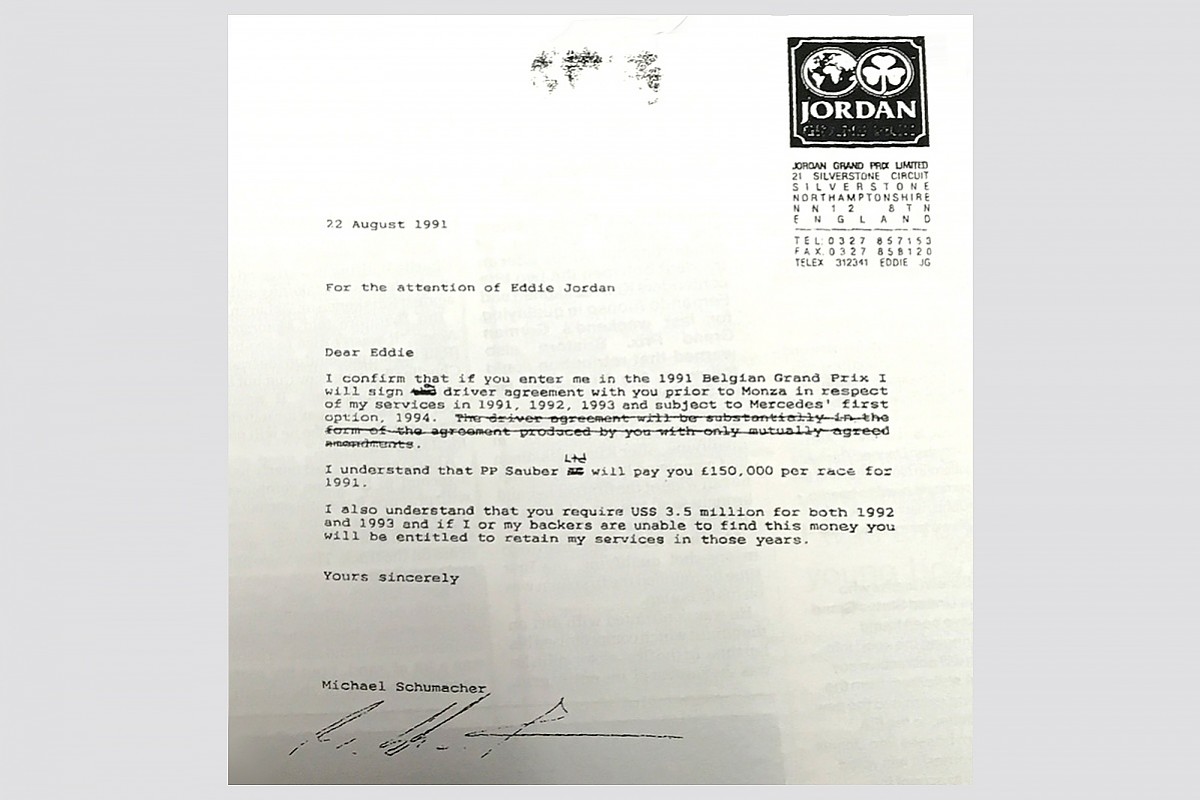 Interestingly the agreement (see full wording below), shows an amendment on the second line where the word 'the' is crossed out and replaced with the word 'a'.
---
22 August 1991
For the attention of Eddie Jordan
Dear Eddie
I confirm that if you enter me in the 1991 Belgian Grand Prix I will sign the a driver agreement with you prior to Monza in respect of my services in 1991, 1992, 1993 and subject to Mercedes' first option, 1994. The driver agreement will be substantially in the form of the agreement produced by you with only mutually agreed amendments.
I understand that PP Sauber Ltd will pay you £150,000 per race for 1991.
I also understand that you require US$ 3.5 million for both 1992 and 1993 and if I or my backers are unable to find this money you will be entitled to retain my services in those years.
Yours sincerely
Michael Schumacher
---
That refers to a driver contract Jordan had already drawn up for Schumacher. Had Schumacher signed the contract Jordan was referring to, he may well have had to stay with the team until at least 1993.
It is this tiny amendment - replacing 'the' with 'a' - that almost certainly made it much harder for Jordan to retain Schumacher's services after his 1991 F1 debut.
"You wouldn't sign a footballer for one match only, would you?" Jordan added. "Sure, we wanted to keep hold of him and I believe he wanted to stay with us too. After the Belgian GP we wanted to test and it was pretty clear he wouldn't come. We knew then that something was wrong."
Schumacher was driving for Mercedes in sportscars at the time and the German firm was keen to give a home-grown driver a chance in F1. It would pay for Schumacher's seat - £150,000 per race in 1991 and then US$3.5million for 1992 and '93 - for the duration of his stay with Jordan.
"After he didn't turn up for the test, we knew we were starting a fight," added Jordan. "It is incredible that big things in F1 can come down to the difference between using the word 'a' in a contract when it should have been 'the', but that's motor racing sometimes. It made me very conscious of every document after that."
Jordan said the fight for Schumacher's services after his debut for the team - when he qualified seventh in the 191 before retiring in the opening moments with clutch failure - was tough.
He explained: "Schumacher's management team could see they would get more money by moving him to Benetton. I understand that Bernie Ecclestone told Flavio Briatore to take him, even though the people at Benetton - like Tom Walkinshaw - wanted to take Martin Brundle instead."
Jordan finally let Schumacher go after the legal battle but without the financial settlement many people think took place.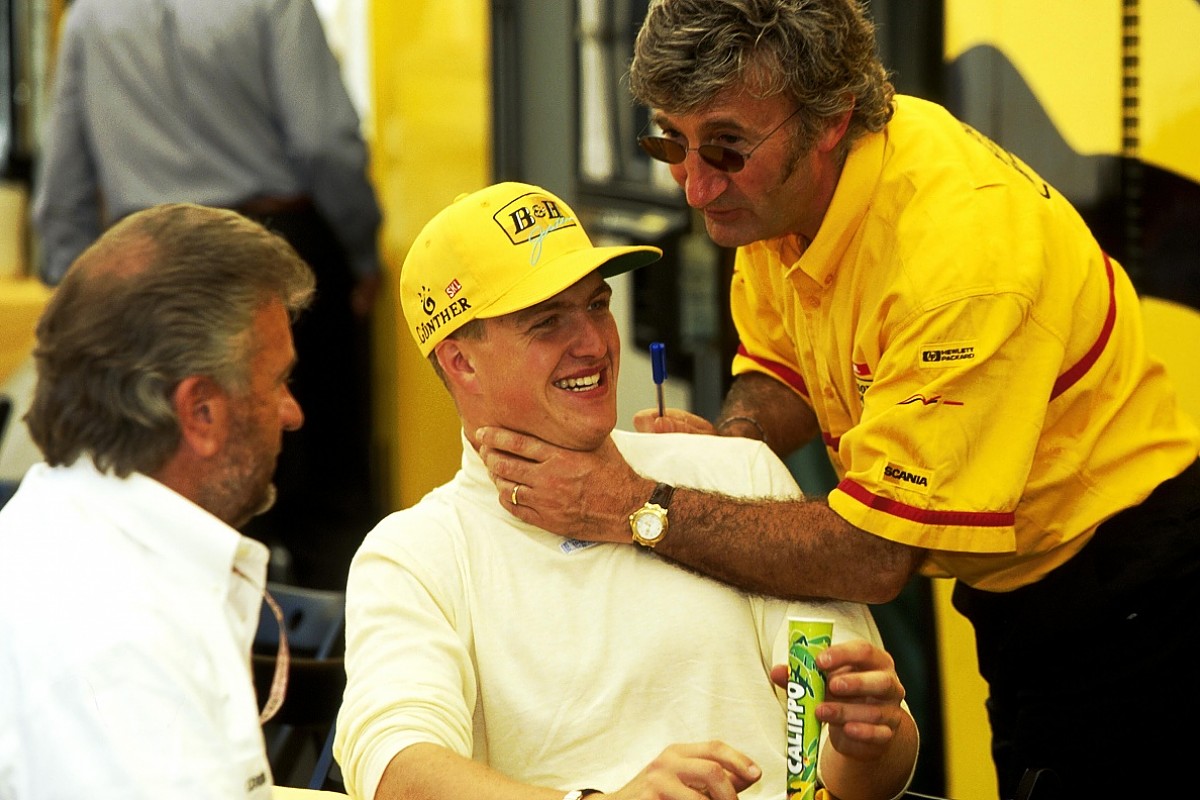 "I did not get a dime out of this," he said. "But, you know, things have a funny way of working themselves out in life. Schumacher left us and we got his brother Ralf [in 1997, pictured] - and when Ralf wanted to go to Williams in 1999, Michael paid him out of his contract with us."
Following Schumacher's defection, Jordan's team continued with Yamaha engines in 1992 but had a disastrous season, scoring only one point with drivers Mauricio Gugelmin and Stefano Modena.
It would be another six years before it finally broke into the winner's circle - back at Spa in 1998 with Damon Hill behind the wheel.
"Maybe they'd be lost years because we had seen the result of what Jordan had [for '92] and it was a disaster" Schumacher's manager Willi Weber
"It is very difficult to know what the future would have held for us if we had managed to keep hold of Michael Schumacher," said Jordan. "Schumacher just got better and better and better. Benetton weren't doing a lot in terms of success until he went there and started working with their people.
"We were an emerging team at the time too. I am not saying we would have had the fantastic success that Benetton had, but we would have been able to hold our own. When you see what he did at Benetton, we think that could have happened to us as well. We were unlucky."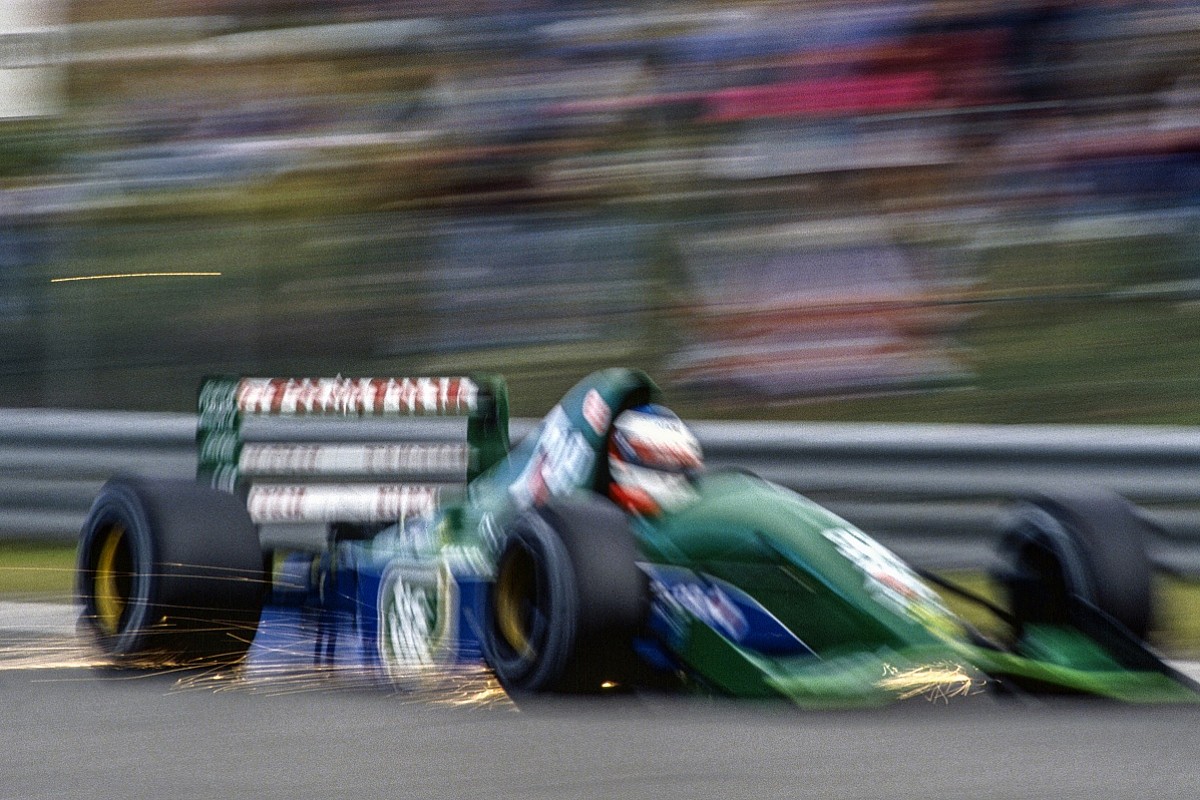 Schumacher's former manager Willi Weber told MN in 2005: "What was written says, 'after we drive in Spa we would sign a contract', but not 'this' contract. 'A' contract should be under our conditions, not under [Jordan's] conditions.
"We knew Eddie had Yamaha engines [for 1992] and this was not what we really expected. This 'a' saved our lives, let's put it this way. And it was very clear at the court, when the judge said immediately, it says 'Michael and Willi will sign a contract'.
"So what is 'a' contract? We could sign a contract with him to visit his factory two times a year. That's 'a' contract. It could be anything."
When Weber was asked if there would have been a problem if the document said 'the' contract and whether Schumacher would have had to stay at Jordan he replied: "Yes. Michael would have to stay there one, maybe two years.
"But maybe they'd be lost years because we had seen the result of what Jordan had [for '92] and it was a disaster."