Sebastian Vettel described Friday practice for the Canadian Grand Prix as "a disaster". The balance of the Ferrari wasn't right, Max Verstappen set the pace for Red Bull and Vettel brushed the wall at the end of practice one then sat out the first 34 minutes of the second session while waiting for the car to be repaired.
What's more, Montreal specialist Lewis Hamilton looked strong. Though he was down in fourth place, Hamilton had set his fastest time on the slowest, supersoft, tyre compound and he looked very quick on the long runs.
Cue some serious work overnight, both in Montreal and at Ferrari's Maranello base with reserve driver Antonio Giovinazzi putting in the miles in the simulator. The result was a car good enough to take pole position from Valtteri Bottas by 0.093 seconds, win comfortably and give Vettel the lead of the world championship.
"Friday was a disaster for me," said Vettel. "But on Saturday morning the situation was much better and the car proved in qualifying that the set-up was very good. We confirmed the job was done in the right direction. With the new power unit, I think we made a quite good step."
While F1's three grandee teams - Ferrari, Red Bull and Mercedes - are in a different class to the rest of the field, the competition between the three is ferocious. Tiny differences can lead to big swings, and the upgrade to the Ferrari V6 engine was one such factor.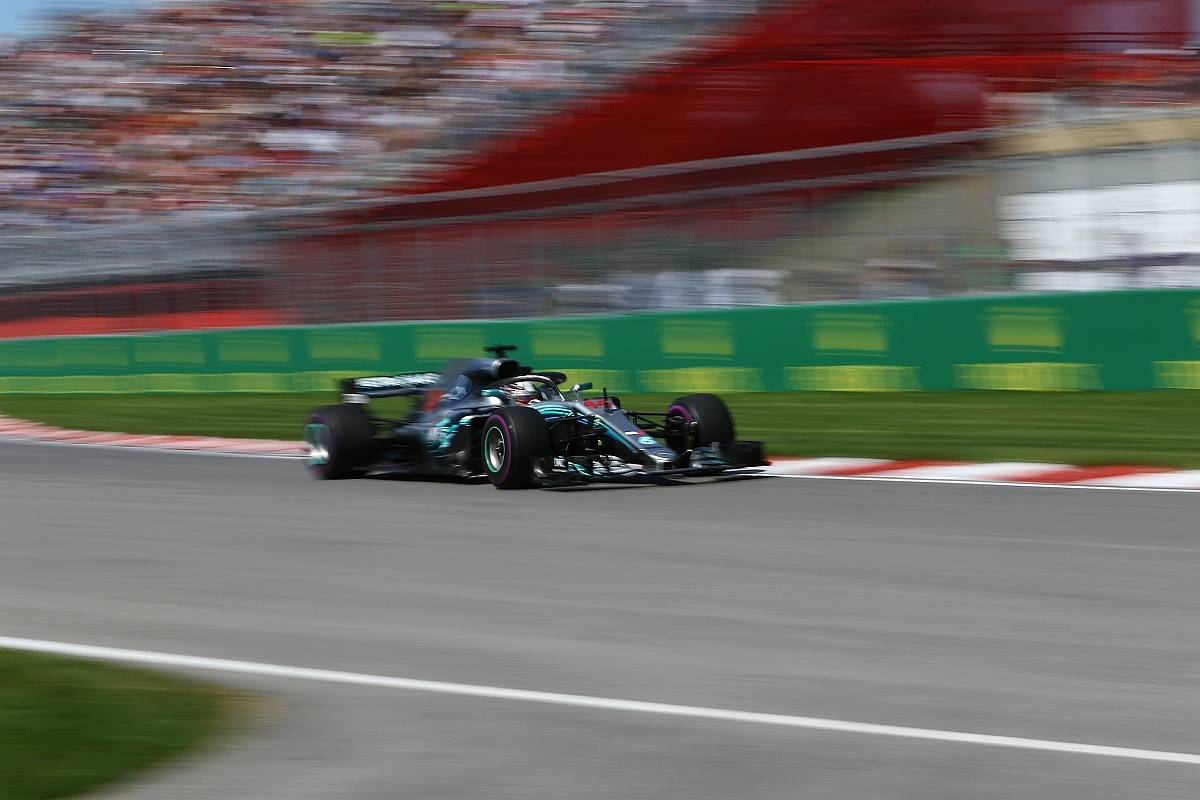 Reliability concerns led to Mercedes postponing its upgrade to the French GP in two weeks, forcing both Hamilton and Bottas to use engines that had previously been slated to have their final race at the twisty, and less power-hungry, Hungaroring at the end of July.
That wasn't the only factor. Mercedes allocated only five sets of hypersofts for each of its two drivers, preventing them from trying the compound that would decide pole position before Saturday. Others had eight sets available, so ran them in Friday practice too. That was a decision made three months ago, yet it had implications here.
Competition between F1's top three teams is ferocious. Tiny differences can lead to big swings, and the upgrade to the Ferrari V6 engine was one such factor
And had slightly different set-up decisions been made for Hamilton's car, perhaps the mistake under braking for the hairpin wouldn't have happened, and he could have taken the pole position he claimed was possible. And what if he hadn't suffered cooling problems in the race and resulting power dropouts, which forced an early pitstop to allow several louvres to be opened and left Hamilton vulnerable to an overcut overtake by Daniel Ricciardo?
Every grand prix weekend is about millions of ifs and buts, in the case of Canada it added up to a pace advantage of about a tenth of a second per lap for Vettel and Ferrari when it mattered on Saturday and Sunday. What is unquestionable is that Ferrari made far more right calls than wrong ones. This, combined with Vettel's virtuosity, added up to a crucial win in the world championship fight.
Debate rages about which of 2018's leading cars is the best one - an argument the Red Bull is in, and probably wins, if you normalise for engine performance - but nobody can question that Ferrari is the best team so far. And Vettel had more in the bank than it appeared in qualifying.
He wasn't happy with his pace in the first half of the lap on his first Q3 run, then lost time in the final sector on his second. His theoretical time, created by totalling his three fastest sectors, was 0.088s faster.
So even though both Mercedes drivers had reasons to kick themselves - Bottas because he failed to pick up the pace on his second Q3 run - there's no guarantee that if all the frontrunners had perfect runs the result would have been different. The one thing we can be certain of is that Verstappen, who qualified third and 0.173s down, was losing around a third of a second thanks to the Renault engine package even with the latest upgrade working as anticipated.
Once he had pole position, Vettel just needed to make sure his start was right. He did that to perfection, making a clean break while Bottas and Verstappen battled through Turns 1 and 2.
Initially, it seemed Verstappen would come out ahead, but Bottas toughed it out around the outside of the first left-hander then squeezed between Verstappen and the inside kerb in the slower right-hander that follows immediately.
"On the right-hand side [of the grid], the grip didn't feel that great," said Bottas. "It was quite dusty and most of the other categories this weekend have had rolling starts instead of standing starts, so there was no rubber at all and the other side was clean.
"I had some wheelspin initially so Max got inside. The only opportunity for me was to go on the outside and try to carry as much speed as I could to get into position for Turn 2. We touched a little bit but it was OK, and I kept second place."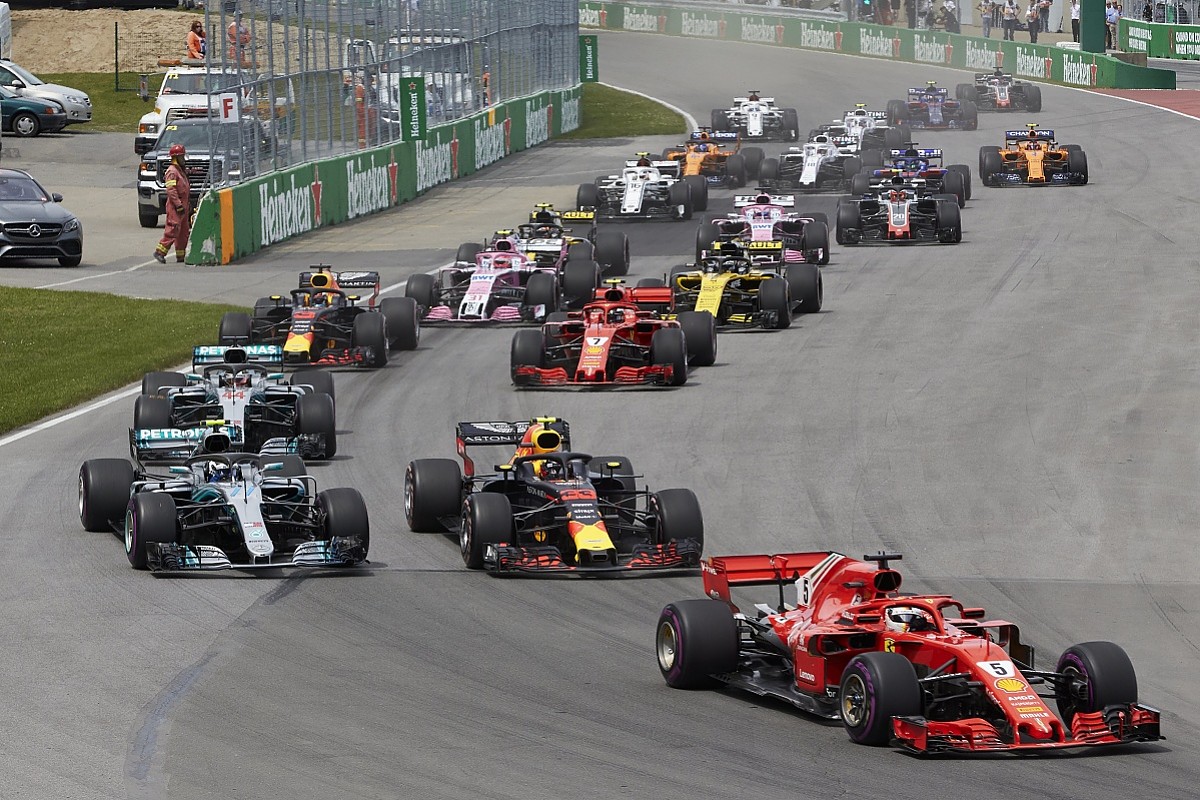 Frustratingly for Vettel, the safety car was deployed when he had already checked out thanks to Brendon Hartley's Toro Rosso being hit by Lance Stroll's Williams at the Turn 5 right hander. This pushed the left side of Hartley's car up onto the barrier, with the two machines remaining locked together until they came to rest in the wall at Turn 6. Hartley was dispatched to hospital via the medical centre for checks and subsequently cleared and released.
This meant Vettel had to do it all again at the restart. He did so, although perhaps with Bottas a little too close for comfort.
Both Ferraris and the two Mercedes started on the ultrasoft Pirellis having used them to set their Q2 times, while Red Bull pairing Verstappen and Ricciardo were on the hypersofts, so there were no concerns about being forced into an early pitstop.
"It was important to open the gap straight away," said Vettel. "I was very happy with my first lap, but then there was a safety car. I had a good restart so stayed out of trouble and then I was able to open a gap gradually.
"We had the right strategy, the right tyre, so we could stay out and control the race from there, keep the gap stable to Valtteri."
Bottas knew his one chance to take the lead was to be as close as possible before the pitstops, so he attacked during the first stint to try to stay in contention. This strategy didn't pay off and he was six seconds behind when he dived into the pits at the end of lap 36 of the 70 to take supersofts.
Vettel followed a lap later and came back out with an advantage of over five seconds. Bottas did threaten during the second stint, at one stage closing to just three seconds behind. But the need for the Mercedes to preserve fuel in the closing stages meant Vettel was able to pull away again.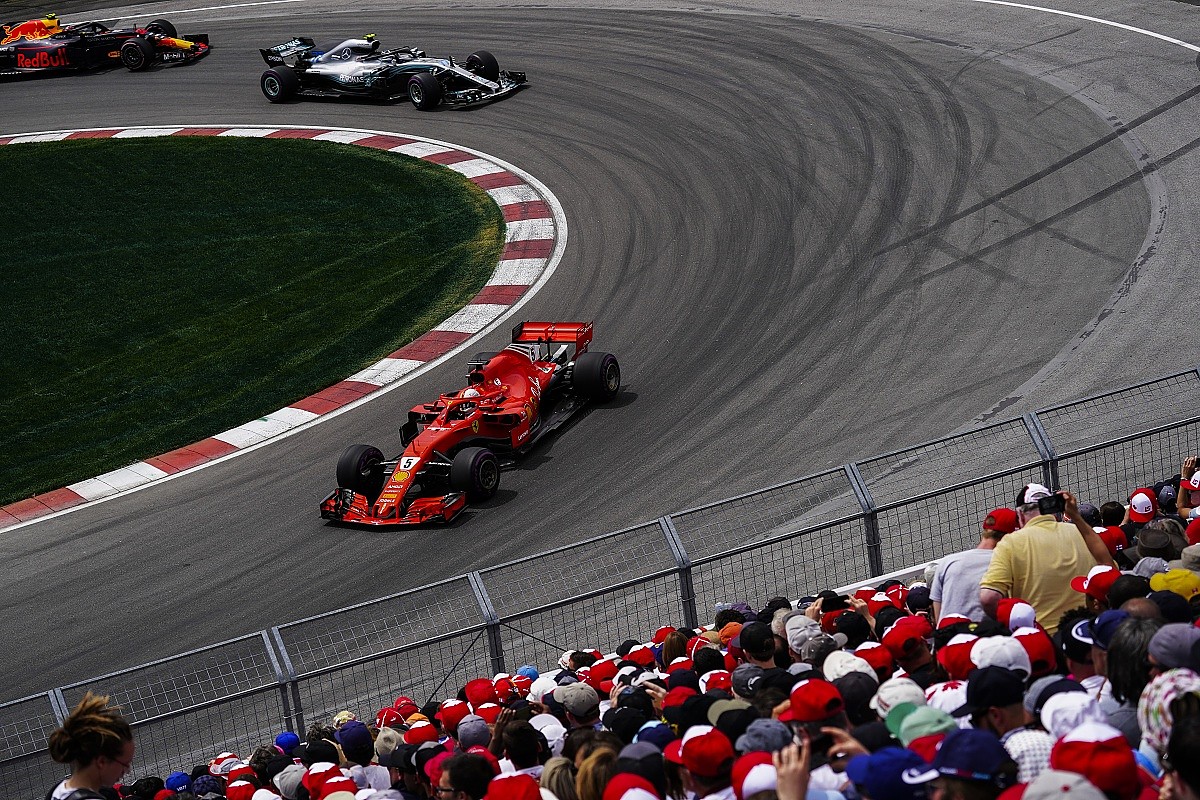 Bottas reckoned the one-tenth gap to Ferrari in qualifying was representative of the pace difference, so he wasn't surprised to finish, officially, 6.5s behind. Officially because the final two laps of the race never happened thanks to the chequered flag being waved early and the results being counted back to the lap before - lap 68 - as a result of a miscommunication between race control and the starter. This led to the unfortunate Canadian model, Winnie Harlow, being told to put the chequered flag out prematurely.
"Ferrari had pace in hand, so they could start fuel saving in the first stint," said Bottas.
"At that time, we were trying to push and get closer to them and worry about it later. I don't think I finished with any fuel at the end of the race, even with the big lift before the start/finish line, which is why Max got really close, we were so critical on fuel. That was the best chance to win the race, we had to worry about it later."
The results declared the gap between Bottas and Verstappen to be 0.984s, but on the phantom 70th lap the gap at the line was just 0.117s.
Vettel, up ahead, had little to worry about save for a flurry of settings changes to ensure good management of the Ferrari engine package.
"After the stop, I had to change a lot of things on the steering wheel," he said. "At some point I was close to saying 'when am I able to drive again?' because I was looking down and changing something and changing back. We were managing something in the background."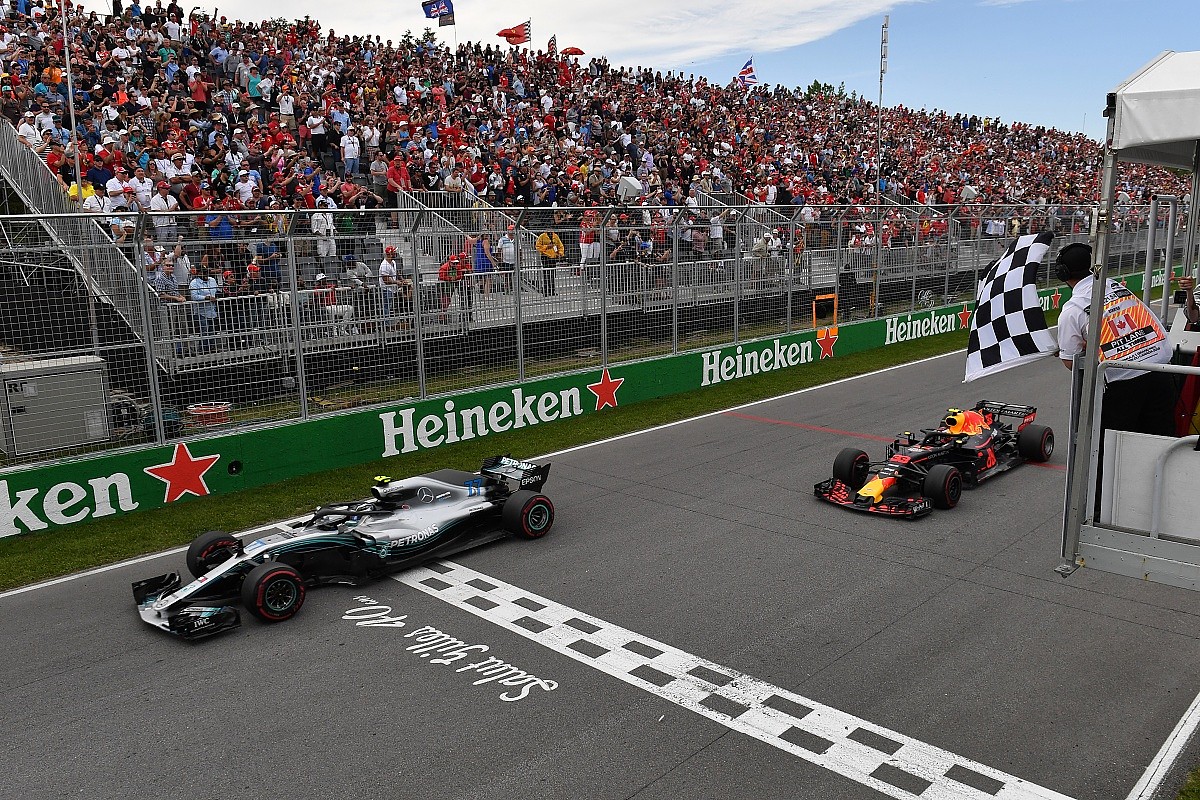 Verstappen was delighted to have a shot at nicking second, but admitted there was no chance to get by other than with Bottas's lack of fuel. Had he been able to get ahead, who knows whether he could have done something about Vettel on a weekend where he was comfortably the stronger of the Red Bull drivers.
"Ferrari had pace in hand, so they could start fuel saving in the first stint. We were trying to push and get closer to them and worry about it later" Valtteri Bottas
While the top three were static throughout, the battle for the bottom half of the top six was more dramatic. Hamilton held fourth from the start, but was visibly not happy with the balance of the car - on one occasion having a big opposite lock moment as the rear got away from him in the middle of Turn 1.
This was compounded by complaints of a loss of power, which turned out to be because of overheating. This was as a result of an unspecified part failure, which forced Mercedes to call him in for his first stop on lap 16 - earlier than anticipated and in the expected range for the first stop on hypersofts, rather than the ultrasofts Hamilton was running at that time.
Extra cooling louvres behind the driver's shoulders were opened up in the stop, which helped but did not completely solve the problems.
Verstappen was just over two seconds ahead at this point, and there was a space for him to drop into in traffic so Red Bull also called him in to protect him from an undercut attack.
"It was huge, I thought the engine was going to fail," said Hamilton. "Straight from the start, we got out of Turn 2 and the power started dropping out. There were lots of hesitations, the engine dropping in power, so I thought it was going to blow."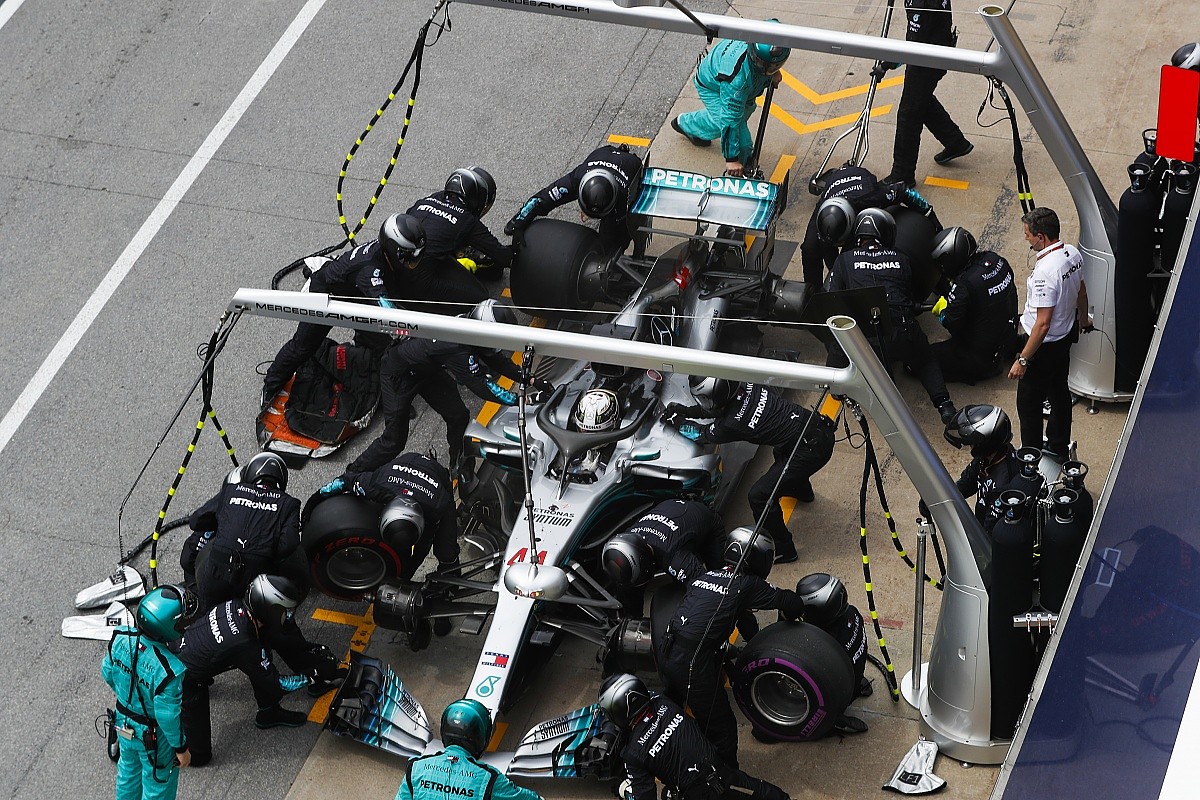 Hamilton complained about the timing of the stop over the radio, and that's understandable as it allowed Ricciardo to complete an 'overcut' pass. Ricciardo stayed out for a lap, and re-emerged between Verstappen and Hamilton.
Ricciardo had a lacklustre weekend by his standards. An electrical problem on Friday practice stymied his progress and he admitted to not having found a good rhythm come qualifying. Even in the race, Verstappen had the clear pace advantage, as the duo were separated by less than two seconds after the stops. By the finish, Ricciardo had faded to 12s behind.
The frustrated Hamilton was right on his tail for much of the second stint before backing off on the final couple of laps after overdoing it into the hairpin, locking up and running wide - but the official results counted back two laps and gave a much more representative 0.667s gap. He was satisfied just to finish, with the power dropouts continuing in the closing laps.
Last in the 'top six' class was Kimi Raikkonen, who had a disappointing weekend. He started fifth after understeering onto the grass on his key Q3 lap, then Ricciardo got alongside him into Turn 1. After running together through Turn 2, Ricciardo came out ahead and that was that.
Raikkonen, without any pressure from behind thanks to a gap to Nico Hulkenberg that was over 1m10s at the finish, stayed out until lap 32 and did a good job to emerge right on the tail of Hamilton and Ricciardo. He then lost interest in that battle, with his 16-lap tyre life advantage over Hamilton on supersofts translating into a gap of just under six seconds by the finish.
Ferrari still ended the race delighted, with Vettel letting his emotion show in parc ferme as he celebrated an unlikely win. The Mercedes camp seemed disproportionately angry about the defeat, but that's because Canada is regarded as its territory. What Ferrari and Vettel did in Montreal confirms the suspicion that Maranello currently has the sharper race operation.
"It is a strong track for us, but all weekend long we made little mistakes from the beginning on," said Mercedes team boss Toto Wolff. "We have to wake up."
Things weren't that bad for Mercedes, it was just on the wrong side of many small choices and mistakes that added up to a swing in Ferrari's favour. That's how it has been all season, and on current form it may just be the same all the way to Abu Dhabi.