Lewis Hamilton was six tenths of a second off the pace during Friday practice in Canada, Mercedes has delayed the engine upgrade originally planned for this race, and Pirelli has allocated the softest of its three tyre compounds that the Silver Arrows has often struggled to get the best out of.
On paper, that sounds like bad news for Hamilton's hopes of taking a record-equalling seventh victory in Montreal. But dig deeper and it's clear that, actually, Hamilton and Mercedes are shaping up strongly for this weekend.
First and foremost, the headline lap times of both Hamilton and team-mate Valtteri Bottas were misleading. Neither used the hypersofts, thanks to the desire to save all five sets for Saturday and Sunday, and Hamilton's time was actually set on the slowest tyre compound.
Pirelli reckons that, based on Friday, the average step from supersoft to ultrasoft is 0.5 seconds, with a further 1.1s - a couple of tenths more than anticipated - for ultrasoft to hypersoft.
A 1.6s gain would put Hamilton one second up the road, which seems fanciful. But even if the net gain from supersoft to hypersoft is half that, which would be a very conservative estimate, it puts Mercedes ahead.
Single-lap pace
1 Red Bull (Verstappen), 1m12.198s
2 Ferrari (Raikkonen), 1m12.328s
3 Mercedes (Hamilton), 1m12.777s
4 Haas (Grosjean), 1m13.620s
5 Force India (Ocon), 1m13.747s
6 McLaren (Alonso), 1m13.866s
7 Sauber (Leclerc), 1m13.884s
8 Toro Rosso (Hartley), 1m13.889s
9 Renault (Hulkenberg), 1m13.967s
10 Williams (Stroll), 1m14.703s
There are two caveats that need to be added to this. Firstly, the trouble Mercedes has often had with the softest tyre compounds means it's not a foregone conclusion it can unleash the full performance of the hypersofts in qualifying despite Hamilton's assertion on Thursday that Mercedes is now on top of the weakness it showed in Monaco.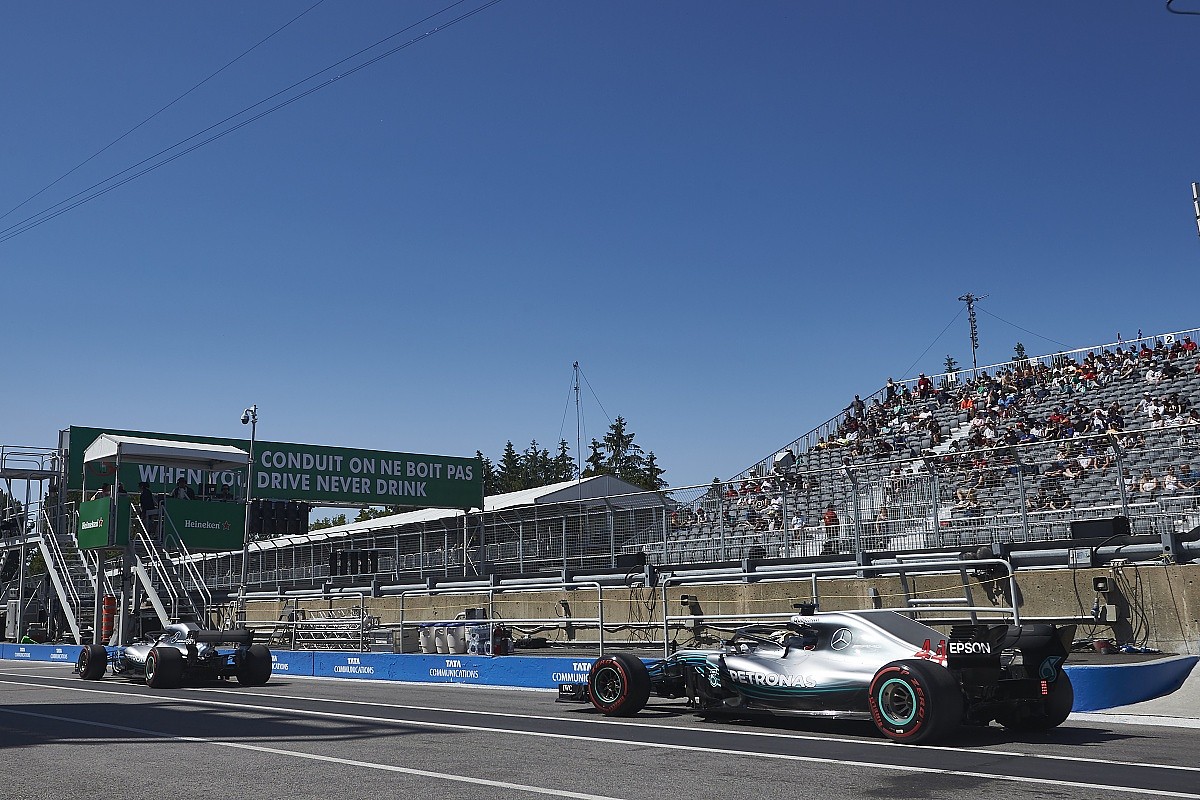 "I think Monaco was a one-off in that sense," said Hamilton before the track action in Canada. "We've understood where and why our tyres didn't last and there's some fundamental things we've changed on the car which affected it. So we have a much better understanding coming into this weekend.
"Also the hypersoft has a bit of a different requirement to the other tyres, so we're now aware of that, and we're going to tackle it this weekend."
The second caveat is that Mercedes hasn't actually had the chance to prove that progress has been made thanks to the desire to keep its hypersofts in the bank so far this weekend. Had it followed Ferrari and Red Bull, which has eight sets of hypersofts for each driver, that would have been possible in Friday's sessions.
These tyre selections were taken around three months ago, meaning that Mercedes will have made its selections based on very limited testing data. But with five sets, it has enough to carry four into qualifying having burned one for each driver in FP3.
"The hypersoft has a bit of a different requirement. We're now aware of that, and we're going to tackle it" Lewis Hamilton
But it's also important to note that Mercedes might be able to avoid the hypersoft in race conditions entirely by qualifying on ultrasofts in Q2, meaning it will only need to capitalise on the quickest tyre in the Q3 pole position shootout. Such is the pace of the car, doing so looks achievable. But as always, there is a risk involved.
Given the degradation of the hypersofts seems reasonably rapid, that seems an attractive option. Pirelli's estimate is that anyone starting on hypersofts would end up on a two-stopper, while an ultrasoft/supersoft combination makes a one-stop strategy possible.
As for overall pacesetter Max Verstappen, despite Renault having an engine upgrade he's not overly confident of challenging for pole position.
"We know that in Q3 they can turn up their engines and we're already losing quite a bit on the straights, so it will be very hard," said Verstappen. "But at least our car is working well, so we'll see what we can do tomorrow."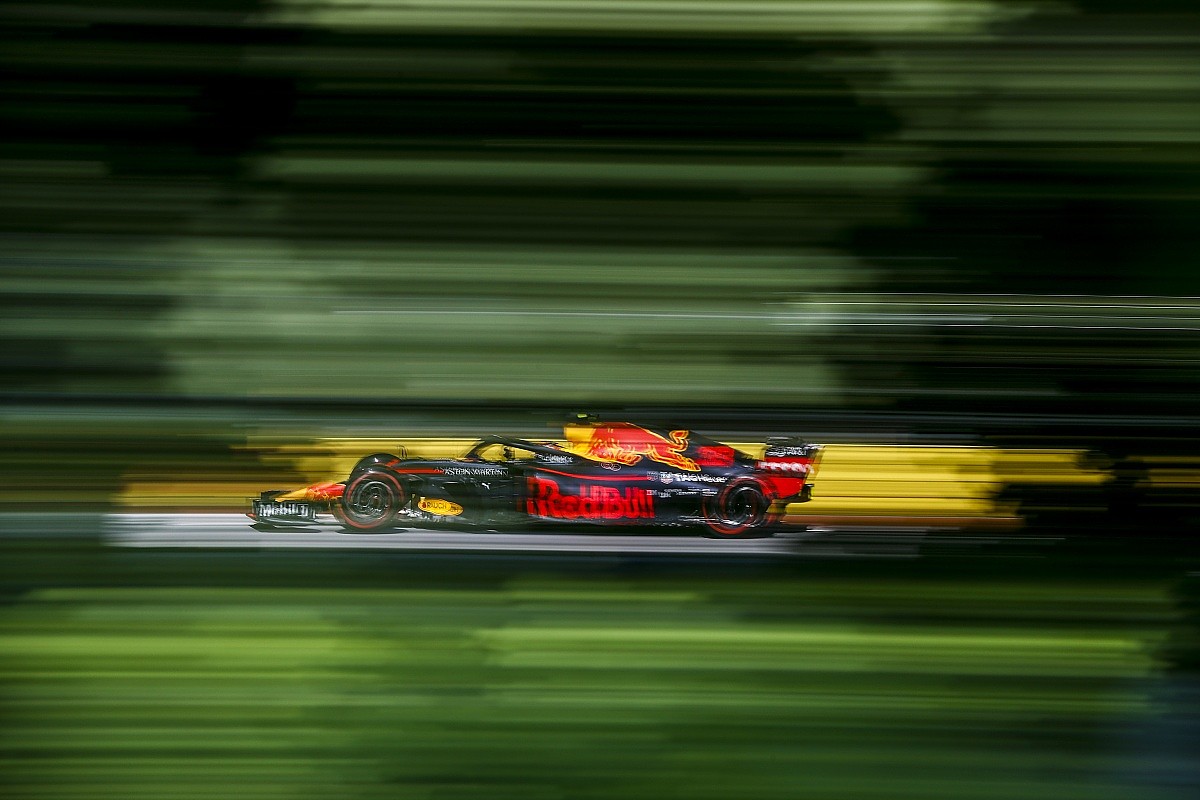 Sebastian Vettel, who might have been expected to lead the Ferrari charge, is not happy and talked down the chances of fighting for pole.
"Today we are not the favourites," he said. "I think Kimi [Raikkonen] was happy on one lap so maybe he's one of the favourites? I'm not but we'll see tomorrow.
"I'm not yet happy with the car and if that comes together we can make quite a big jump. Also the engine, putting it all together will help us be there tomorrow."
When it comes to race pace, things look far clearer. Hamilton's pace on the ultrasofts on long runs was good. Based on a nine-lap sample set, with anomalous laps discounted, he averages 1m16.366s.
By comparison, Raikkonen lapped at 1m16.776s and Verstappen at 1m16.865s. That's a clear and unusually big advantage for Mercedes, supporting the idea it's in very promising shape.
This appears to be another race weekend when all three of Pirelli's available compounds will be used, meaning a wide range of long-run strategies were taken during FP2. That said, those completing long runs on hypersofts saw a fair bit of degradation.
Seven teams completed meaningful runs on the ultrasofts, giving this ranking based on nine laps.
Long-run pace (ultrasoft)
1 Mercedes (Hamilton), 1m16.366s
2 Ferrari (Raikkonen), 1m16.776s
3 Red Bull (Verstappen), 1m16.788s
4 Renault (Hulkenberg), 1m17.400s
5 McLaren (Alonso), 1m18.114s
6 Sauber (Ericsson), 1m18.419s
7 Williams (Sirotkin), 1m19.297s
The supersoft performance looked encouraging for everyone, with Force India's pace good enough to put its cars in the low 1m17s, enough to be best of the rest in the above list. Toro Rosso, meanwhile, would be at around McLaren's level.
As for Haas, it's difficult to make a judgement based on the long runs, other than to say degradation on the hypersofts is a concern. Romain Grosjean did a run on which he averaged in the mid 1m18s bracket, but would surely have been faster on ultrasofts or supersofts.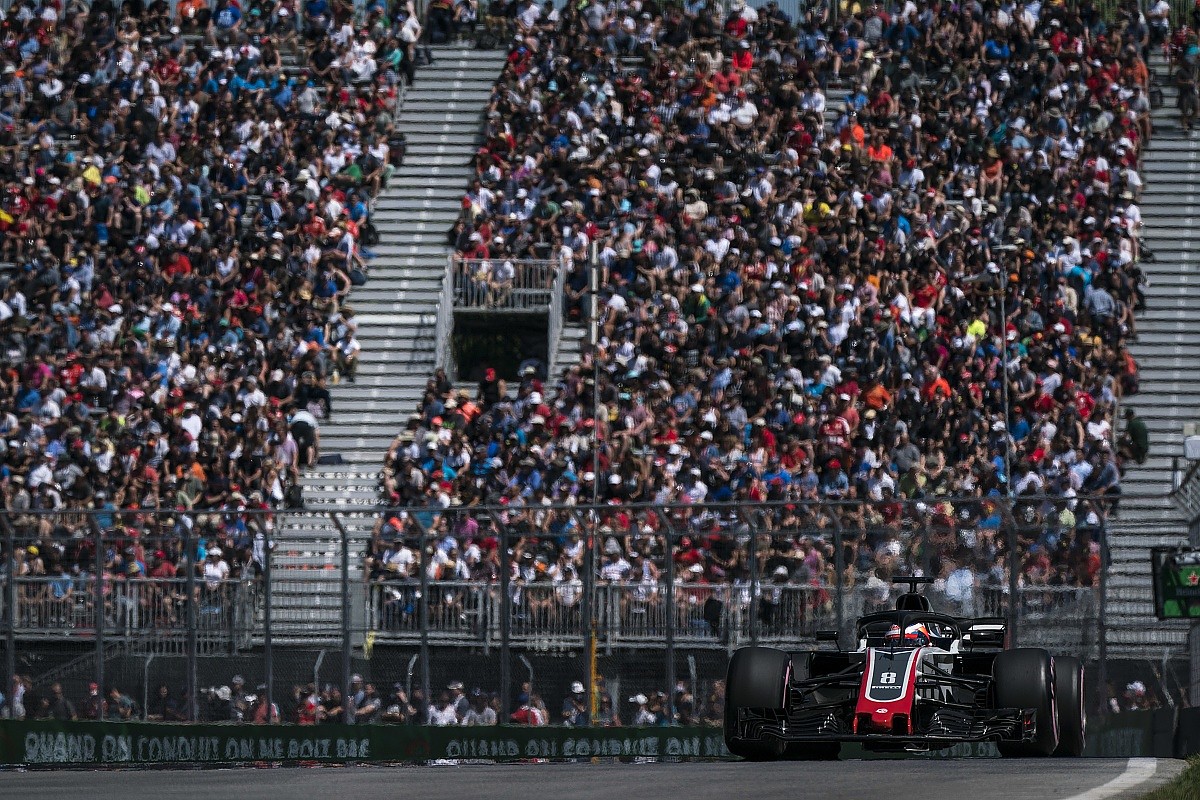 This means that, just as in Monaco, the decision on whether to favour the supersoft or the ultrasoft for the race could be a difficult one. But on current evidence, the supersoft is looking quicker than the ultrasoft over a stint and it remains consistent.
Ominously for the rest, both Hamilton and Bottas were able to lap in the 1m15s bracket using supersofts late in the session. Bottas averaged 1m15.949s over a run of six laps in the closing stages.
That was three-tenths faster than what Verstappen managed - suggesting the pace gap on ultrasofts holds true for supersofts even though Ferrari produced no useful supersoft data.
"Today we are not the favourites. I'm not yet happy with the car" Sebastian Vettel
Drawing firm conclusions from Friday practice is fraught with danger and things can change overnight. But you can only go on the available data and, so far, the overwhelming feeling is that Mercedes, and Canada specialist Hamilton, is favourite.
Daniel Ricciardo, winner last time out in Monaco, certainly isn't talking up his and Red Bull's hopes. He sees Red Bull as being in a two-team fight for second.
"I would say that Mercedes' pace was really fast today," said Ricciardo. "Even on the harder tyre, they were still doing pretty good lap times.
"I think they'll be at this stage hard to beat, but we can still improve the car a lot, do more laps, learn a bit more and we'll be OK.
"I guess the fight will be with Ferrari, too early to really know, but I'm sure Mercedes will be really fast."
The only curveballs could be hypersoft performance, which will be decisive in qualifying, and the question of engine life given Hamilton is still on the same engine he's used since the start of the season.
But that's not something anyone can count on. The intention was to use this power unit for the Hungarian Grand Prix later this year anyway, and Mercedes has comfortably the best reliability record in the V6 turbo hybrid era.
Add to that Hamilton's virtuosity around the Circuit Gilles Villeneuve, and it all points in one direction.
Provided Mercedes can get the hypersofts to work in qualifying, that is.