When the 2018 Renault Sport F1 car fires up for the first time, there will be some very proud engineers within the team and a handful of them will be pinching themselves.
For a couple of the young engineering students, the sight of the first Formula 1 car they have helped build will be the fulfilment of a lifelong dream.
You can lay the blame at Lego. Those small building blocks that ignite a passion for problem solving, when combined with a passion for motorsport, can create engineers that want to work at the pinnacle of their profession.
But such is the competitive nature of F1 that getting the chance to fulfil a childhood ambition is extremely rare and opportunities to get a foot in the door are fleeting.
But there is hope for young budding engineers across the globe. The INFINITI Engineering Academy (IEA) was launched in 2014 and the prize for the seven regional winners (from the US, Canada, Mexico, Europe, Middle East, China and Asia-Oceania) is a six-month placement at Renault's F1 team in Enstone and another six months at INFINITI's Technical Centre in Cranfield.
Those young engineers who have successfully demonstrated the right qualities of dedication, hard work, team spirit and ambition have gone on to secure full-time contracts at Renault, proving the academy is genuinely finding future engineering talent.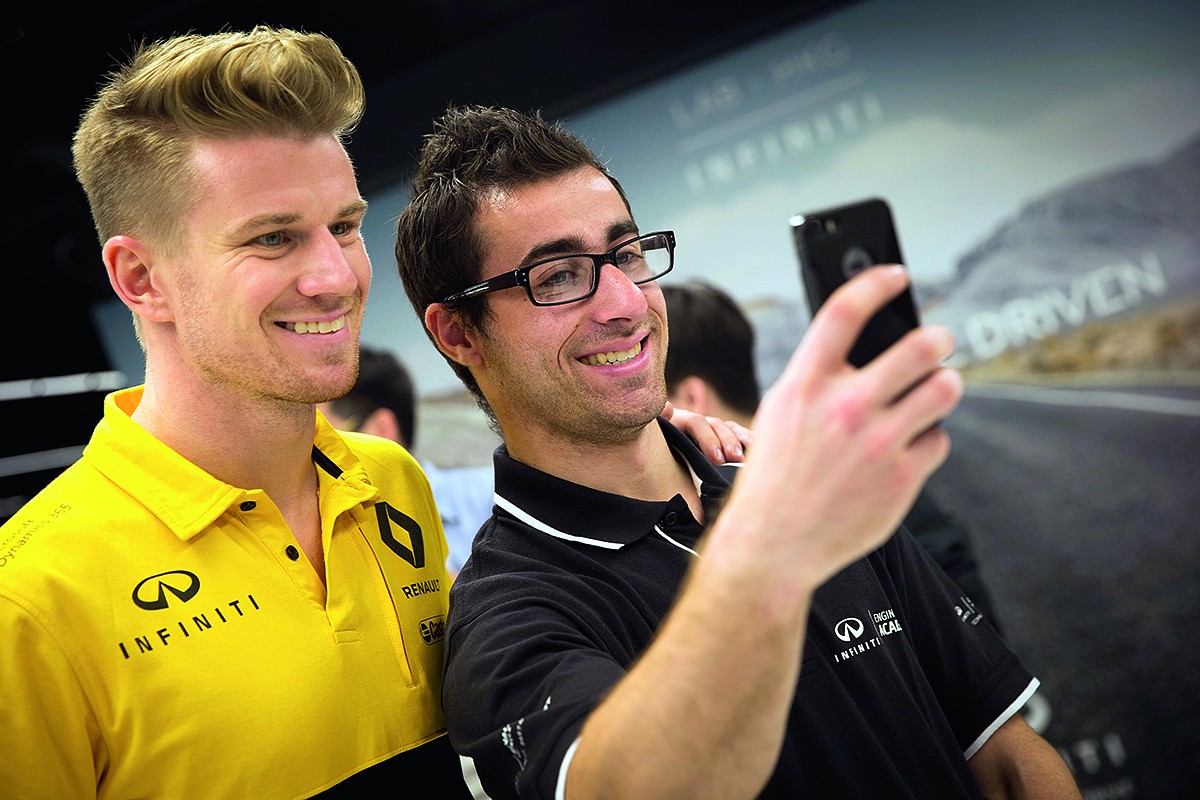 "It all started with Lego," says Jacob Debono, winner of INFINITI's Engineering Academy Asia-Oceania regional final last September. "I starting making kits when I was young and it just developed from there. I helped create a solar car while studying at university and now I'm working on aero parts for the new Renault car. It's amazing to have come this far in such a short space of time."
Debono is a young Australian engineer who last year was one of thousands of applicants for the academy and judged the winner among ten finalists from the Asia-Oceania region. Just a few weeks after triumphing, he started work on Enstone's 2018 machine.
"I remember watching F1 on Sunday afternoons with my dad, but as it's the pinnacle of motorsport engineering I never thought I would get there," says Daniel Sanham, another bright, young engineer and the European regional winner from 2015.
"Even when I applied for the INFINITI Engineering Academy, I thought I wouldn't stand a chance of winning when I saw how good the other finalists were. But the 'wow' moment really struck me when I travelled with the F1 team to Montréal to work at the Canadian GP. That was when I said to myself 'I'm really going to work hard now', because I wanted a contract at this team as Formula 1 is the sport where I've always wanted to work."
With a lifelong passion for electronics, when 2015 winner Sanham began his six-month placement at Enstone he continued in that field of work within the electronics department. After an initial project to help the team improve wheelspin measurements, he began work on electrical upgrades to their pitlane garage at races and is now on a full-time contract as an electronics engineer.
"I'm so grateful for the opportunity that the INFINITI Engineering Academy has offered," he says. "It's enabled me to achieve a lifetime's ambition to work in Formula 1 and by focusing in electronics, it truly is my dream job."
French engineer Damien Turlay won the IEA European region finals last summer and began his work placement at the Renault Sport Formula One Team in November. Over the last six weeks he has been working in the Design Office which has been creating the new car.
"I've been working on a small fairing that connects the wishbone with the top of the chassis," says Turlay. "This is a very complex part because the wishbone is designed to sustain mechanical loads, but also direct airflow directly to the bargeboards, so the work I've been doing is very detailed and precise.
"It will be very exciting to see the new car with the knowledge there is a part that I have directly worked on. It's made me appreciate how everyone has their own responsibilities and by working in a team we all work together for the same goal. That's really motivating."
Turlay's passion for Formula 1 started in the mid-2000s when the Enstone-based team were winning world championships with Fernando Alonso. He has been hooked on the sport ever since and from those early days set his sights on working in Formula 1.
"When I was young I wanted to be an F1 driver, but I had no connection to the industry, or any money, so it was an impossible dream," says Turlay. "But at school I was interested in maths and science, so I thought then if I can't drive an F1 car - I'm going to build one.
"The INFINITI Engineering Academy was such a great opportunity for me and I would say it's almost a short cut to your dream job. It was on my mind for years: how do I get into Formula 1? I was planning to work as an engineer in Formula Renault, then F3, F2 and then maybe one day F1. But by applying for the IEA and winning, it's given me the chance to work there now and I'm so grateful for that.
"Being at Enstone is the fulfilment of a lifetime's ambition," adds Turlay. "When I come into work and see the RS.17 in the race bays and then bump into Carlos Sainz in the cafeteria - I just have to pinch myself!"
Now entering its fifth season, the INFINITI Engineering Academy is looking for applicants for 2018 and the global reach of the programme means that engineering talent from across the world can apply. If you have dreamt of working in Formula 1 from the days you played with Lego, then this could be your great chance to realise that lifetime's ambition.
"In my eyes they were famous racing drivers," says Matt Crossan, last year's IEA Canada winner. "But now they are my work colleagues. That's such an amazing thing to experience."
Thanks to INFINITI, dreams do come true.
How one engineering graduate is now with the race team
Jaden Partridge
INFINITI Engineering Academy Asia-Oceanian winner 2016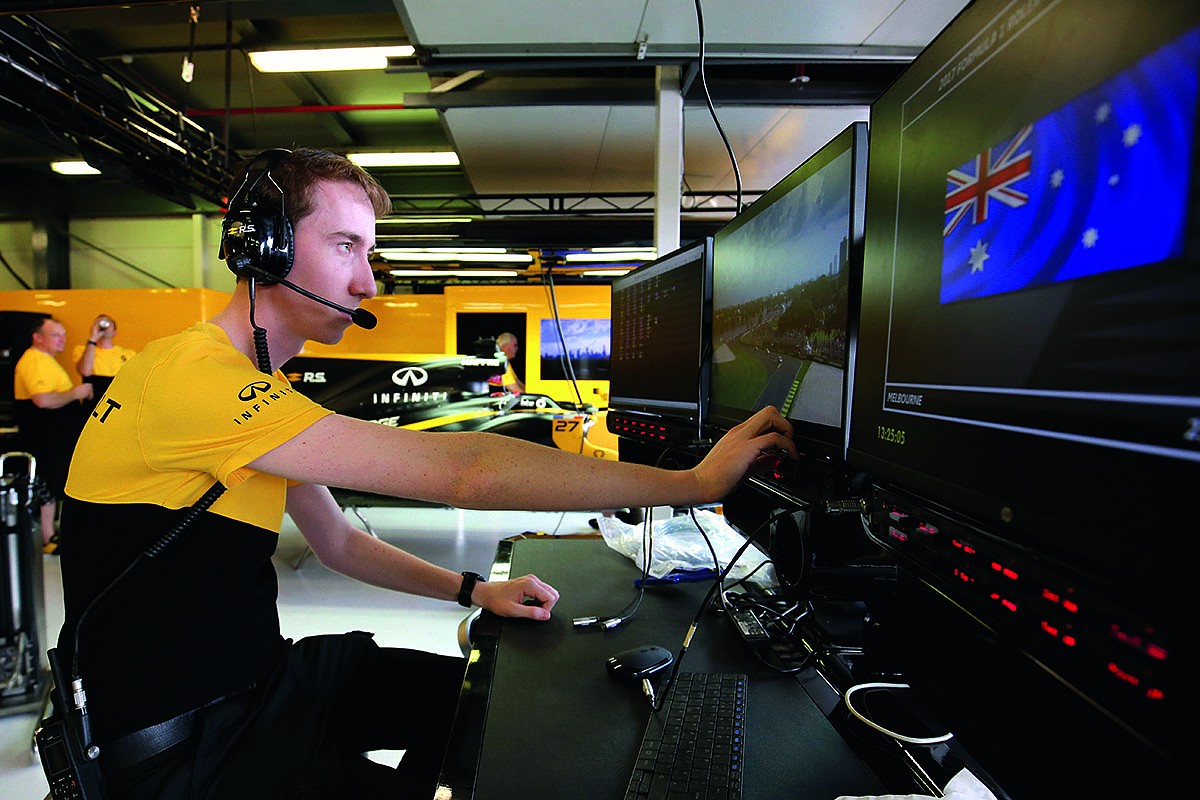 "Ever since I can remember I've been interested in putting bits of scrap metal together and loved racing. I started karting, but for me the interest was in the vehicle dynamics of the kart. Why does it understeer? What's causing it to kick out on the exit of the corners?
"When it came to working in the automotive sector or in motorsport, I chose the latter. It's so pure: whoever is the fastest wins. It's also a public showcase, if you're not performing everyone knows, so the pressure is on.
"I did my work placement at the Renault Sport Formula One Team in vehicle performance, but now I work on overtaking analysis in the race team with the performance engineers.
"With the new specification of F1 car in 2017 and the increase in downforce, the dynamics of overtaking have changed dramatically, so I have been working on a probability model to predict how the races will pan out and that's important with regards to pitstop strategy.
"For example, at one circuit it might be easy to overtake a slower car, but on another track it might be difficult so you wouldn't risk pitting. The information I gather from my overtaking analysis during the race goes directly to the pitwall - so there is a lot of responsibility.
"Abu Dhabi was the first grand prix I hadn't enjoyed for a long time, because it was the final race in 2017 and we were in such a close fight for points with Toro Rosso. A lot was riding on the models we had built for that race and the decisions that would be taken.
"Once the pitstops were over, I was very relieved to see the lap counter go down and you could sense the tension over the team radio communications. It was great for Nico Hülkenberg to get the result we needed to secure sixth place in the constructors' championship. Everyone played their part."
How to apply
If you're a current engineering student and fluent in English then register your interest for the 2018 INFINITI Engineering Academy for the chance to win a year-long work placement at both the Renault Sport F1 Team and at INFINITI's Technical Centre in Cranfield.
For more information visit academy.infiniti.com