Formula 1's first foray to the base continent of Liberty Media since the NASDAQ-listed entity acquired control of the Formula One Group - and consequently the championship's commercial rights - in January is best compared to the curate's egg: exceedingly good in parts, not bad in others, but adequate overall. A teacher's verdict would have placed a fat tick firmly in the "good potential, but must try harder" box.
Let us first dispense with the 'good': For most F1 folk (and fans) it was an utter pleasure to play to full stands even on Friday, to observe highly enthusiastic (and knowledgeable) crowds basking in sunshine in a city that usually attracts lashings of rain in June. The promoter reported record crowds, and few would dispute those claims.
The return of F1's raft race proved a highlight of the weekend, even if long-standing media members puzzled over when last the event was staged. A consensus eventually pointed to 1997 on the simple premise that Bernie Ecclestone kept his enthusiasm for fun-filled antics well under control, and his acquisition of F1's rights was effective from '98.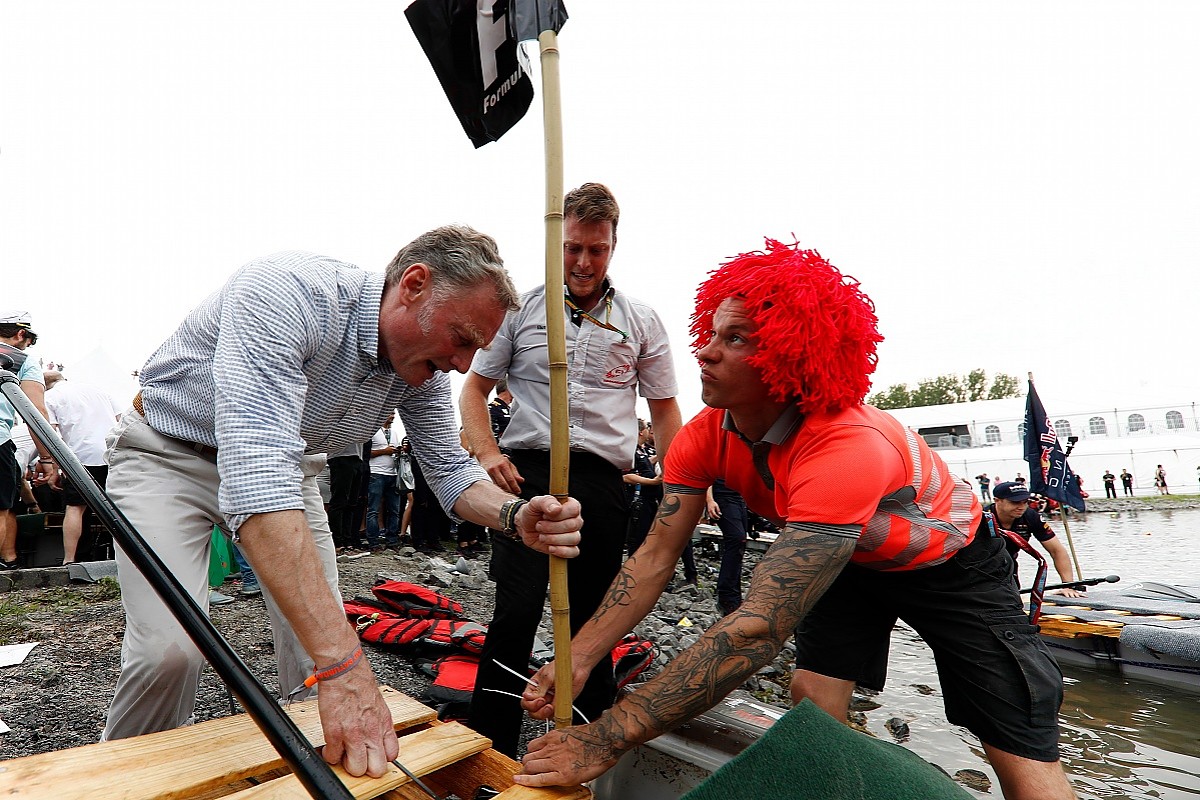 FOG executives Ross Brawn and Sean Bratches did their respective images a world of good among paddock cynics by participating - and taking their drenchings in good humour - but the downsides were that Mercedes, Ferrari and Force India failed to participate, ostensibly due to prior engagements. One of the entries was granted to a fan-helmed raft, but for some reason the media was not invited to field a team.
Paddock voices suggested that the two of the missing outfits had given rafting a miss due to clashing energy drink sponsors: Red Bull originally proposed the idea to FOG, then issued standardised materials and flotation kits to participants. Come on teams - with just seven crew members per entry there are no excuses; did every single team member really have long-standing commitments on Saturday?
Based on its success, it is a given the event will again take place next year, so there's plenty of notice.
Montreal, arguably the most European city on the North American continent, enthusiastically embraces F1, which in turn treats Canadian fans to action-packed and eventful spectacles. The weekend proved no exception, whether during practice one, two or three; qualifying or the 70-lap race. All sessions featured drama of sorts, with an emphatic win for Lewis Hamilton and Mercedes being just reward for Brackley's midnight toil since the Monaco GP.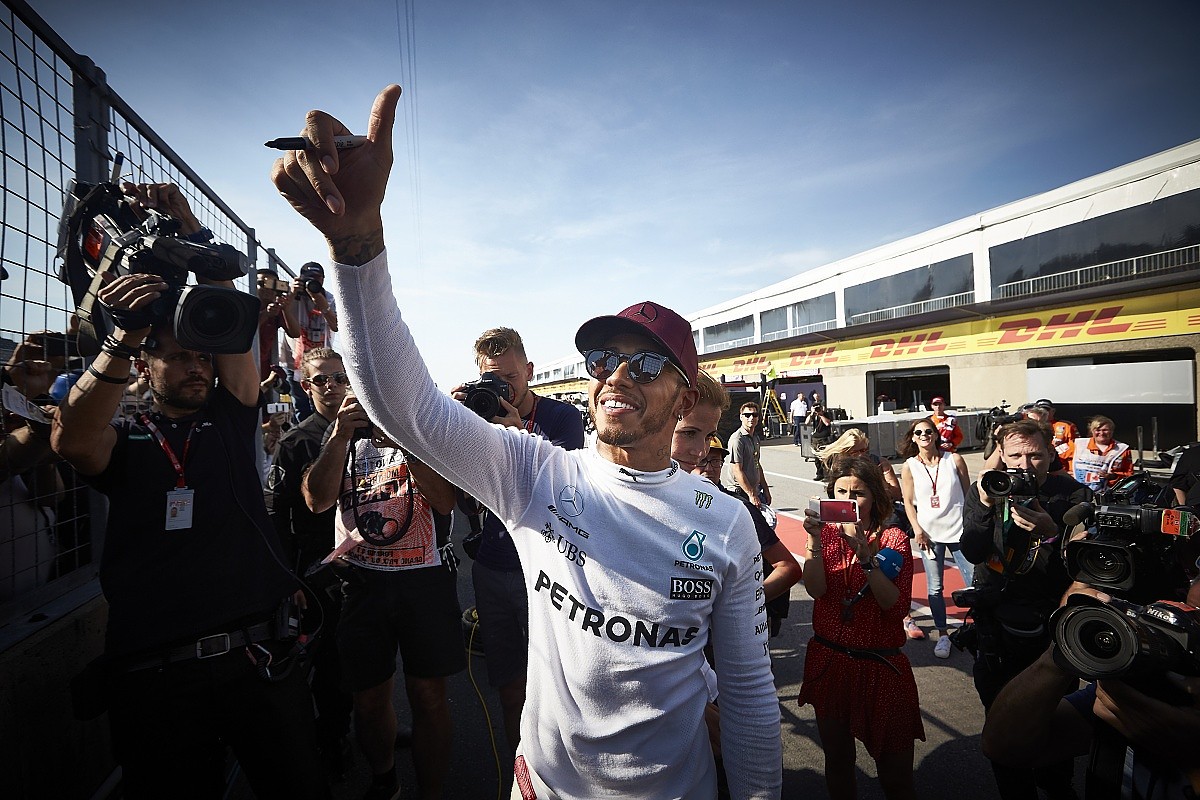 A (fairly judged) stewards' enquiry into Carlos Sainz Jr's opening lap shunt provided an appropriate end to the day. Although, it must be said, confusing (and confused) verdict(s) regarding Daniil Kvyat's grid infringement ultimately tainted the officials' reputations. His team made an error, and deserved to be punished (once), but so did officialdom, which escaped unsanctioned apart from dribblings of egg on their faces. Any wonder Kvyat labelled the office antics a "fucking circus"?
So much, then for the good and indifferent; now for the bad. Canada's race may be a great spectacle, but its facilities are absolutely diabolical and wholly sub-standard. They, frankly, have no place in a glittering 21st century world championship event regardless of sporting genre.
The oft-heard excuse of "the circuit is on an island, and thus we have little space" holds no water (sorry). Monaco is contested on a postage stamp measuring 0.78 sq. miles (2.02 sq.km) in extent, around 50% of which is bordered by ocean, yet the venue manages to provide far better facilities despite the principality being one of the most densely populated places on earth.
Expecting paddock folk to queue at rent-a-loos, or to walk two kilometres - often while lugging heavy baggage though mud and rain - from parked cars to the paddock every morning and evening is simply not on, under any circumstance.
During the race it was mostly impossible to understand team radio transmissions in the tent doubling as a media centre due to flapping caused by wind, while lamps and TVs banged about with every gust. On Sunday a lady was sent flying after a dividing fence blew over, while a colleague escaped injury when his chair leg pierced the media centre floor after cable access holes were simply carpeted over.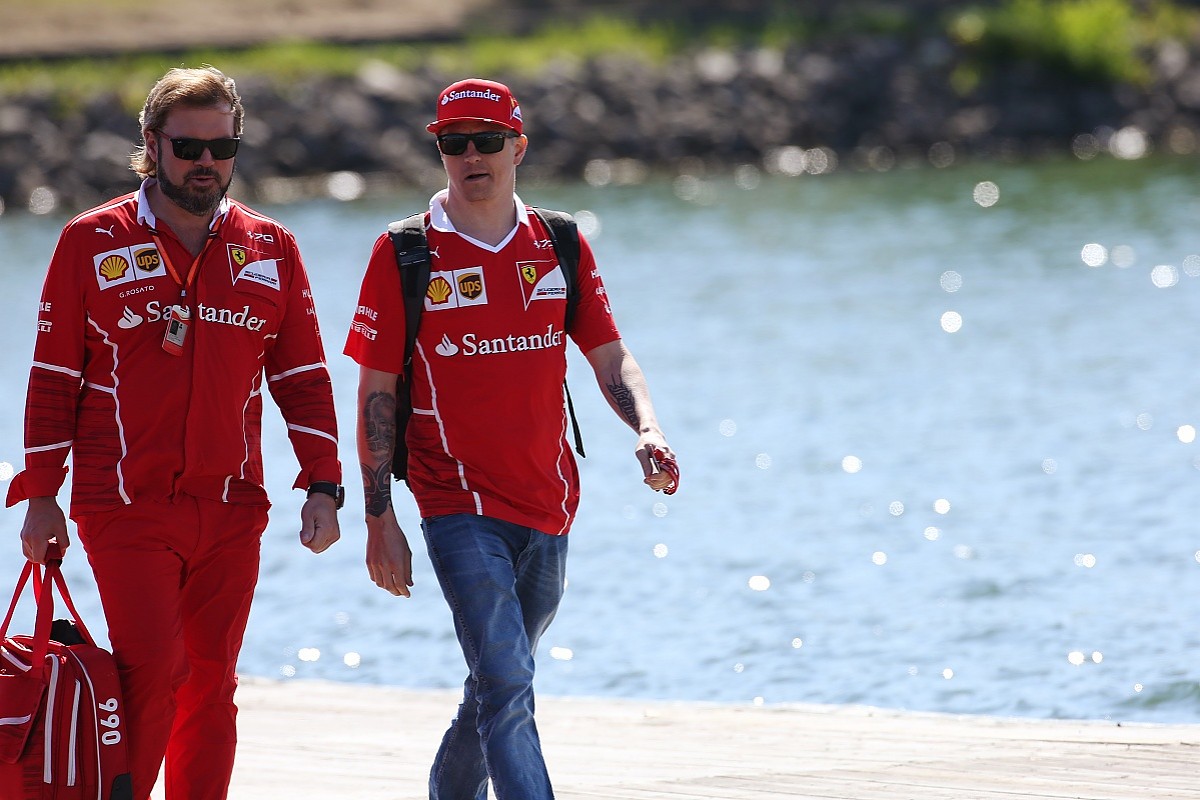 A FOG source revealed that for many years they attempted to persuade the promoter to float platforms on a portion of the (basically disused) rowing basin to accommodate broadcast compounds and media facilities, but these requests fell on deaf ears for financial reasons - which beggars belief given that the event is bankrolled by funding from the federal government, Quebec province and City of Montreal.
In 2009 the race was dropped due to the state of said facilities, then reinstated the following year off the back of commitments to comprehensively upgrade the venue, yet there is little tangible evidence that the promises were kept. This year, for example, a number of commentary booths were subject to weight restrictions lest they collapse!
When the contract was extended to 2024 the parties collectively promised to upgrade the infrastructure - including items listed above - but, having failed to do so, undertook to complete the work subject to the contract being stretched to '29. When shove came to announcement, that press conference was delayed (by 30 minutes), clashing with other media commitments. At this rate F1 folk will still be queuing come 2050.
For the record, the word in Montreal was that the national government will contribute CAN$36.2 million to the upgrade programme, with the province adding $28million and the city $34million. Quebec (province) will also stump up an additional $18million toward improvements to the race venue, making for a total of well over CAN$100m (£60m) to be spent - and not a day too soon it is.
The biggest disappointment of the weekend was, though, a much-trumpeted FOG media conference, called for 12 noon on Friday. While the concept of media briefings by F1's top management is still novel given previous modus operandi, Friday's session left most journalists rather underwhelmed.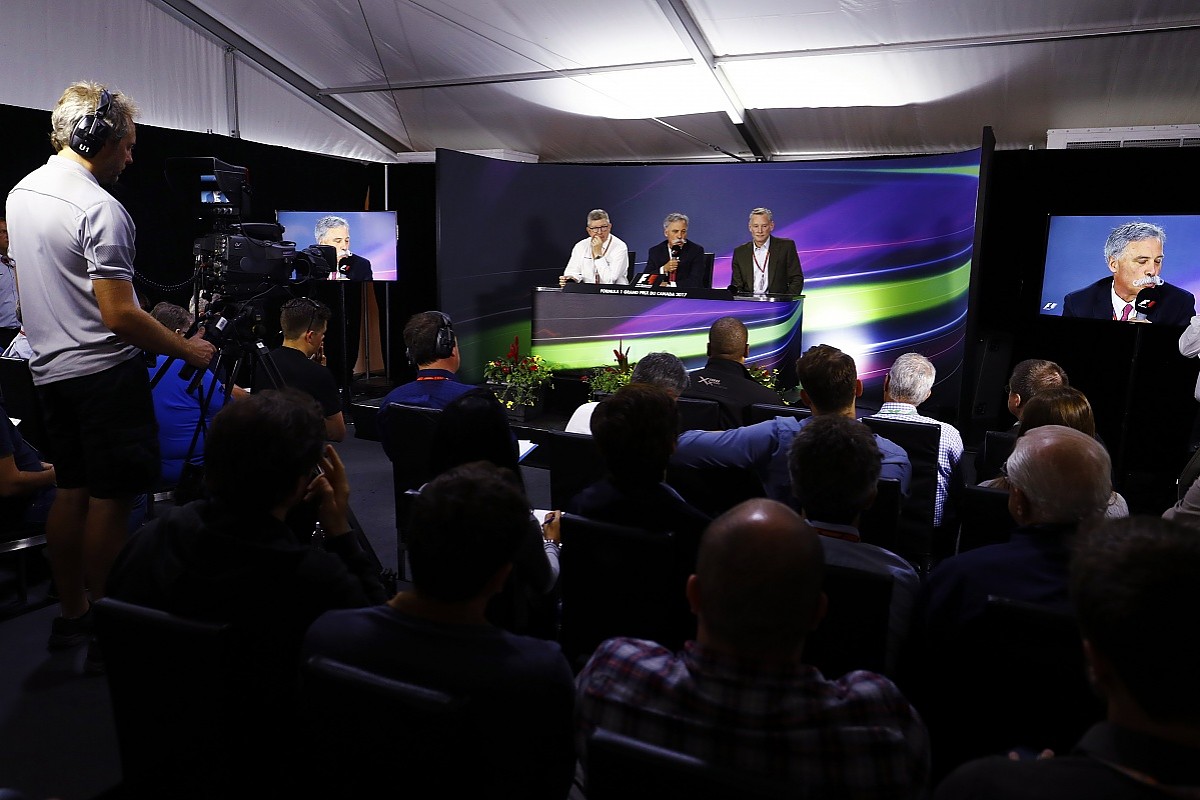 Very little of substance was said. For proof, check how few news items emanated from the conference; with most outlets publishing a maximum of two - with proceedings later described by a journalist as little more than "Buzzword Bingo".
Although Chase Carey denied Liberty was intent on "Americanising the sport", his words rang hollow when asked about the calendar: "Engaging and evaluating opportunities we talked about, adding another race in the US in a destination city such as New York, Miami, Las Vegas, continuing to evaluate those things," with not a word said about other countries or cities.
Questions regarding plans and timings more often than not received verbose responses that spoke of "going forward" - a phrase heard no fewer than six times in 37 minutes, in one instance twice in a single sentence. The word "great" was applied 21 times during the conference - six times in FOG chairman/CEO Carey's paragraph. By contrast, the word "racing", surely the essence of F1, was heard just twice, and "races" seven times.
The overwhelming sentiment was that almost six months after acquiring control, Liberty's executives have yet to frame F1's way "forward", and never was this clearer than when asked when and how they intended rectifying F1's revenue structure, which, together with a discriminatory governance structure, lies at the heart of grand prix racing's current ills.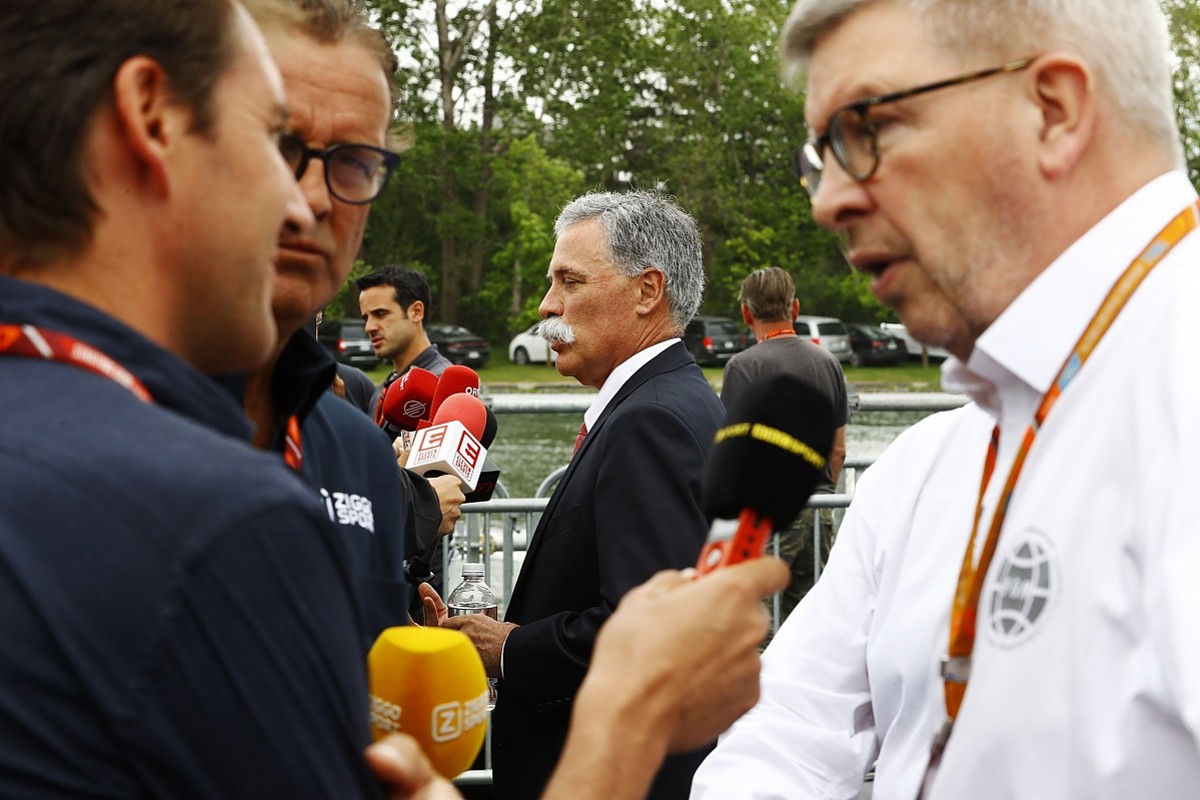 Carey was first to respond, saying: "I'm personally not going to put a timeframe to it. It's an important issue, and in many ways it's not just the revenue side, it's the cost side. There's no question right now that there's a disparity in spending," adding that it was difficult to rationalise the budgets of top teams.
All well and good, but the question was about F1's arguably immoral bonus structure, not spend or budgets - and to lump the two together simply obfuscated matters, and will ultimately complicate negotiations, probably through to 2020, when current contracts expire in any event.
This was made clear when Ross Brawn, who has forgotten more about F1 than most folk in the paddock will ever know, provided his perspective on the issue: "I think there is a circular process, to have a discussion about remuneration with the teams is difficult if you don't consider both sides.
"I think it's fair to say there's not a team in Formula 1 that wouldn't welcome a reduction in costs, so those discussions have to go hand-in-hand and we're preparing our case and our proposals with the FIA to achieve that.
"It's not easy - as I'm sure you realise - and we want to make sure that when we do come forward with our ideas, that they're very thought out, and various elements have been properly sorted and discussed and in place so we have a complete proposal to make to take us forward."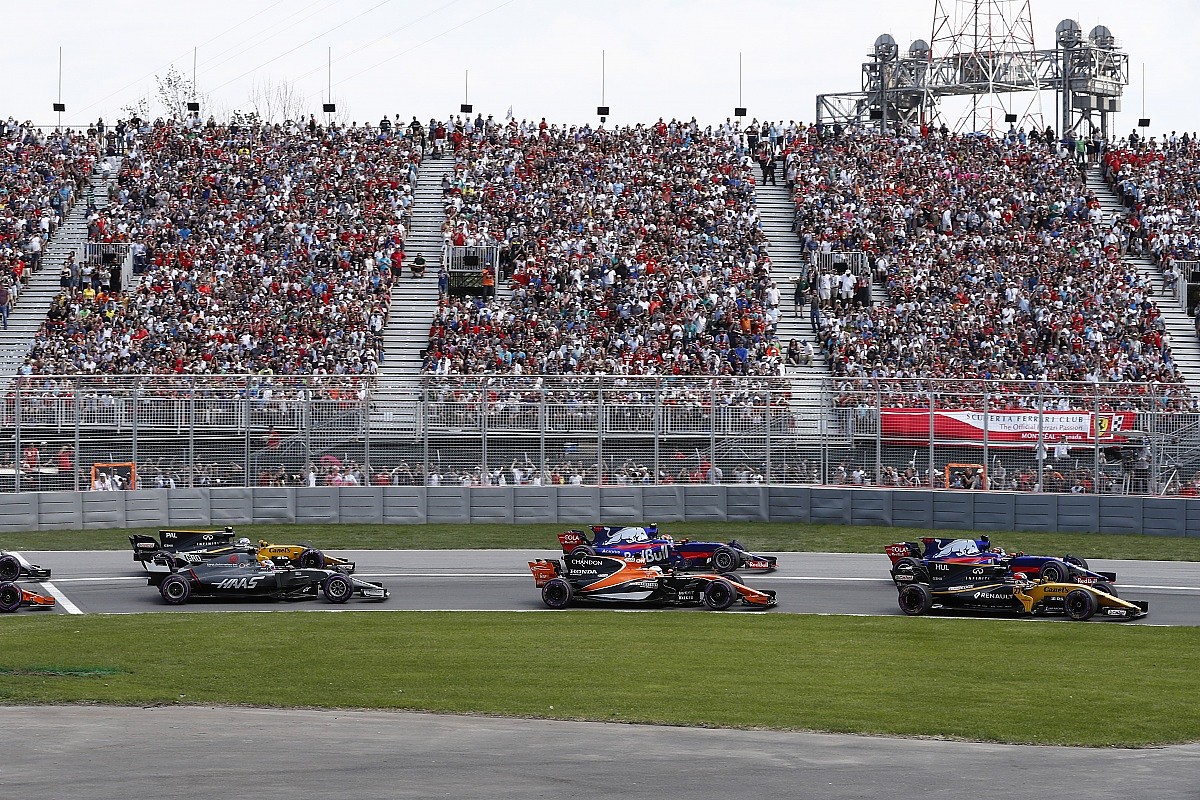 To Brawn's credit he recently made a senior financial appointment - Nigel Kerr, previously his chief financial officer in Brackley, under the Honda, Brawn and Mercedes team banners - who is charged with "helping to build the financial models that can demonstrate hopefully a way forward for the teams in Formula 1."
"So we're putting all of that together, clearly it's got to be a cooperation with the FIA, and the FIA are the regulators of our sport, and they're the final arbitrator of what goes on in the sport.
"We want to supplement and support those activities, and make proposals that we think would be good for the sport, but remuneration has to go hand-in-hand with how we control the costs of investments needed in Formula 1."
The bottom line is clearly that F1 is some way off from solving what is clearly a core issue, so the chances of seeing winners from teams other than Mercedes, Ferrari and Red Bull - who annually siphon off a collective 25% of F1's revenue pot simply for having signed the inequitable contracts - are exceedingly slim in the short-to-medium term.
Let's be clear, though. The costs of competing have absolutely zero to do with the bonuses paid to a select few, and the longer FOG persists in obfuscating the matter by confusing two separate issues, the longer the core disparity will exist.
Equally surprising is Brawn's belief that modern road car technologies such as fuel cells and electrification are "not F1", for the question of "what is F1?" has never been asked, nor, crucially, answered by those in charge of it.
Forty years ago turbochargers were similarly dismissed, yet within a few years every car manufacturer worth its performance salt offered a turbo road car, and F1 became all the better for its development role. Twenty years ago, notions that batteries, electric motors and energy recovery systems would form integral parts of F1 would have been sneered right out of the paddock.
Yet, contemporary F1 would not exist without those devices, for no self-respecting motor manufacturer would compete in F1 without some form of road relevance - leaving teams without engines, or, at best, struggling along on asthmatic Cosworth V8s. Research undertaken by Motorsport Network - Autosport's parent company - though, showed that fans have a desire for F1 to set the pace in terms of technology.
All this points to an identity crisis for F1, the point being further underscored when talk, ironically, turned to Liberty's vision of "wanting to be in more destination cities - like Montreal - cities around the world that people want to go to".
"It's a unique opportunity to really engage that city fully with an event that has this sport at its centre," said Carey, "and then connect with fans in all the ways possible given the technologies that are out there, digital platforms and other applications."
Excuse me, but is that not Formula E in a nutshell? Yet when pressed about that series, Carey maintained: "I think they're in a very different place [to F1]."
The bottom line is that Liberty faces massive challenges in transforming F1. As Montreal proved, many of F1's traditional venues are creaking, Formula E is (mostly) where F1 wishes to be, road car technologies will diverge unless F1 reinvents itself (and fast), and Liberty seems unable to solve F1's very real economic challenges for the foreseeable future.
However, the biggest challenge lies in find a coherent answer to one fundamental question: 'What is F1?' Once Liberty frames the answer, F1 can "go forward".